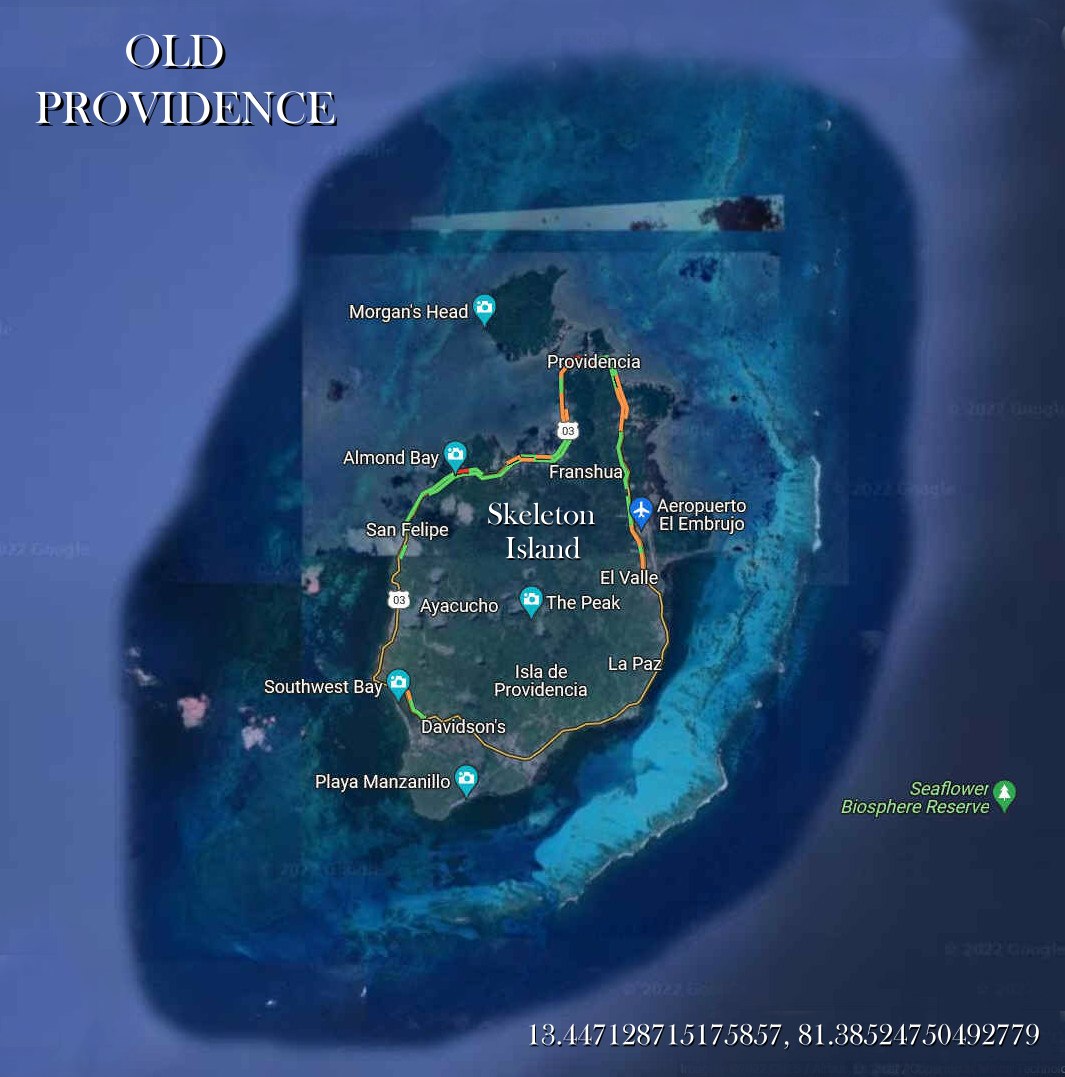 ISLA DE PROVIDENCIA - was subjected to two category 4 hurricanes in 2020
HURRICANE ETA
Hurricane Eta was a deadly and erratic Category 4 hurricane that devastated parts of Central America in early November 2020. The record-tying twenty-eighth named storm, thirteenth hurricane, and sixth major hurricane of the extremely-active 2020 Atlantic hurricane season, Eta originated from a vigorous tropical wave in the eastern Caribbean Sea on October 31. The system rapidly organized as it progressed west, with the cyclone ultimately becoming a Category 4 hurricane on November 3. With a peak intensity of 150 mph (240 km/h) and 922 mbar (hPa; 27.23 inHg), it was the third most intense November Atlantic hurricane on record, behind the 1932 Cuba hurricane and Hurricane Iota, the latter of which formed just two weeks later. Some weakening took place as the system made landfall near Puerto Cabezas, Nicaragua, late that same day. Eta rapidly weakened to a tropical depression and briefly degenerated to a remnant low as it meandered across Central America for two days, before regenerating into a tropical depression and moving north over water. The storm later reorganized over the Caribbean as it accelerated toward Cuba on November 7, making a second landfall on the next day. Over the next five days, the system moved erratically, making a third landfall in the Florida Keys, on November 9, before slowing down and making a counterclockwise loop in the southern Gulf of Mexico, just off the coast of Cuba, with the storm's intensity fluctuating along the way. After briefly regaining hurricane strength on November 11, the system weakened back to a tropical storm once more, before making a fourth landfall on Florida on the next day, and proceeding to accelerate northeastward. Eta subsequently became extratropical on November 13, before dissipating off the coast of the Eastern United States on the next day.

Hurricane and tropical storm watches and warnings were issued along the coast of Honduras and Northeastern Nicaragua as Eta approached. Once inland, Eta produced torrential rainfall and catastrophic wind, flood and storm surge damage across Central America. Eta was responsible for at least 175 deaths and over 100 others missing, and an estimated $8.3 billion (2020 USD) in storm related damages - primarily in Central America - were reported as of December 2020. Once the system began to reorganize in the Caribbean, tropical storm watches were issued on November 5, in the Cayman Islands. More watches were issued in parts of Cuba, the northwestern Bahamas, and South Florida. Eta brought heavy rainfall and gusty winds to the Cayman Islands and Cuba, the latter of which was already dealing with overflowing rivers that prompted evacuations. Heavy rainfall and tropical-storm force winds were recorded across all of the Florida Keys, South Florida and the southern half of Central Florida, bringing widespread flooding. Eta's second approach and landfall brought storm surge and gusty winds to the west coast of Central Florida and supplemental rainfall to northern Florida. Moisture from the storm also combined with a cold front further to the north bringing heavy rainfall and flash flooding to the Carolinas and Virginia.

Relief efforts for those affected by the storm were extensive and widespread, involving several countries. Central America was already facing a humanitarian crisis which was further impacted by Hurricane Eta. Approximately 2.5 million were affected by the storm, including 1.7 million in Honduras. Many Emergency Response Units were to be dispatched globally to help support affected people. About 98 tons of food and water were given to Nicaragua and Honduras from Panama. People left homeless were moved to various shelters after the storm had passed. Donations worth millions of USD have been given to affected countries to help recoveries. However, just two weeks later, relief efforts were greatly hampered by Hurricane Iota, which further worsened the disaster in the region.
HURRICANE IOTA
Hurricane Iota was a devastating late-season Category 4 Atlantic hurricane which caused severe damage to areas of Central America already devastated by Hurricane Eta just less than two weeks prior. The 31st and final tropical cyclone, 30th named storm, 14th hurricane, and record-tying seventh major hurricane of the record-breaking 2020 Atlantic hurricane season, Iota originated as a tropical wave that moved into the Eastern Caribbean on November 10. Over the next few days, the wave began to become better organized and by November 13, it developed into a tropical depression north of Colombia. The depression strengthened into Tropical Storm Iota six hours later. The storm was initially impacted by some wind shear, but a center relocation and relaxed shear allowed Iota to quickly strengthen into a hurricane on November 15, after which it underwent explosive intensification, peaking as a high-end Category 4 storm, with wind speeds of 155 mph (250 km/h). After weakening slightly, Iota made landfall in northeastern Nicaragua as a mid-range Category 4 hurricane, becoming the strongest recorded hurricane to make landfall in Nicaragua in November. Iota then rapidly weakened as it moved inland, dissipating on November 18.

Iota's precursor disturbance generated flash flooding on several Caribbean islands. Tropical cyclone watches and warnings were first issued on November 14 in parts of Colombia, Nicaragua, and Honduras, with the latter two countries still recovering from Eta. Heavy rains associated with a tropical wave and Iota brought heavy rainfall to parts of Colombia, leading to flash flooding and mudslides. Extremely heavy rain fell on much of Nicaragua, widening flash flooding caused by the hurricane's high storm surge. Mudslides caused extensive damage and multiple deaths. At least 67 people were killed due to Iota, including at least 28 in Nicaragua and 16 in Honduras, among other countries. As many as 41 people were reported as missing. The preliminary estimate for the damage in Nicaragua was $564 million (2020 USD). Total damage estimates for the hurricane were set at $1.4 billion (2020 USD).

Relief efforts soon followed, which included placing tents, opening temporary hospitals, and delivering food and water to those in need. Numerous power outages were restored in the days that followed. Donations worth hundreds of millions of USD were given to affected countries. An estimated total of 5.2 million people were affected by the storm.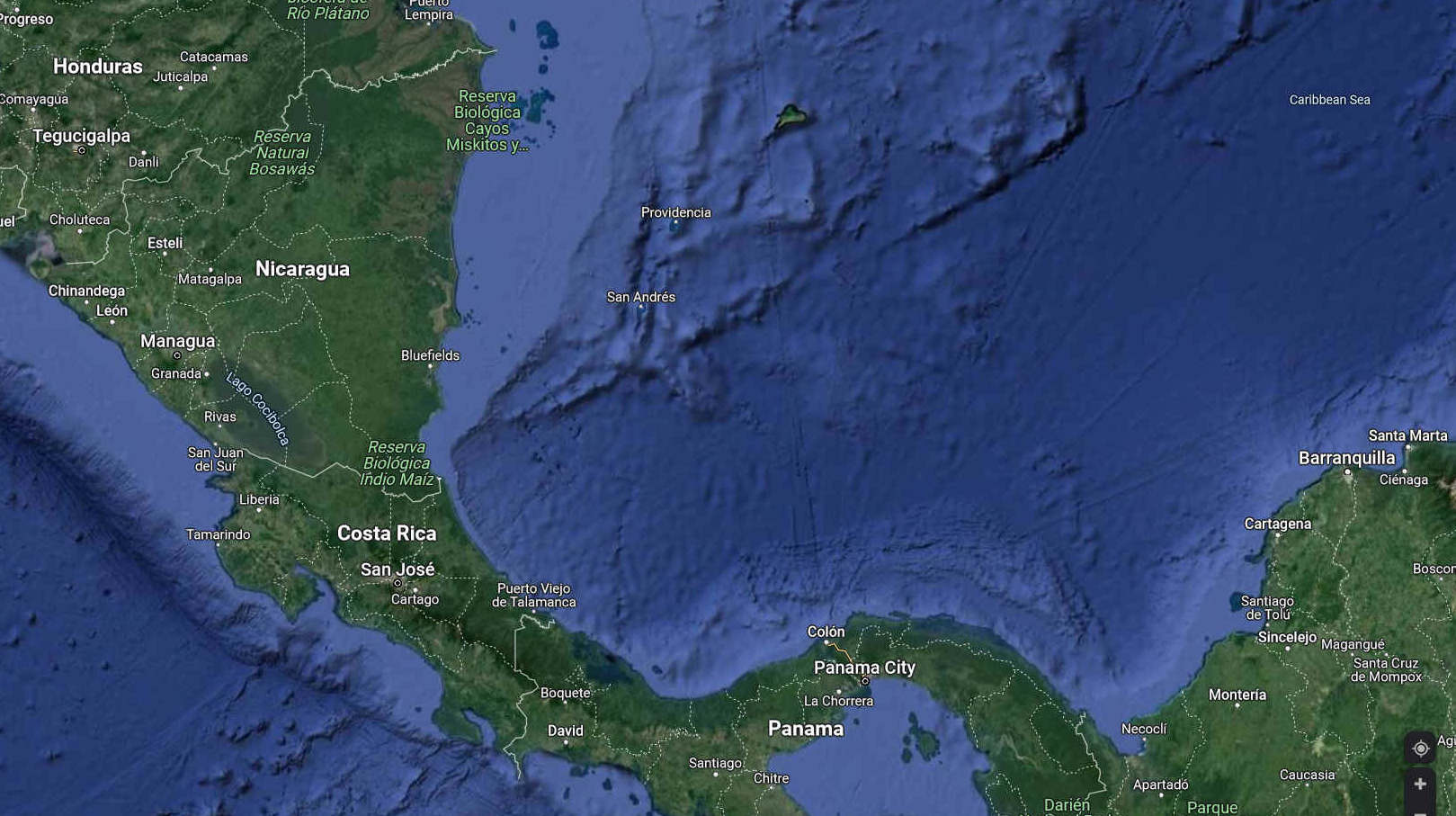 CENTRAL AMERICA - Nicaragua, Costa Rica, Mexico and Columbia were all battered by Hurricanes Eta and Iota.
WIPE OUT 2020

In November 2020, Hurricane Iota directly impacted the island. An estimated 98% of all infrastructure was destroyed from the impact, making it one of the worst and strongest tropical cyclones to impact Colombia.
On November 15–16th 2020, Iota passed close to the outlying Archipelago of San Andrés, Providencia and Santa Catalina as a high-end Category 4 hurricane. The center of the hurricane's eye missed Providencia by 11 miles (18 km), but the storm still made a direct hit (rather than a landfall) on the island, causing damage described as "unprecedented" by President Iván Duque Márquez. Communication was lost with the island on November 16, lasting for over 20 hours. An estimated 98–99 percent of structures on the island were damaged or destroyed, including buildings constructed in the 15th century.
Every home on the island suffered damage, with 80 percent being destroyed. One person was killed and six were injured on the island. Two shelters were known to have lost their roof before communication was lost. The situation on the island was difficult to ascertain as of November 17, though the island's hospital was assumed destroyed or rendered inoperable. Although debris covered runways at El Embrujo Airport, initially preventing aircraft from arriving or leaving, by November 17 it was operational enough to allow President Duque to visit and assess the damage of the island.

On San Andrés, torrential rains and large swells caused extensive flooding. Seawater rose up to 9.8 ft (3 m). Powerful winds uprooted numerous trees, some of which fell on homes, and several homes lost their roof. Communications with San Andrés were temporarily lost during the storm and approximately 60 percent of the island lost power. Flooding reached a depth of 6 in (15 cm) at the Gustavo Rojas Pinilla International Airport, preventing usage of the runways. One person was killed on the island.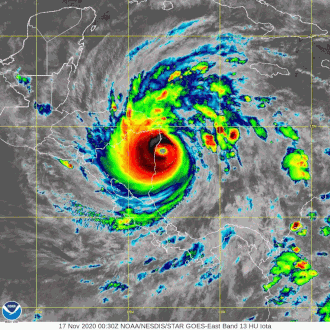 Hurricane graphic - NOAA