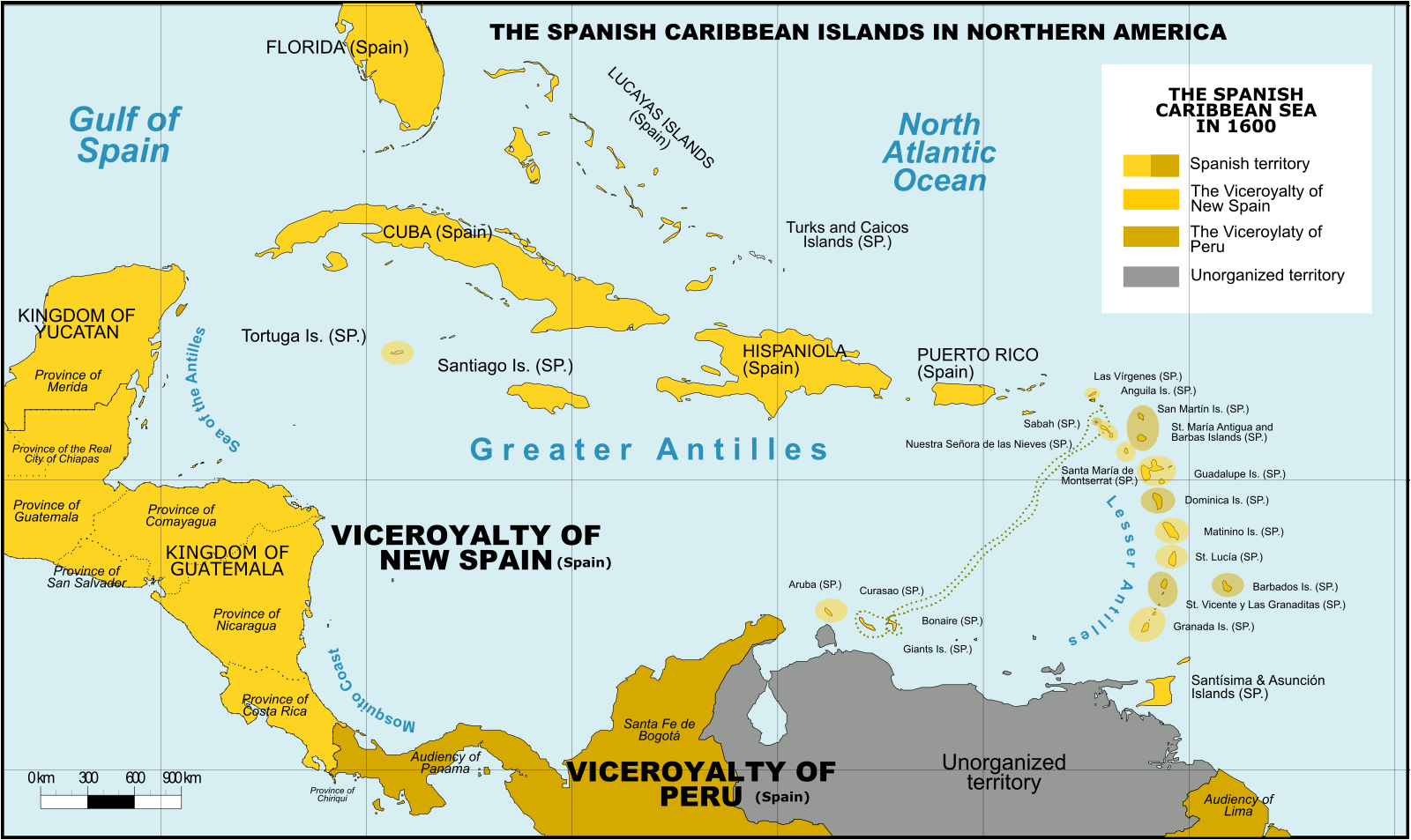 Spanish Caribbean Islands 1600 Spanish Overseas territories Northern America Turks and Caicos Islands (1492-1516, 1516-1678) * Islas Turcas y Caicos The Bahamas (1492-1516, 1516-1648) *Islas Lucayas Bermuda (1503-1516, 1516-1609) *Carabela/Isla de los Diablos Greater Antilles Cuba (1492-1762, 1763-1898) *Juana Cayman Islands (UK) (1503-1670) *Islas de las Tortugas La Española/Hispanola (1492-1795, 1801-1822) Dominican Republic (1492-1795, 1801-1822, 1861-1863) *Santo Domingo Haiti (1492-1793) *Santa María Jamaica (1492-1655) *Isla Santiago Puerto Rico (US) (1493-1898) *San Juan Bautista Lesser Antilles Leeward Islands: Virgin Islands (1493-1587) *Islas Once Mil Vírgenes / Islas Vírgenes St. Thomas (US) (1493-1587) St. John (US) (1493-1587) St. Croix (US) (1493-1587) Water Island (US) (1493-1587) British Virgin Islands (UK) (1493-1648) *Islas Once Mil Vírgenes / Islas Vírgenes Tortola (UK) (1493-1648) Virgin Gorda (UK) (1493-1672) Anegada (UK) (1493-1672) Jost Van Dyke (UK) (1493-1672) Anguilla (UK) (1500-1631, 1631-1650) *Isla de la Anguila Saint Martin/Sint Maarten (France/Neth.) (1493-1631) *San Martín Saint-Barthélemy (Fr.) (1493-1648) *San Bartolomeo Saba (Neth.) (1493-1640) *Saba/San Cristóbal Sint Eustatius (Neth.) (1493-1640) *San Eustaquio St. Kitts and Nevis (1493-1628) *Nuestra Señora de las Nieves Saint Kitts (1493-1628) *San Cristóbal Nevis (1493-1628) *Nieves Antigua and Barbuda Barbuda (1493-1628) *Santa Dulcina Antigua (1493-1632) *Santa María de la Antigua Redonda (1493-1632) *Santa María la Redonda Montserrat (UK) (1493-1632) *Santa María de Monstserrat Guadeloupe (Fr.) (1493-1631) *Santa Guadalupe Windward Islands: Dominica (1493-1635) *Domingo Martinique (Fr.) (1502-1635) *Martinino Saint Lucia (St. Lucia) (1502-1660) *Santa Lucía Barbados (1492-1620) *Los Barbados/El Barbudo St. Vincent and the Grenadines (1498-1627) *San Vicente Saint Vincent the Grenadines Grenada (1498-1650) *Concepción Carriacou & Petite Martinique (Grenada) Trinidad & Tobago (1498-1628) *Santísima e Asunción Aruba (Neth.) (1499-1648) *Aruba/Oroba Curaçao (Neth.) (1499-1634) *Curasao/Isla de los Gigantes Bonaire (Neth.) (1499-1635) * Bonaire/Buon Aire Viceroyalty of New Granada Los Roques Archipelago (Ven) La Orchila (Ven) La Tortuga (Ven) La Blanquilla (Ven) Margarita Island (Ven) Coche (Ven) Cubagua (Ven) Other islands (Ven) *Founded Spanish names
Cuba - Is the largest island in the Caribbean by size, it makes sense that Cuba would also be the most populated Caribbean island. With just over 11 million inhabitants, you'll find Cuba bursting with vibrant locals who love to dive into their incredibly rich history with visitors eager to listen. Though one of the biggest Caribbean islands, it doesn't feel too crowded. Population in 2019: 11,333,483
Cuba is located where the northern Caribbean Sea, Gulf of Mexico, and Atlantic Ocean meet. Cuba is located at the east of the Yucatán Peninsula (Mexico), south of both the American state of Florida and the Bahamas, west of Hispaniola (Haiti/Dominican Republic), and north of both Jamaica and the Cayman Islands. Havana is the largest city and capital; other major cities include Santiago de Cuba and Camagüey. The official area of the Republic of Cuba is 109,884 km2 (42,426 sq mi) (without the territorial waters). The main island of Cuba is the largest island in Cuba and in the Caribbean, with an area of 104,556 km2 (40,369 sq mi). Cuba is the second-most populous country in the Caribbean after Haiti, with over 11 million inhabitants.

The territory that is now Cuba was inhabited by the Ciboney Taíno people from the 4th millennium BC until Spanish colonization in the 15th century. From the 15th century, it was a colony of Spain until the Spanish–American War of 1898, when Cuba was occupied by the United States and gained nominal independence as a de facto United States protectorate in 1902. As a fragile republic, in 1940 Cuba attempted to strengthen its democratic system, but mounting political radicalization and social strife culminated in a coup and subsequent dictatorship under Fulgencio Batista in 1952.
Open corruption and oppression under Batista's rule led to his ousting in January 1959 by the 26th of July Movement, which afterwards established communist rule under the leadership of Fidel Castro. Since 1965, the state has been governed by the Communist Party of Cuba. The country was a point of contention during the Cold War between the Soviet Union and the United States, and a nuclear war nearly broke out during the Cuban Missile Crisis of 1962. Cuba is one of a few extant Marxist–Leninist socialist states, where the role of the vanguard Communist Party is enshrined in the Constitution. Under Castro, Cuba was involved in a broad range of military and humanitarian activities throughout both Africa and Asia.

Culturally, Cuba is considered part of Latin America. It is a multiethnic country whose people, culture and customs derive from diverse origins, including the Taíno Ciboney peoples, the long period of Spanish colonialism, the introduction of enslaved Africans and a close relationship with the Soviet Union in the Cold War.

Cuba is a founding member of the United Nations, the G77, the Non-Aligned Movement, the Organisation of African, Caribbean and Pacific States, ALBA and the Organization of American States. It has currently one of the world's only planned economies, and its economy is dominated by the tourism industry and the exports of skilled labor, sugar, tobacco, and coffee. Cuba has historically – both before and during Communist rule – performed better than other countries in the region on several socioeconomic indicators, such as literacy, infant mortality and life expectancy.

Cuba has a single-party authoritarian regime where political opposition is not permitted. There are elections in Cuba, but they are not considered democratic. Censorship of information (including limits to internet access) is extensive, and independent journalism is repressed in Cuba; Reporters Without Borders has characterized Cuba as one of the worst countries in the world for press freedom.

The mass media in Cuba consist of several different types: television, radio, newspapers, and internet. The Cuban media are tightly controlled by the Cuban government led by the Communist Party of Cuba (PCC) in the past five decades. The PCC strictly censors news, information and commentary, and restricts dissemination of foreign publications to tourist hotels. Journalists must operate within the confines of laws against anti-government propaganda and the insulting of officials, which carry penalties of up to three years in prison. Private ownership of broadcast media is prohibited, and the government owns all mainstream media outlets.

HUMAN RIGHTS

The Cuban government has been accused of numerous human rights abuses including torture, arbitrary imprisonment, unfair trials, and extrajudicial executions (also known as "El Paredón"). Human Rights Watch has stated that the government "represses nearly all forms of political dissent" and that "Cubans are systematically denied basic rights to free expression, association, assembly, privacy, movement, and due process of law".

In 2003, the European Union (EU) accused the Cuban government of "continuing flagrant violation of human rights and fundamental freedoms". It has continued to call regularly for social and economic reform in Cuba, along with the unconditional release of all political prisoners.

Cuba had the second-highest number of imprisoned journalists of any nation in 2008 (China had the highest) according to various sources, including the Committee to Protect Journalists and Human Rights Watch.

Cuban dissidents face arrest and imprisonment. In the 1990s, Human Rights Watch reported that Cuba's extensive prison system, one of the largest in Latin America, consists of 40 maximum-security prisons, 30 minimum-security prisons, and over 200 work camps. According to Human Rights Watch, Cuba's prison population is confined in "substandard and unhealthy conditions, where prisoners face physical and sexual abuse".

In July 2010, the unofficial Cuban Human Rights Commission said there were 167 political prisoners in Cuba, a fall from 201 at the start of the year. The head of the commission stated that long prison sentences were being replaced by harassment and intimidation. During the entire period of Castro's rule over the island, an estimated 200,000 people had been imprisoned or deprived of their freedoms for political reasons.

Cuba ranks 171st out of 180th on the 2020 World Press Freedom Index.

Since 2018, access to Internet by mobile data is available. In 2019, 7.1 millions of Cubans could access to Internet The prices of connections, since WiFi zones, or mobile data, or from houses through "Nauta Hogar" service have been decreasing, especially since the economic reform of January 2021, when all the salaries increased by at least 5 times, and the prices of Internet remain in the same point. In 2021, it was reported that 7.7 million Cuban people have internet access. There were 6.14 million mobile connections in Cuba in January 2021.

ECONOMICS

Cuba's economy is highly dependent on remittances, money sent back to Cuba from family overseas.

In 2016, the Miami Herald wrote, "... about 27 percent of Cubans earn under $50 per month; 34 percent earn the equivalent of $50 to $100 per month; and 20 percent earn $101 to $200. Twelve percent reported earning $201 to $500 a month; and almost 4 percent said their monthly earnings topped $500, including 1.5 percent who said they earned more than $1,000."

Before the 1959 revolution, Cuba was one of the richest countries in Latin America. The country's economy in the middle part of the 20th century, fuelled by the sale of sugar to the United States, had grown wealthy. Cuba ranked 5th in the hemisphere in per capita income, 3rd in life expectancy, 2nd in per capita ownership of automobiles and telephones, and 1st in the number of television sets per inhabitant. Cuba's literacy rate, 76%, was the fourth highest in Latin America although two-thirds of the people received three years of education or less; one-third never attended school and half the adult population could neither read nor write.

After the Cuban revolution and before the collapse of the Soviet Union, Cuba depended on Moscow for substantial aid and sheltered markets for its exports, valued at $65 billion in subsidies in total from 1960 to 1990. This accounted for between 10% and 40% of Cuban GDP, depending on the year. The loss of these subsidies sent the Cuban economy into a rapid depression known in Cuba as the Special Period, which saw the country's GDP decline by 33% between 1990 and 1993.

On January 1, 2021, Cuba's dual currency system was formally ended, and the convertible Cuban peso (CUC) was phased out, leaving the Cuban peso (CUP) as the country's sole currency unit. Cuban citizens had until June 2021 to exchange their CUCs. However, this devalued the Cuban peso and caused economic problems for people who had been previously paid in CUCs, particularly workers in the tourism industry. Also, in February, the government dictated new measures to the private sector, with prohibitions for only 124 activities, in areas like national security, health and educational services. The wages were increased again, between 4 and 9 times, for all the sectors. Also, new facilities were allowed to the state companies, with much more autonomy.

The first problems of the new reform, for the public opinion, were with the electricity prices, but that was amended quickly. Other measures corrected were in the prices to the private farmers. In July 2020, Cuba opened new stores accepting only foreign currency while simultaneously eliminating a special tax on the U.S. dollar to combat an economic crisis arising initially due to economic sanctions imposed by the Trump administration, then later worsened by a lack of tourism during the coronavirus pandemic.
TOURISM

The rapid growth of tourism during the Special Period had widespread social and economic repercussions in Cuba, and led to speculation about the emergence of a two-tier economy.

1.9 million tourists visited Cuba in 2003, predominantly from Canada and the European Union, generating revenue of US$2.1 billion. Cuba recorded 2,688,000 international tourists in 2011, the third-highest figure in the Caribbean (behind the Dominican Republic and Puerto Rico).

Some tourist facilities were extensively damaged on 8 September 2017 when Hurricane Irma hit the island.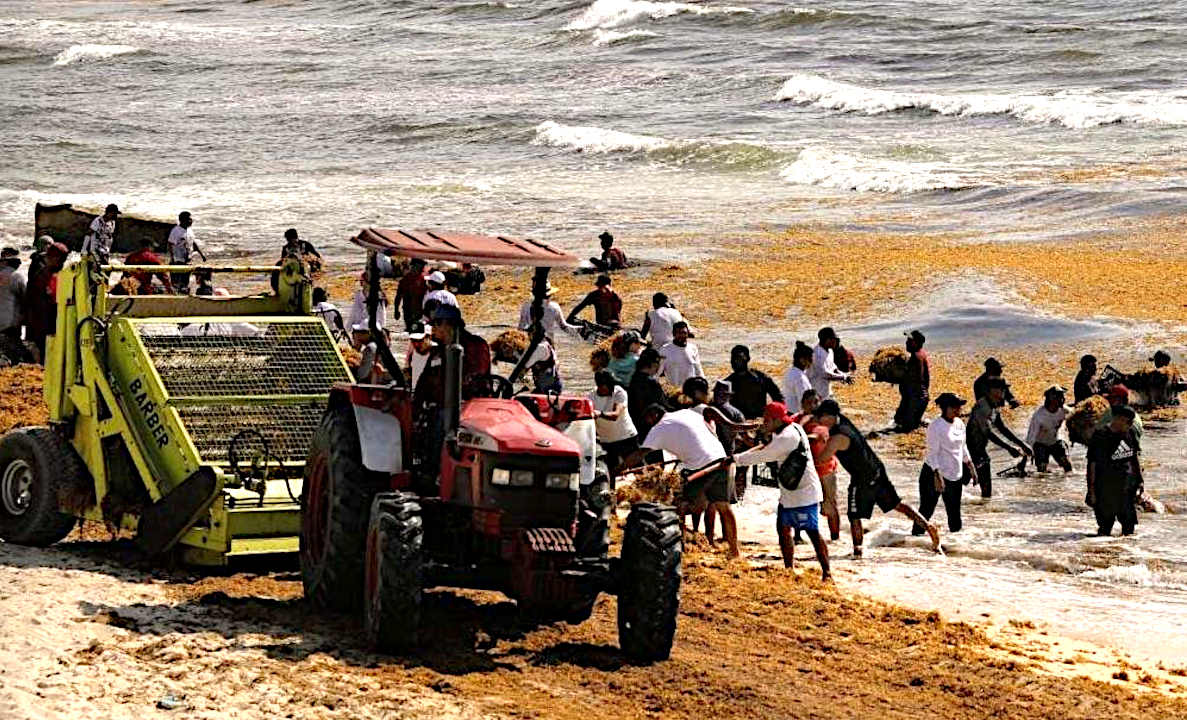 SARGASSUM: Represents an immediate threat to the economics of the Caribbean Islands, the Gulf of Mexico, and African West Coast, but is also a potential asset if it can be economically harvested and used for, among other things, fertilizer for agriculture: where there is a world shortage.
BIOMASS - BUILDING MATERIALS - CANCER TREATMENTS - CLOTHING & SHOES - CO2 SEQUESTRATION - COSMETICS
FERTILIZERS - FOODS - MEDICINES - MINERALS - PACKAGING - SUPPLEMENTS - VITAMINS
THE CARIBBEAN ISLANDS BY POPULATION
1 Cuba 11,252,999
2 Haiti 11,263,077 (Hispaniola)
3 Dominican Republic 10,766,998 (Hispaniola)
4 Puerto Rico (US) 3,508,000
5 Jamaica 2,729,000
6 Trinidad and Tobago 1,357,000
7 Guadeloupe (France) 405,000
8 Martinique (France) 383,000
9 Bahamas 379,000
10 Barbados 283,000
11 Saint Lucia 172,000
12 Curaçao (Netherlands) 157,000
13 Aruba (Netherlands) 110,000
14 Saint Vincent and the Grenadines 110,000
15 United States Virgin Islands 105,000
16 Grenada 104,000
17 Antigua and Barbuda 89,000
18 Dominica 71,000
19 Cayman Islands (UK) 59,000
20 Saint Kitts and Nevis 46,000
21 Sint Maarten (Netherlands) 39,000
22 Turks and Caicos Islands (UK) 37,000
23 Saint Martin (France) 36,000
24 British Virgin Islands (UK) 31,000
25 Caribbean Netherlands 26,000
26 Anguilla (UK) 14,000
27 Saint Barthélemy (France) 10,000
28 Montserrat (UK) 5,000
29 Tortuga 25,936
30 Roatán 110,000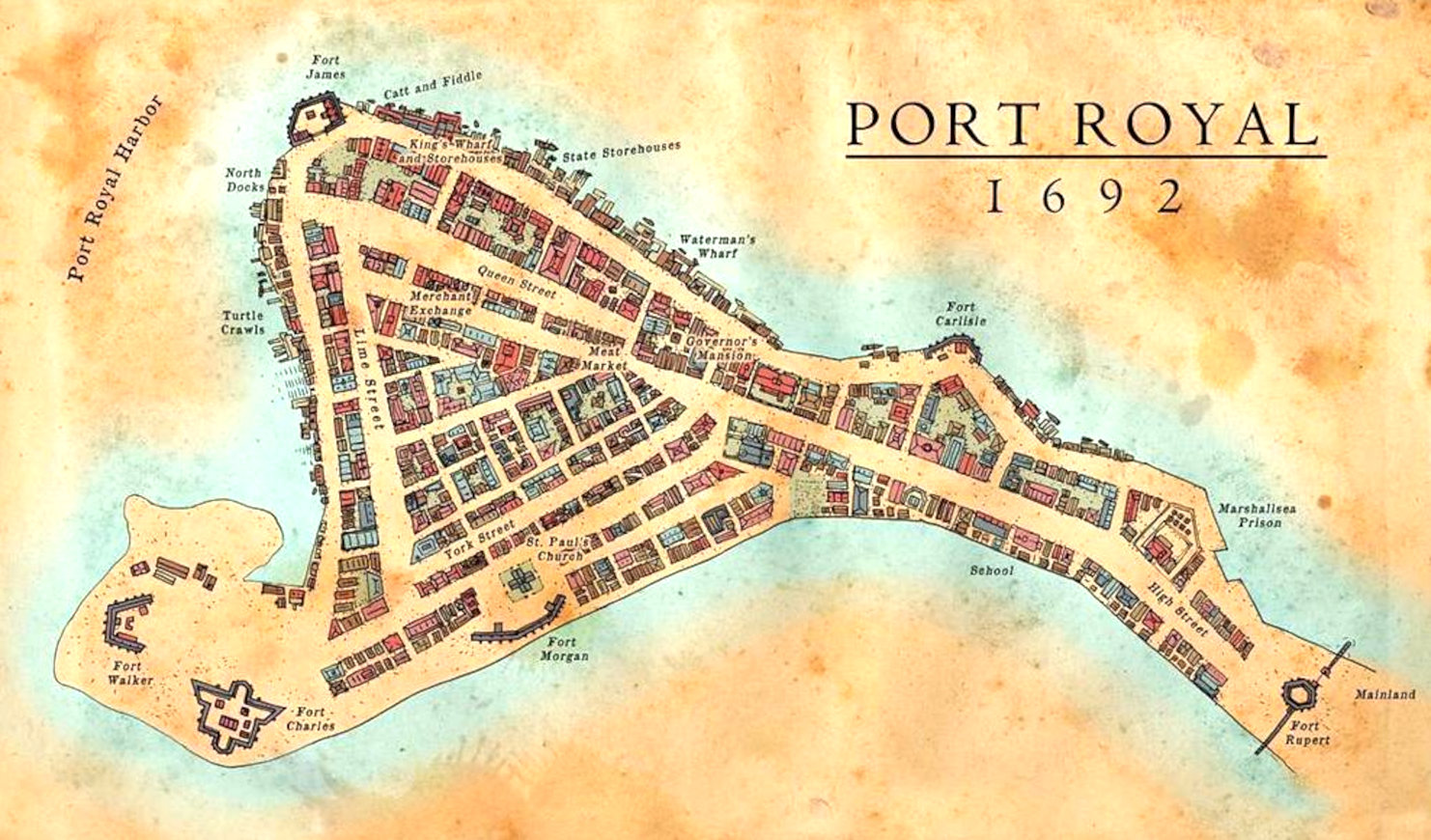 Map of Port Royal from 1692, where the notorious buccaneer, Sir Henry Morgan was buried, along with a Code to give meaning a treasure Map inherited by Lord Huntington - giving the whereabouts of a Kings ransom. Unfortunately, Port Royal was sunk when hit by an earthquake and tsunami in June 1692, along with the grave of the infamous buccaneer, lost in time until re-discovered by John Storm. The start of a race to find the hidden stash, involving treachery and industrial espionage.
The Caribbean Sea is littered with shipwrecks and dotted with dozens of paradise islands, where pirates are said to have buried their treasure.
ATLANTIS - MEDITERRANEAN SEA
ATLIT-YAM - ISRAEL
PAVLOPETRI - GREECE
PHANAGORIA - BLACK SEA
PORT ROYAL - JAMAICA
RUNGHOLT - DENMARK
THONIS-HERACLEION AND ALEXANDRIA - EGYPT
YONAGUNI JIMA - JAPAN
STUDIO/AGENTS: A draft script for Kulo-Luna is available on request. Cleopatra The Mummy is currently under development