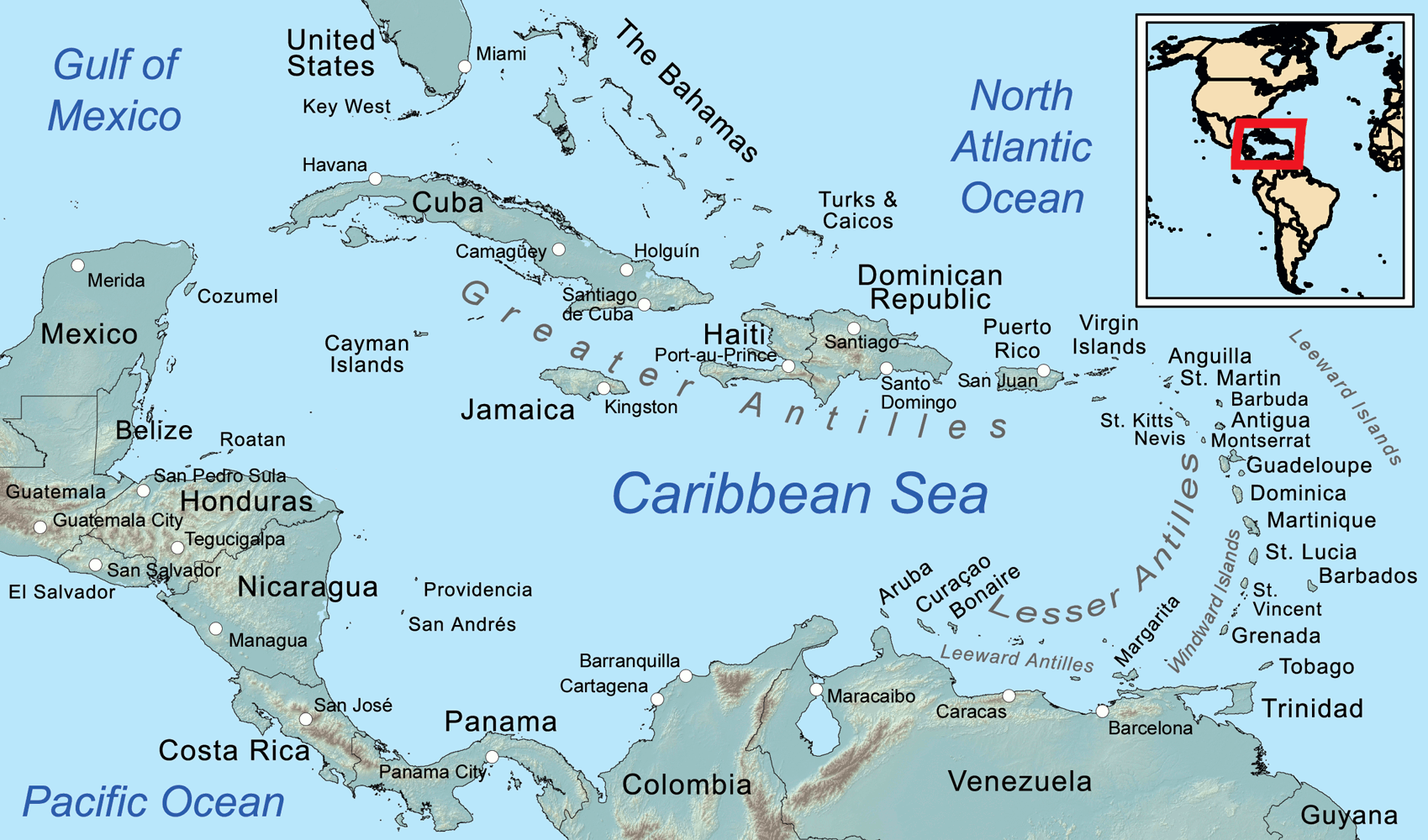 Map of the Caribbean Sea, showing the Greater, Lesser, and Leeward Antilles, the Leeward and Windward Islands.
Even though it's only the fifth-largest island by population in the Caribbean, Puerto Rico isn't necessarily small. If it were a full state, it would be the 29th largest state in the USA. And, with all of its mountains, waterfalls and historic culture, it would certainly be one of the most unique. Population in 2019: 2,933,408
The name "Puerto Rico" is Spanish for 'rich port.' Officially the Commonwealth of Puerto Rico (Spanish: Estado Libre Asociado de Puerto Rico, lit. 'Free Associated State of Puerto Rico') is a Caribbean island and unincorporated territory of the United States. It is located in the northeast Caribbean Sea, approximately 1,000 miles (1,600 km) southeast of Miami, Florida.

The Commonwealth is an archipelago among the Greater Antilles located between the Dominican Republic and the U.S. Virgin Islands; it includes the eponymous main island and several smaller islands, such as Mona, Culebra, and Vieques. It has roughly 3.2 million residents, and its capital and most populous city is San Juan. Spanish and English are the official languages of the executive branch of government, though Spanish predominates.

First populated by the Ortoiroid people, who were later displaced by the Saladoid peoples, who were themselves later displaced by the indigenous Taíno people, Puerto Rico was colonized by Spain following the arrival of Christopher Columbus in 1493. It was contested by other European powers, but remained a Spanish possession for the next four centuries. Spanish rule led to the death, displacement, and assimilation of the native population, the introduction of African slaves, and settlement primarily from the Canary Islands and Andalusia. Within the Spanish Empire, Puerto Rico played a secondary but strategic role compared to wealthier colonies like Peru and New Spain. By the late 19th century, a distinct Puerto Rican identity began to emerge, centered around a fusion of indigenous, African, and European elements. In 1898, following the Spanish–American War, the United States acquired Puerto Rico.

Puerto Ricans have been U.S. citizens since 1917, and can move freely between the island and the mainland. However, as residents of an unincorporated territory, American citizens of Puerto Rico are disenfranchised at the national level, do not vote for the president or vice president, and generally do not pay federal income tax. However, in addition to the other four territories which send non-voting representatives to Congress, they do participate in presidential primaries. As it is not a state, Puerto Rico does not have a vote in the U.S. Congress, which governs it under the Puerto Rico Federal Relations Act of 1950. Puerto Rico is represented federally solely by one non-voting member of the House called a Resident Commissioner. The U.S. Congress approved a local constitution in 1952, allowing U.S. citizens residing on the Island to elect a governor. Puerto Rico's current and future political status has consistently been a matter of significant debate.

Beginning in the mid-20th century, the U.S. government, together with the Puerto Rico Industrial Development Company, launched a series of economic projects to develop Puerto Rico into an industrial high-income economy. It is classified by the International Monetary Fund as a developed jurisdiction with an advanced, high-income economy; it ranks 40th on the Human Development Index. The main drivers of Puerto Rico's economy are manufacturing (primarily pharmaceuticals, petrochemicals, and electronics) followed by the service industry (namely tourism and hospitality).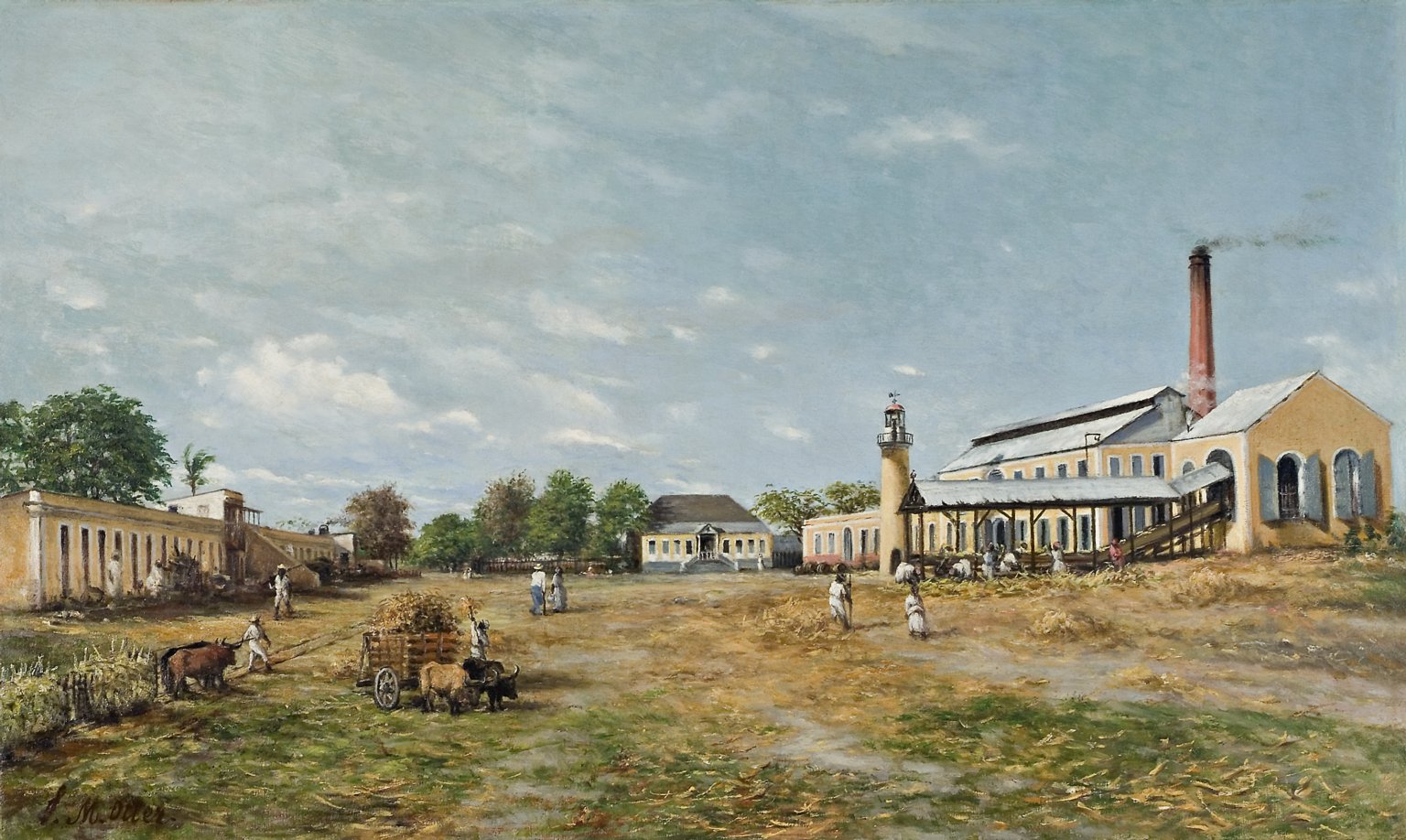 ENVIRONMENT

Puerto Rico lies at the boundary between the Caribbean and North American plates and is being deformed by the tectonic stresses caused by their interaction. These stresses may cause earthquakes and tsunamis. These seismic events, along with landslides, represent some of the most dangerous geologic hazards in the island and in the northeastern Caribbean.

The 1918 San Fermín earthquake occurred on 11 October, 1918, and had an estimated magnitude of 7.5 on the Richter scale. It originated off the coast of Aguadilla, several kilometers off the northern coast, and was accompanied by a tsunami. It caused extensive property damage and widespread losses, damaging infrastructure, especially bridges. It resulted in an estimated 116 deaths and $4 million in property damage. The failure of the government to move rapidly to provide for the general welfare contributed to political activism by opponents and eventually to the rise of the Puerto Rican Nationalist Party.

On 7 January 2020, the country experienced its second largest earthquake, estimated at magnitude 6.4. Economic losses were estimated to be more than $3.1 billion.

The Puerto Rico Trench, the largest and deepest trench in the Atlantic, is located about 71 mi (114 km) north of Puerto Rico at the boundary between the Caribbean and North American plates. It is 170 mi (270 km) long. At its deepest point, named the Milwaukee Deep, it is almost 27,600 ft (8,400 m) deep.

The United States Environmental Protection Agency reports: "Puerto Rico's climate is changing. The Commonwealth has warmed by more than one degree (F) since the mid 20th century, and the surrounding waters have warmed by nearly two degrees since 1901. The sea is rising about an inch every 15 years, and heavy rainstorms are becoming more severe. In the coming decades, rising temperatures are likely to increase storm damages, significantly harm coral reefs, and increase the frequency of unpleasantly hot days". A 2019 report stated that Puerto Rico "is affected by climate change more than anywhere else in the world".

Across the island in the southwest, the 15 sq mi (39 km2) of dry land at the Guánica Commonwealth Forest Reserve contain over 600 uncommon species of plants and animals, including 48 endangered species and 16 endemic to Puerto Rico.

Puerto Rico has three bioluminescent bays: rare bodies of water occupied by microscopic marine organisms that glow when touched. However, tourism, pollution, and hurricanes have threatened the organisms.

ECONOMY

Puerto Rico is classified as a high income economy by the World Bank and International Monetary Fund. It is considered the most competitive economy in Latin America by the World Economic Forum and ranks highly on the Human Development Index. According to World Bank, gross national income per capita in Puerto Rico in 2020 was $21,740. Puerto Rico's economy is mainly driven by manufacturing (primarily pharmaceuticals, textiles, petrochemicals and electronics) followed by services (primarily finance, insurance, real estate and tourism); agriculture represents less than 1% of GNP. In recent years, it has also become a popular destination for MICE (meetings, incentives, conferencing, exhibitions), with a modern convention centre district overlooking the Port of San Juan.

In early 2017, the Puerto Rican government-debt crisis posed serious problems for the government which was saddled with outstanding bond debt that had climbed to $70 billion. The debt had been increasing during a decade-long recession.

The Commonwealth had been defaulting on many debts, including bonds, since 2015. With debt payments due, the governor was facing the risk of a government shutdown and failure to fund the managed health care system.

In early August 2017, the island's financial oversight board (created by PROMESA) planned to institute two days off without pay per month for government employees, down from the original plan of four days per month; the latter had been expected to achieve $218 million in savings. Governor Rossello rejected this plan as unjustified and unnecessary. Pension reforms were also discussed including a proposal for a 10% reduction in benefits to begin addressing the $50 billion in unfunded pension liabilities.

Puerto Rico has an operating budget of about U.S.$9.8 billion with expenses at about $10.4 billion, creating a structural deficit of $775 million (about 7.9% of the budget). The practice of approving budgets with a structural deficit has been done for 22 consecutive years starting in 2000. Throughout those years, including present time, all budgets contemplated issuing bonds to cover these projected deficits rather than making structural adjustments. This practice increased Puerto Rico's cumulative debt, as the government had already been issuing bonds to balance its actual budget for four decades beginning in 1973.

Such economic practices are unsustainable, and potentially fraudulent in nature. The administration should attend basic mathematics and housekeeping lessons, along with other nations, whose leaders cannot count.

TOURISM

Tourism in Puerto Rico is also an important part of the economy. In 2017, Hurricane Maria caused severe damage to the island and its infrastructure, disrupting tourism for many months. The damage was estimated at $100 billion. An April 2019 report indicated that by that time, only a few hotels were still closed, that life for tourists in and around the capital had, for the most part, returned to normal.

In late November 2019, reports indicated that 90 calls to San Juan by Royal Caribbean ships would be cancelled during 2020 and 2021. This step would mean 360,000 fewer visitors, with a loss to the island's economy of 44 million. As well, 30 ship departures from San Juan were being canceled. The rationale for this decision was discussed in a news report:

The reason for the cancellations is the privatization of the cruise docks in San Juan due to much-needed maintenance that is needed. Around $250 million investment is needed to make sure cruise ships can continue to dock there in the years to come. There is an urge for governor Wanda Vazquez to not go ahead with the privatization so this news is fluid.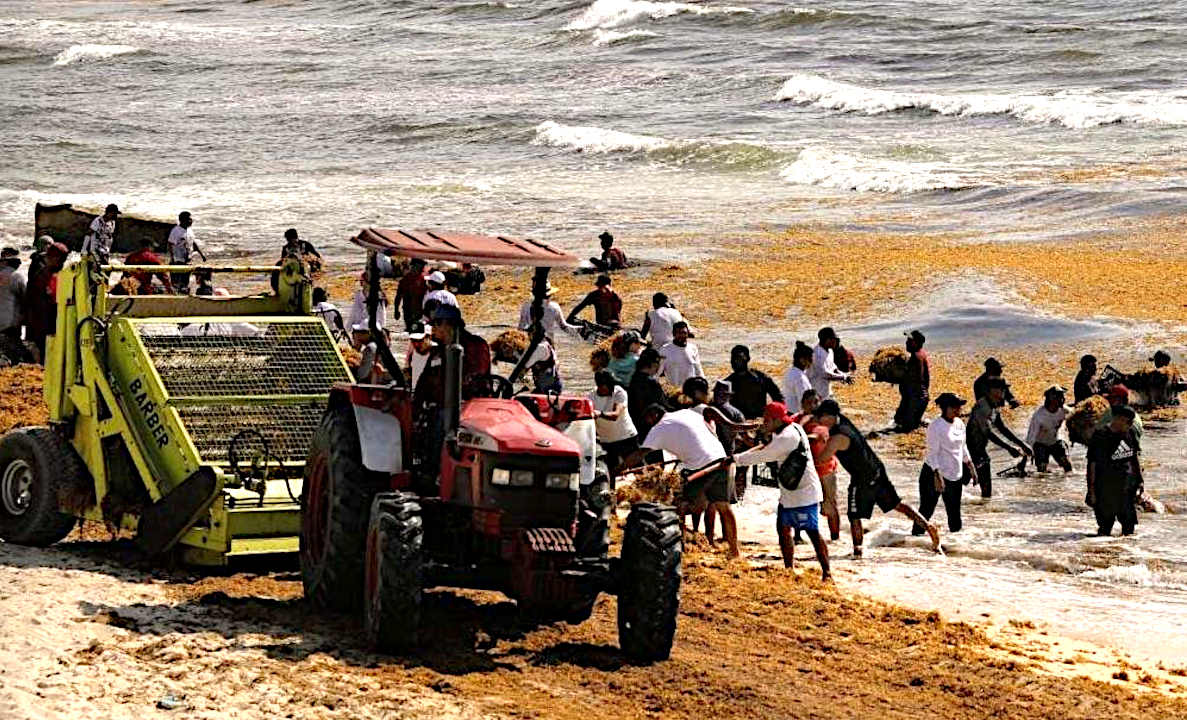 SARGASSUM: Represents an immediate threat to the economics of the Caribbean Islands, the Gulf of Mexico, and African West Coast, but is also a potential asset if it can be economically harvested and used for, among other things, fertilizer for agriculture: where there is a world shortage.
BIOMASS - BUILDING MATERIALS - CANCER TREATMENTS - CLOTHING & SHOES - CO2 SEQUESTRATION - COSMETICS
FERTILIZERS - FOODS - MEDICINES - MINERALS - PACKAGING - SUPPLEMENTS - VITAMINS
THE CARIBBEAN ISLANDS BY POPULATION
1 Cuba 11,252,999
2 Haiti 11,263,077 (Hispaniola)
3 Dominican Republic 10,766,998 (Hispaniola)
4 Puerto Rico (US) 3,508,000
5 Jamaica 2,729,000
6 Trinidad and Tobago 1,357,000
7 Guadeloupe (France) 405,000
8 Martinique (France) 383,000
9 Bahamas 379,000
10 Barbados 283,000
11 Saint Lucia 172,000
12 Curaçao (Netherlands) 157,000
13 Aruba (Netherlands) 110,000
14 Saint Vincent and the Grenadines 110,000
15 United States Virgin Islands 105,000
16 Grenada 104,000
17 Antigua and Barbuda 89,000
18 Dominica 71,000
19 Cayman Islands (UK) 59,000
20 Saint Kitts and Nevis 46,000
21 Sint Maarten (Netherlands) 39,000
22 Turks and Caicos Islands (UK) 37,000
23 Saint Martin (France) 36,000
24 British Virgin Islands (UK) 31,000
25 Caribbean Netherlands 26,000
26 Anguilla (UK) 14,000
27 Saint Barthélemy (France) 10,000
28 Montserrat (UK) 5,000
29 Tortuga 25,936
30 Roatán 110,000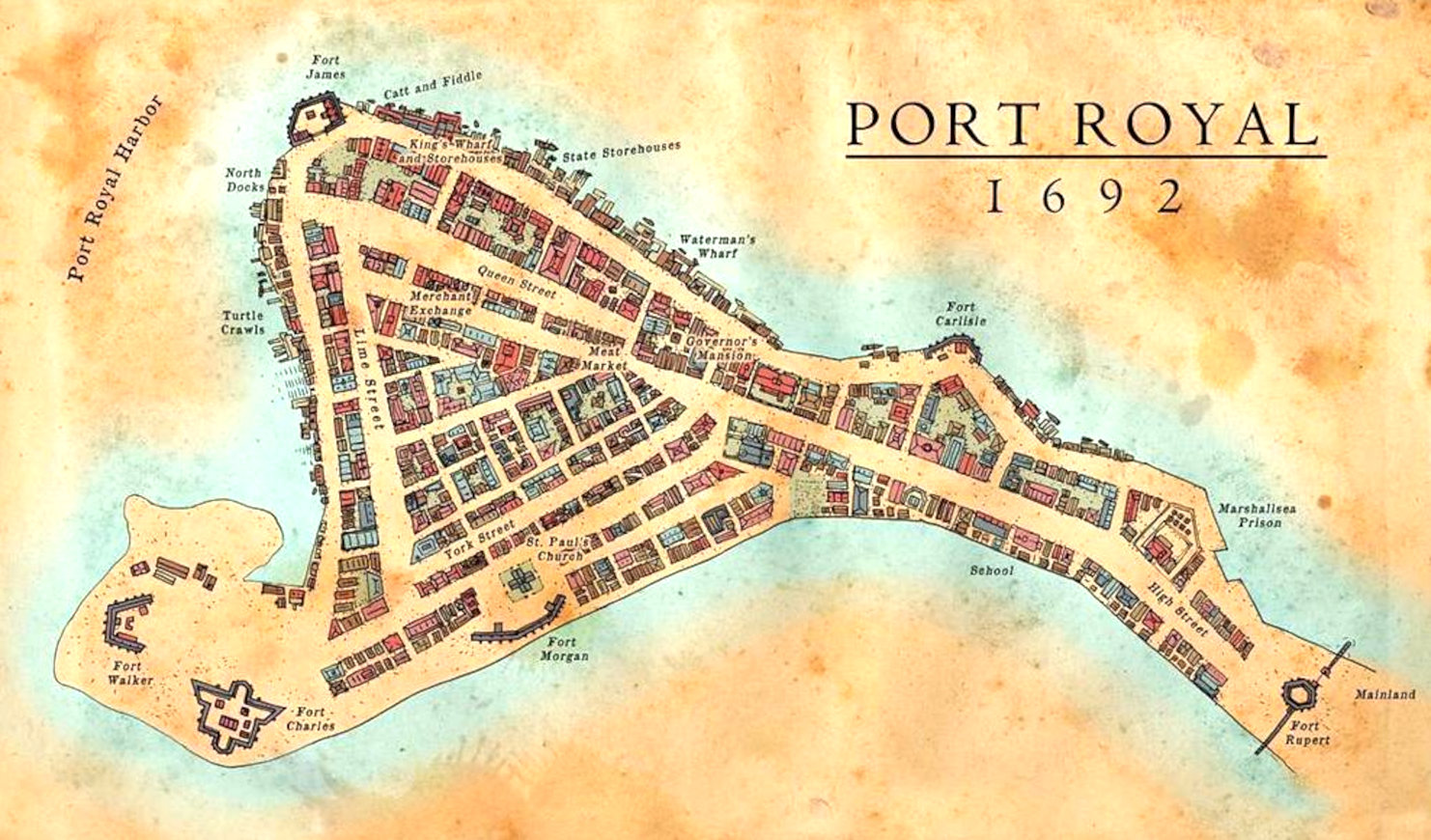 Map of Port Royal from 1692, where the notorious buccaneer, Sir Henry Morgan was buried, along with a Code to give meaning a treasure Map inherited by Lord Huntington - giving the whereabouts of a Kings ransom. Unfortunately, Port Royal was sunk when hit by an earthquake and tsunami in June 1692, along with the grave of the infamous buccaneer, lost in time until re-discovered by John Storm and the Elizabeth Swann. This is the start of a race to find the hidden stash, involving treachery and industrial espionage.
The Caribbean Sea is littered with shipwrecks and dotted with dozens of paradise islands, where pirates are said to have buried their treasure. Many island nations are at risk as to rising sea levels, caused by climate change, with the United Nations powerless to deal with global warming, being dependent on fossil fuels.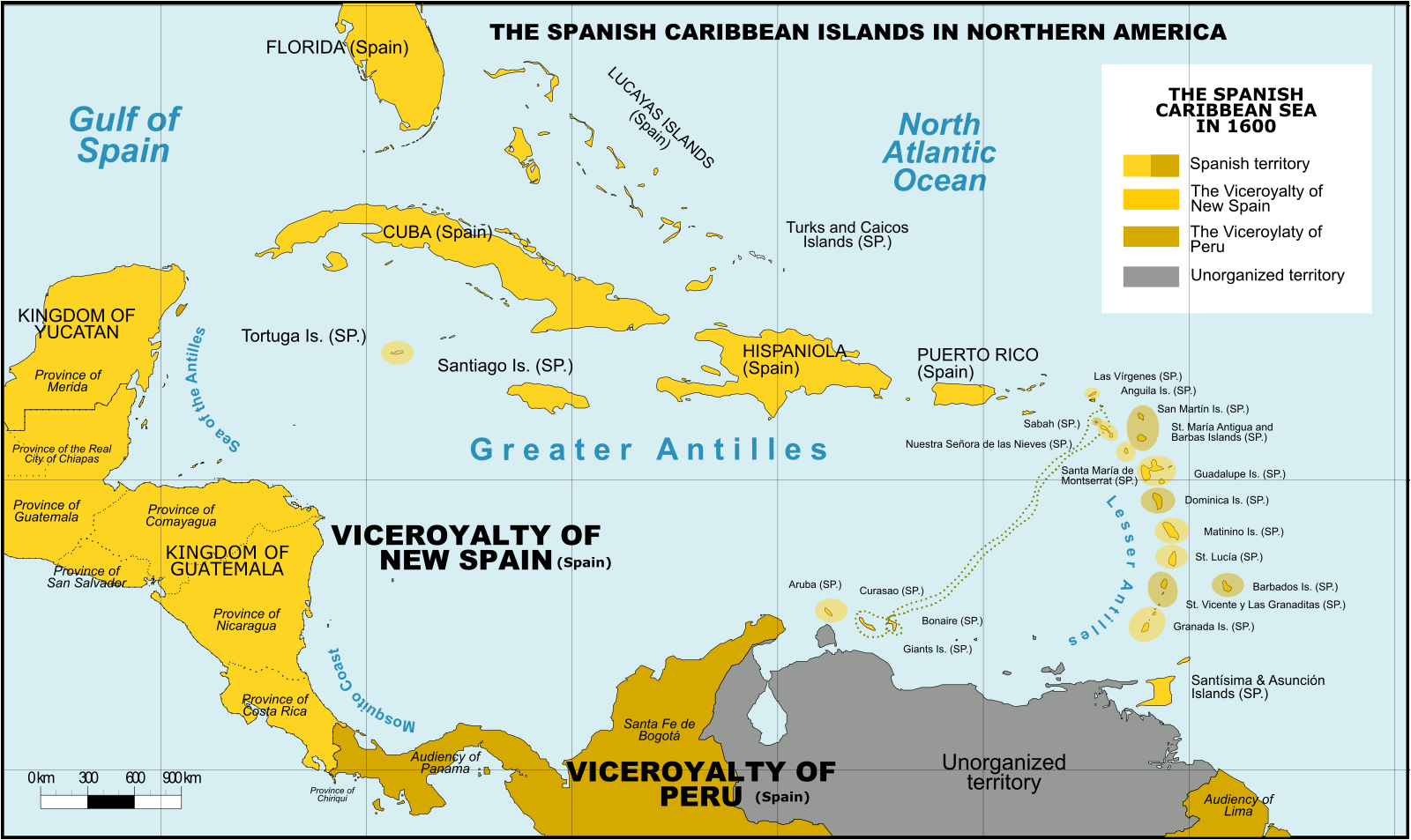 Spanish Caribbean Islands 1600 Spanish Overseas territories Northern America Turks and Caicos Islands (1492-1516, 1516-1678) * Islas Turcas y Caicos The Bahamas (1492-1516, 1516-1648) *Islas Lucayas Bermuda (1503-1516, 1516-1609) *Carabela/Isla de los Diablos Greater Antilles Cuba (1492-1762, 1763-1898) *Juana Cayman Islands (UK) (1503-1670) *Islas de las Tortugas La Española/Hispanola (1492-1795, 1801-1822) Dominican Republic (1492-1795, 1801-1822, 1861-1863) *Santo Domingo Haiti (1492-1793) *Santa María Jamaica (1492-1655) *Isla Santiago Puerto Rico (US) (1493-1898) *San Juan Bautista Lesser Antilles Leeward Islands: Virgin Islands (1493-1587) *Islas Once Mil Vírgenes / Islas Vírgenes St. Thomas (US) (1493-1587) St. John (US) (1493-1587) St. Croix (US) (1493-1587) Water Island (US) (1493-1587) British Virgin Islands (UK) (1493-1648) *Islas Once Mil Vírgenes / Islas Vírgenes Tortola (UK) (1493-1648) Virgin Gorda (UK) (1493-1672) Anegada (UK) (1493-1672) Jost Van Dyke (UK) (1493-1672) Anguilla (UK) (1500-1631, 1631-1650) *Isla de la Anguila Saint Martin/Sint Maarten (France/Neth.) (1493-1631) *San Martín Saint-Barthélemy (Fr.) (1493-1648) *San Bartolomeo Saba (Neth.) (1493-1640) *Saba/San Cristóbal Sint Eustatius (Neth.) (1493-1640) *San Eustaquio St. Kitts and Nevis (1493-1628) *Nuestra Señora de las Nieves Saint Kitts (1493-1628) *San Cristóbal Nevis (1493-1628) *Nieves Antigua and Barbuda Barbuda (1493-1628) *Santa Dulcina Antigua (1493-1632) *Santa María de la Antigua Redonda (1493-1632) *Santa María la Redonda Montserrat (UK) (1493-1632) *Santa María de Monstserrat Guadeloupe (Fr.) (1493-1631) *Santa Guadalupe Windward Islands: Dominica (1493-1635) *Domingo Martinique (Fr.) (1502-1635) *Martinino Saint Lucia (St. Lucia) (1502-1660) *Santa Lucía Barbados (1492-1620) *Los Barbados/El Barbudo St. Vincent and the Grenadines (1498-1627) *San Vicente Saint Vincent the Grenadines Grenada (1498-1650) *Concepción Carriacou & Petite Martinique (Grenada) Trinidad & Tobago (1498-1628) *Santísima e Asunción Aruba (Neth.) (1499-1648) *Aruba/Oroba Curaçao (Neth.) (1499-1634) *Curasao/Isla de los Gigantes Bonaire (Neth.) (1499-1635) * Bonaire/Buon Aire Viceroyalty of New Granada Los Roques Archipelago (Ven) La Orchila (Ven) La Tortuga (Ven) La Blanquilla (Ven) Margarita Island (Ven) Coche (Ven) Cubagua (Ven) Other islands (Ven) *Founded Spanish names
ATLANTIS - MEDITERRANEAN SEA
ATLIT-YAM - ISRAEL
PAVLOPETRI - GREECE
PHANAGORIA - BLACK SEA
PORT ROYAL - JAMAICA
RUNGHOLT - DENMARK
THONIS-HERACLEION AND ALEXANDRIA - EGYPT
YONAGUNI JIMA - JAPAN
STUDIO/AGENTS: A draft script for Kulo-Luna is available on request. Cleopatra The Mummy is currently under development