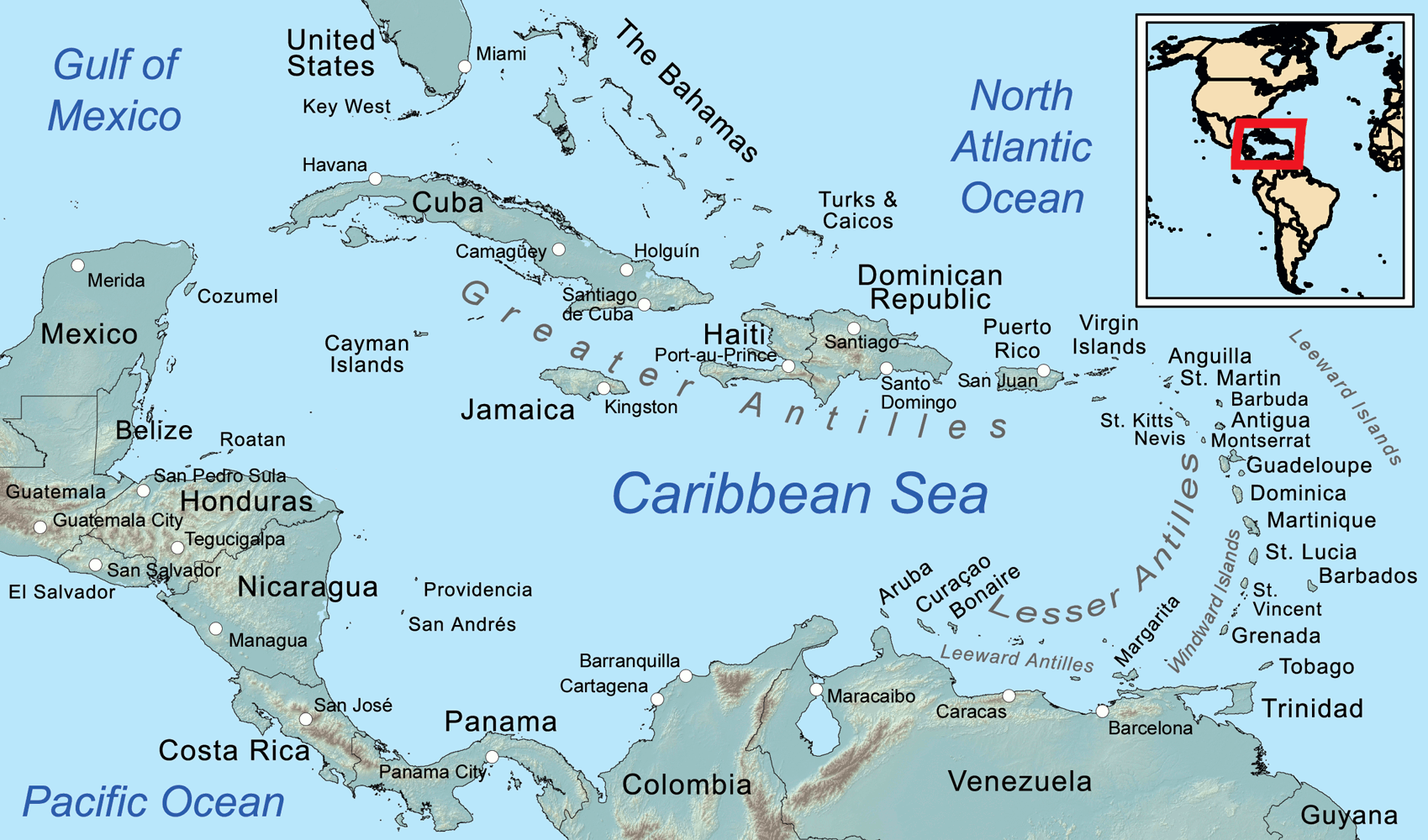 Map of the Caribbean Sea, showing the Greater, Lesser, and Leeward Antilles, the Leeward and Windward Islands.
These are obviously two separate islands all rolled into one Caribbean country. Trinidad is the larger island and together with Tobago they've got a combined population of nearly 1.4 million people. And, the people there are incredibly diverse. The most common languages spoken here are English, Chinese, North Levantine Spoken Arabic, and American Sign Language. Population in 2019: 1,394,973
Trinidad and Tobago, officially the Republic of Trinidad and Tobago, is the southernmost island country in the Caribbean. It is known for its fossil-fuel wealth. Consisting of the main islands Trinidad and Tobago, and numerous much smaller islands, it is situated 130 kilometres (81 miles) south of Grenada and 11 kilometres (6.8 miles) off the coast of northeastern Venezuela. It shares maritime boundaries with Barbados to the northeast, Grenada to the northwest and Venezuela to the south and west. Trinidad and Tobago is generally considered to be part of the West Indies. According to some geographic definitions, Trinidad and Tobago are also part of the Windward Islands and Lesser Antilles, while other definitions regard Trinidad and Tobago as a separate island group.

The island of Trinidad was inhabited for centuries by Indigenous peoples before becoming a colony in the Spanish Empire, following the arrival of Christopher Columbus in 1498. Spanish governor José María Chacón surrendered the island to a British fleet under the command of Sir Ralph Abercromby in 1797. During the same period, the island of Tobago changed hands among Spanish, British, French, Dutch and Courlander colonists more times than any other island in the Caribbean.[citation needed] Trinidad and Tobago were ceded to Britain in 1802 under the Treaty of Amiens as separate states and unified in 1889. Trinidad and Tobago obtained independence in 1962, becoming a republic in 1976.

Trinidad and Tobago has the third highest GDP per capita based on purchasing power parity (PPP) in the Americas after the United States and Canada. It is recognised by the World Bank as a high-income economy. Unlike most Caribbean nations and territories, which rely heavily on tourism, the economy is primarily industrial with an emphasis on petroleum and petrochemicals; much of the nation's wealth is derived from its large reserves of oil and natural gas.

Trinidad and Tobago is well known for its African and Indian cultures, reflected in its large and famous Carnival, Diwali, and Hosay celebrations, as well being the birthplace of steelpan, the limbo, and music styles such as calypso, soca, rapso, parang, chutney, and chutney soca.

Trinidad is the larger and more populous of the two major islands of Trinidad and Tobago. The island lies 11 km (6.8 mi) off the northeastern coast of Venezuela and sits on the continental shelf of South America. It is often referred to as the southernmost island in the West Indies. With an area of 4,768 km2 (1,841 sq mi), it is also the fifth largest in the West Indies.

The economy of Trinidad and Tobago is diversified, based to a large extent on oil, natural gas, e. It is one of the leading gas-based export centers in the world, being one of the top five exporters of liquefied natural gas and the largest onshore natural gas well was recently discovered in southern Trinidad. This has allowed Trinidad to capitalize on the biggest mineral reserves within its territories. It is an oil-rich country and stable economically.

Unlike many Caribbean islands Trinidad and Tobago lies outside the main hurricane alleys; nevertheless, the island of Tobago was struck by Hurricane Flora on 30 September 1963. In the Northern Range of Trinidad, the climate is often cooler than that of the sweltering heat of the plains below, due to constant cloud and mist cover, and heavy rains in the mountains.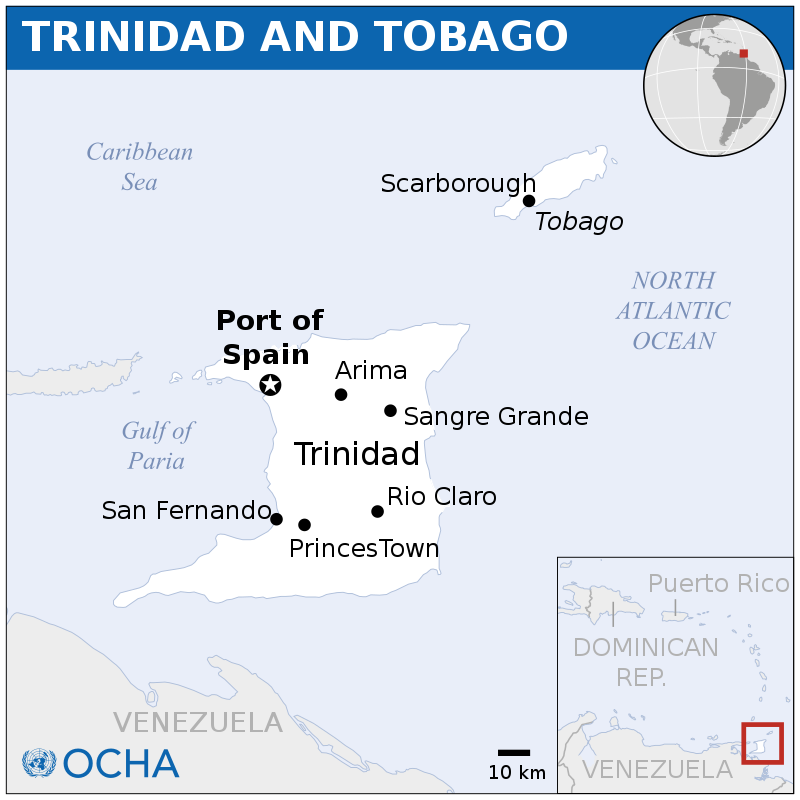 POLITICS

Trinidad and Tobago is a republic with a two-party system and a bicameral parliamentary system based on the Westminster System.

The head of state of Trinidad and Tobago is the President, currently Paula-Mae Weekes. This largely ceremonial role replaced that of the Governor-General (representing the Monarch of Trinidad and Tobago) upon Trinidad and Tobago's becoming a republic in 1976. The head of government is the Prime Minister, currently Keith Rowley. The President is elected by an Electoral college consisting of the full membership of both houses of Parliament.

OIL & GAS

Oil and gas account for about 40% of GDP and 80% of exports, but only 5% of employment. Recent growth has been fuelled by investments in liquefied natural gas (LNG), petrochemicals, and steel. Additional petrochemical, aluminium, and plastics projects are in various stages of planning, apparently, in denial and conflict with marine conservation objectives.

The country is also a regional financial centre, and the economy has a growing trade surplus. The expansion of Atlantic LNG over the past six years created the largest single-sustained phase of economic growth in Trinidad and Tobago. The nation is an exporter of LNG and supplied a total of 13.4 billion m3 in 2017. The largest markets for Trinidad and Tobago's LNG exports are Chile and the United States.

Trinidad and Tobago has transitioned from an oil-based economy to a natural gas based economy. In 2017, natural gas production totalled 18.5 billion m3, a decrease of 0.4% from 2016 with 18.6 billion m3 of production. Oil production has decreased over the past decade from 7.1 million metric tonnes per year in 2007 to 4.4 million metric tonnes per year in 2017. In December 2005, the Atlantic LNG's fourth production module or "train" for liquefied natural gas (LNG) began production. Train four has increased Atlantic LNG's overall output capacity by almost 50% and is the largest LNG train in the world at 5.2 million tons/year of LNG.

CLIMATE

Trinidad and Tobago is the region's leading exporter of oil and gas but imports of fossil fuels provided over 90% of the energy consumed by its CARICOM neighbours in 2008. This vulnerability led CARICOM to develop an Energy Policy which was approved in 2013. This policy is accompanied by the CARICOM Sustainable Energy Roadmap and Strategy (C-SERMS). Under the policy, renewable energy sources are to contribute 20% of the total electricity generation mix in member states by 2017, 28% by 2022 and 47% by 2027.

In 2014 Trinidad and Tobago was the third country in the world which emitted the most CO2 per capita after Qatar and Curacao according to the World Bank. On average, each inhabitant produced 34.2 metric tons of CO2 in the atmosphere. In comparison, the world average was 5.0 tons per capita the same year.

The Caribbean Industrial Research Institute in Trinidad and Tobago facilitates climate change research and provides industrial support for R&D related to food security. It also carries out equipment testing and calibration for major industries.
As major polluters, T&T appears completely unprepared for the transition to a net zero economy.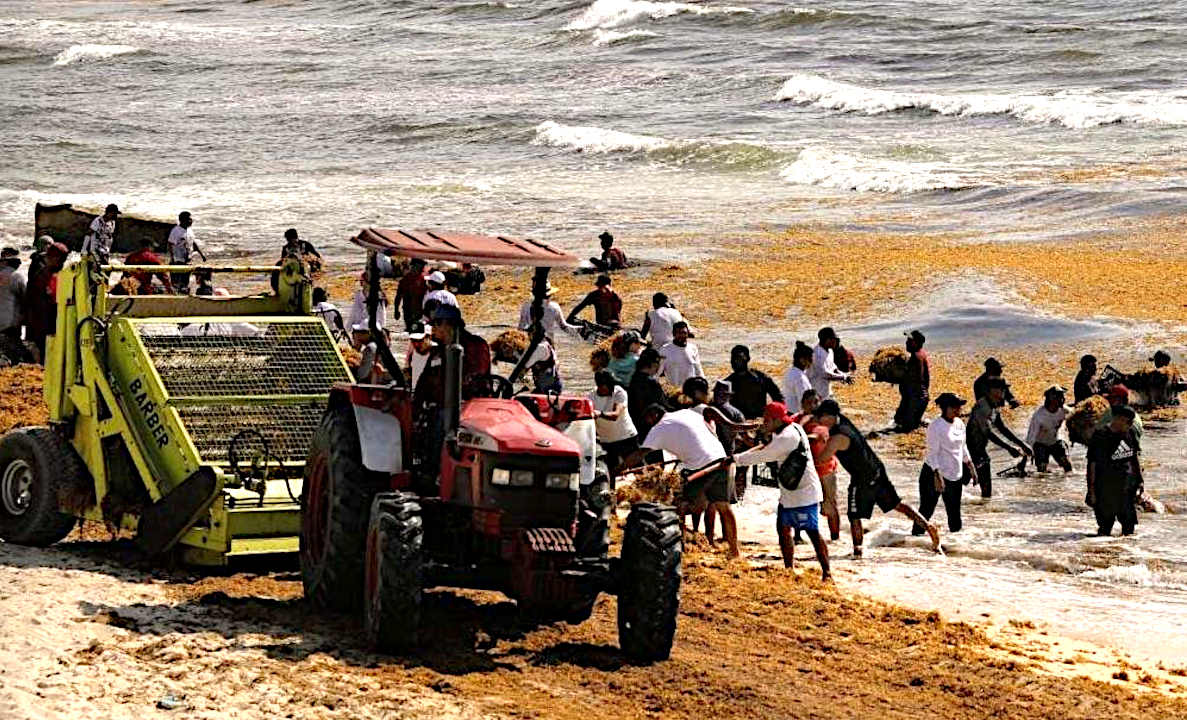 SARGASSUM: Represents an immediate threat to the economics of the Caribbean Islands, the Gulf of Mexico, and African West Coast, but is also a potential asset if it can be economically harvested and used for, among other things, fertilizer for agriculture: where there is a world shortage.
BIOMASS - BUILDING MATERIALS - CANCER TREATMENTS - CLOTHING & SHOES - CO2 SEQUESTRATION - COSMETICS
FERTILIZERS - FOODS - MEDICINES - MINERALS - PACKAGING - SUPPLEMENTS - VITAMINS
THE CARIBBEAN ISLANDS BY POPULATION
1 Cuba 11,252,999
2 Haiti 11,263,077 (Hispaniola)
3 Dominican Republic 10,766,998 (Hispaniola)
4 Puerto Rico (US) 3,508,000
5 Jamaica 2,729,000
6 Trinidad and Tobago 1,357,000
7 Guadeloupe (France) 405,000
8 Martinique (France) 383,000
9 Bahamas 379,000
10 Barbados 283,000
11 Saint Lucia 172,000
12 Curaçao (Netherlands) 157,000
13 Aruba (Netherlands) 110,000
14 Saint Vincent and the Grenadines 110,000
15 United States Virgin Islands 105,000
16 Grenada 104,000
17 Antigua and Barbuda 89,000
18 Dominica 71,000
19 Cayman Islands (UK) 59,000
20 Saint Kitts and Nevis 46,000
21 Sint Maarten (Netherlands) 39,000
22 Turks and Caicos Islands (UK) 37,000
23 Saint Martin (France) 36,000
24 British Virgin Islands (UK) 31,000
25 Caribbean Netherlands 26,000
26 Anguilla (UK) 14,000
27 Saint Barthélemy (France) 10,000
28 Montserrat (UK) 5,000
29 Tortuga 25,936
30 Roatán 110,000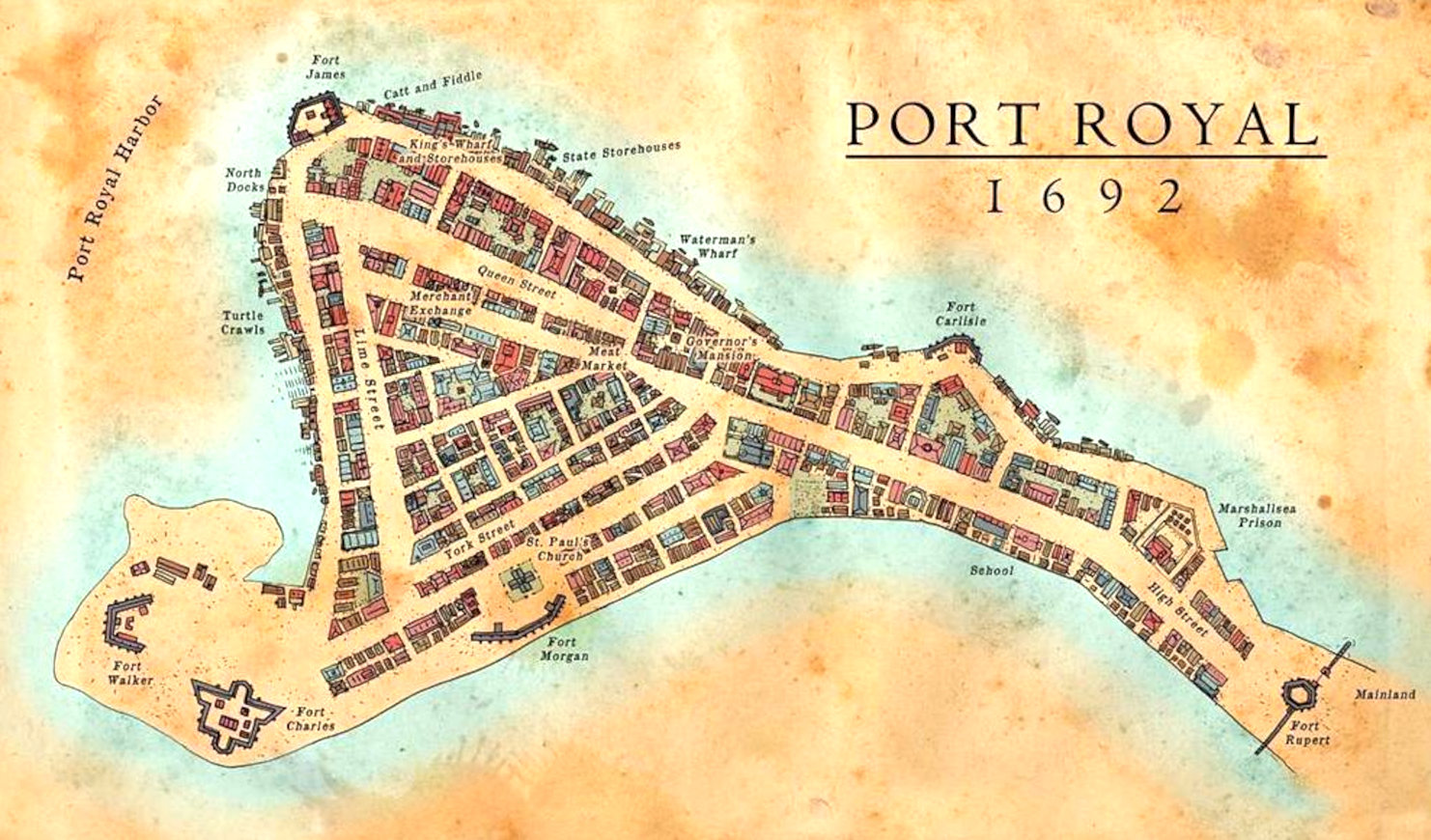 Map of Port Royal from 1692, where the notorious buccaneer, Sir Henry Morgan was buried, along with a Code to give meaning a treasure Map inherited by Lord Huntington - giving the whereabouts of a Kings ransom. Unfortunately, Port Royal was sunk when hit by an earthquake and tsunami in June 1692, along with the grave of the infamous buccaneer, lost in time until re-discovered by John Storm and the Elizabeth Swann. This is the start of a race to find the hidden stash, involving treachery and industrial espionage.
The Caribbean Sea is littered with shipwrecks and dotted with dozens of paradise islands, where pirates are said to have buried their treasure. Many island nations are at risk as to rising sea levels, caused by climate change, with the United Nations powerless to deal with global warming, being dependent on fossil fuels.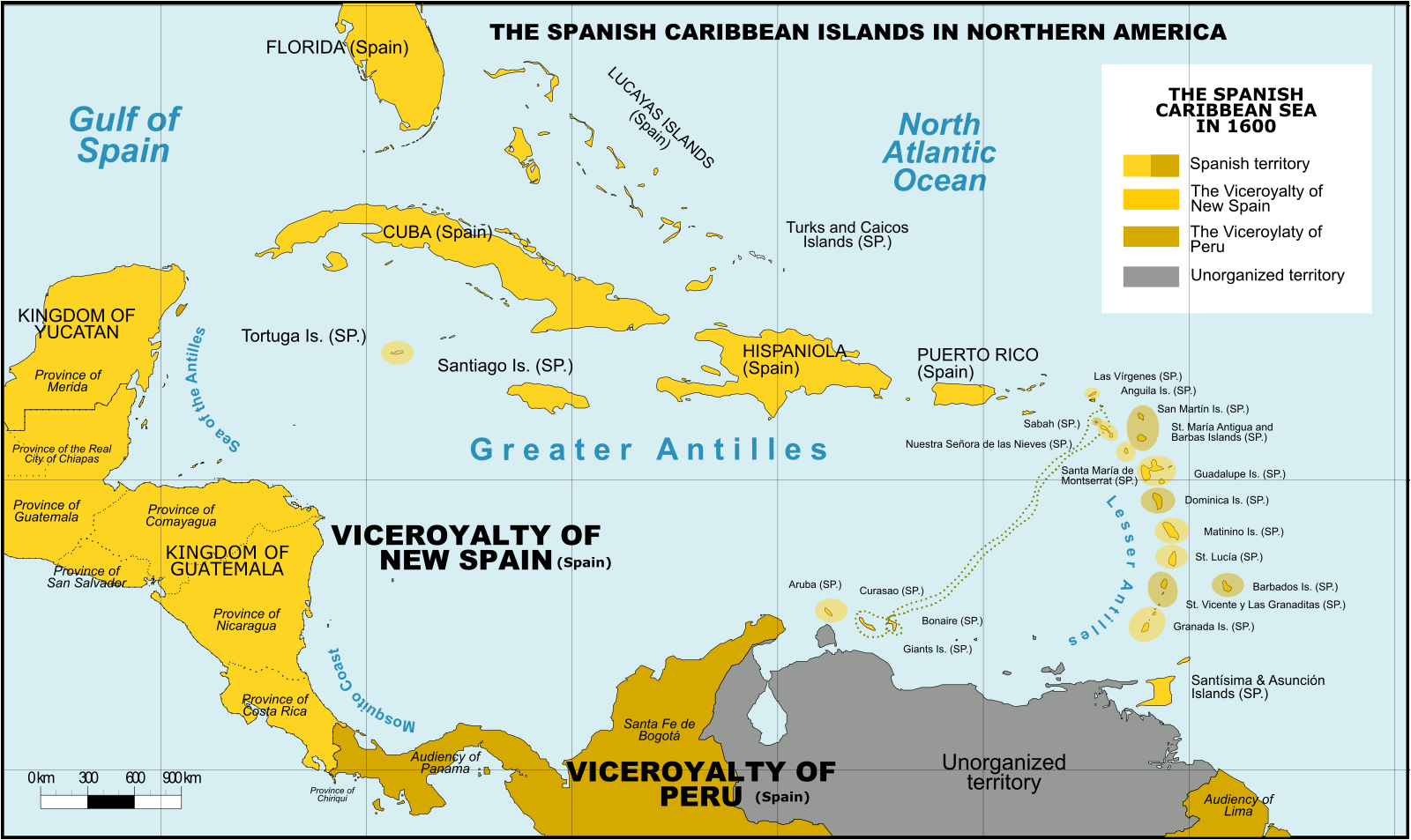 Spanish Caribbean Islands 1600 Spanish Overseas territories Northern America Turks and Caicos Islands (1492-1516, 1516-1678) * Islas Turcas y Caicos The Bahamas (1492-1516, 1516-1648) *Islas Lucayas Bermuda (1503-1516, 1516-1609) *Carabela/Isla de los Diablos Greater Antilles Cuba (1492-1762, 1763-1898) *Juana Cayman Islands (UK) (1503-1670) *Islas de las Tortugas La Española/Hispanola (1492-1795, 1801-1822) Dominican Republic (1492-1795, 1801-1822, 1861-1863) *Santo Domingo Haiti (1492-1793) *Santa María Jamaica (1492-1655) *Isla Santiago Puerto Rico (US) (1493-1898) *San Juan Bautista Lesser Antilles Leeward Islands: Virgin Islands (1493-1587) *Islas Once Mil Vírgenes / Islas Vírgenes St. Thomas (US) (1493-1587) St. John (US) (1493-1587) St. Croix (US) (1493-1587) Water Island (US) (1493-1587) British Virgin Islands (UK) (1493-1648) *Islas Once Mil Vírgenes / Islas Vírgenes Tortola (UK) (1493-1648) Virgin Gorda (UK) (1493-1672) Anegada (UK) (1493-1672) Jost Van Dyke (UK) (1493-1672) Anguilla (UK) (1500-1631, 1631-1650) *Isla de la Anguila Saint Martin/Sint Maarten (France/Neth.) (1493-1631) *San Martín Saint-Barthélemy (Fr.) (1493-1648) *San Bartolomeo Saba (Neth.) (1493-1640) *Saba/San Cristóbal Sint Eustatius (Neth.) (1493-1640) *San Eustaquio St. Kitts and Nevis (1493-1628) *Nuestra Señora de las Nieves Saint Kitts (1493-1628) *San Cristóbal Nevis (1493-1628) *Nieves Antigua and Barbuda Barbuda (1493-1628) *Santa Dulcina Antigua (1493-1632) *Santa María de la Antigua Redonda (1493-1632) *Santa María la Redonda Montserrat (UK) (1493-1632) *Santa María de Monstserrat Guadeloupe (Fr.) (1493-1631) *Santa Guadalupe Windward Islands: Dominica (1493-1635) *Domingo Martinique (Fr.) (1502-1635) *Martinino Saint Lucia (St. Lucia) (1502-1660) *Santa Lucía Barbados (1492-1620) *Los Barbados/El Barbudo St. Vincent and the Grenadines (1498-1627) *San Vicente Saint Vincent the Grenadines Grenada (1498-1650) *Concepción Carriacou & Petite Martinique (Grenada) Trinidad & Tobago (1498-1628) *Santísima e Asunción Aruba (Neth.) (1499-1648) *Aruba/Oroba Curaçao (Neth.) (1499-1634) *Curasao/Isla de los Gigantes Bonaire (Neth.) (1499-1635) * Bonaire/Buon Aire Viceroyalty of New Granada Los Roques Archipelago (Ven) La Orchila (Ven) La Tortuga (Ven) La Blanquilla (Ven) Margarita Island (Ven) Coche (Ven) Cubagua (Ven) Other islands (Ven) *Founded Spanish names
ATLANTIS - MEDITERRANEAN SEA
ATLIT-YAM - ISRAEL
PAVLOPETRI - GREECE
PHANAGORIA - BLACK SEA
PORT ROYAL - JAMAICA
RUNGHOLT - DENMARK
THONIS-HERACLEION AND ALEXANDRIA - EGYPT
YONAGUNI JIMA - JAPAN
STUDIO/AGENTS: A draft script for Kulo-Luna is available on request. Cleopatra The Mummy is currently under development