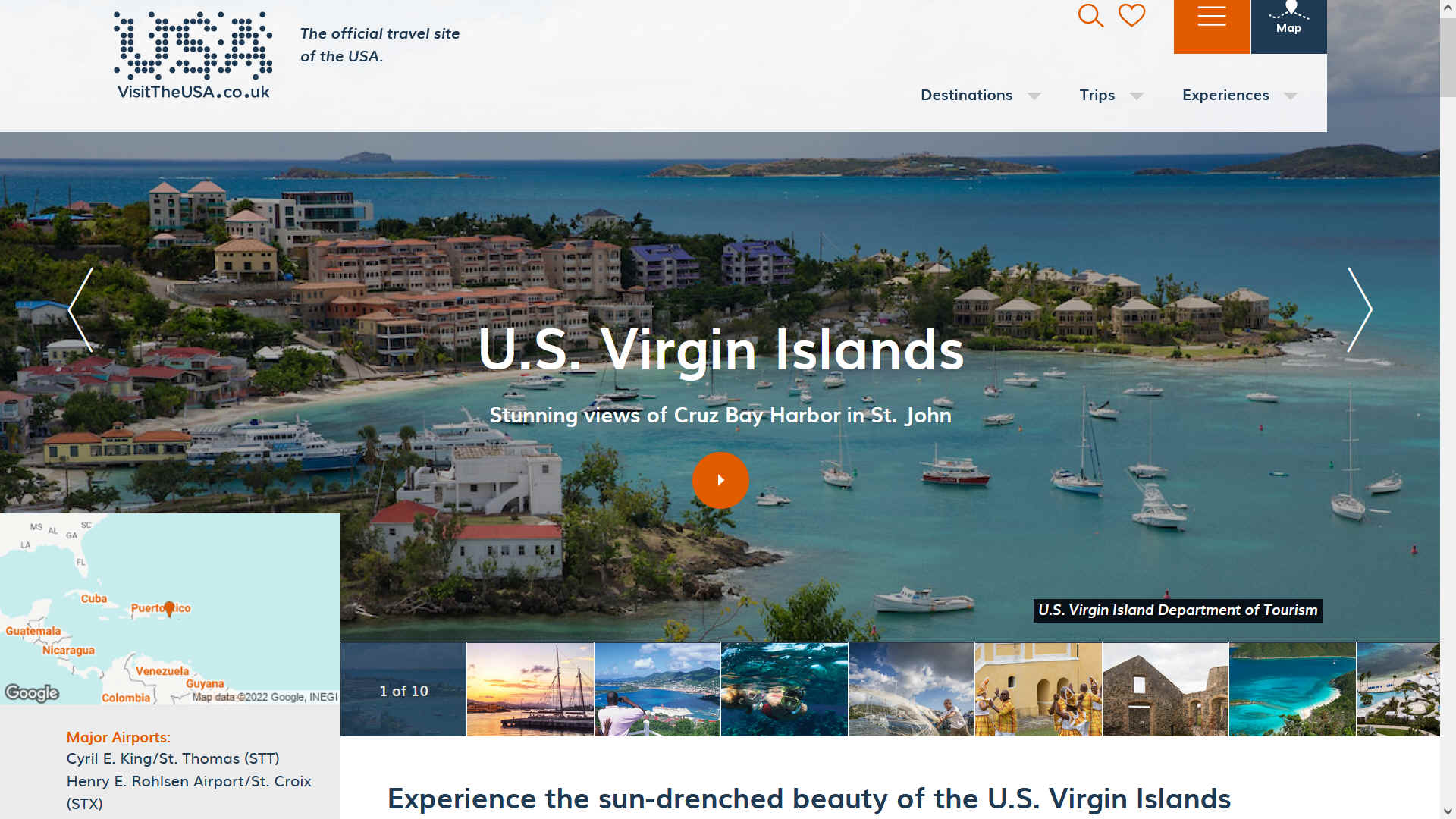 Between the Atlantic Ocean and the Caribbean Sea, you'll find four dynamic islands with bustling historic districts, vibrant cultures, sumptuous dishes and sprawling beaches known for their emerald waters and bright coral sand, until the plague seaweed, known as sargassum entered centre stage. A territory of the United States since 1917, the U.S. Virgin Islands comprises four principal islands – St. Croix , St. John, St. Thomas and Water Island – plus 50 smaller islands, cays and islets that are part of the Caribbean archipelago. Ironically, the U.S. Virgin Islands is thought to be a leader in sustainable tourism with a commitment to protecting and preserving its natural environment and cultural heritage. Thus, the influx of macro algae, sends anything but this message to holiday makers, who mostly understand that algal blooms are the result of global warming, linked to an ocean pollute with fertilizer run off from land.

The Ideal Beach Destination

Nicknamed "America's Paradise," the U.S. Virgin Islands is, other than the sargassum invastion, famous for its beautiful white-sand beaches, turquoise waters and friendly people. A destination that has no real "off-season," the islands' average winter temperatures of 29 degrees Celsius (slightly higher in the summer) provides perfect beach weather all year long. Whether you prefer a beach chair, hammock or towel in the sand, spend the day sunbathing your cares away with views of dreamy seascapes at one of the islands' beaches, which are consistently ranked among the top 10 in the world. But be careful to pack your sunblock, fortunately sold by the bucket on the island.


Exciting Activities by Land and Sea

From world-class diving to deep-sea fishing, the U.S. Virgin Islands is home to an abundance of exhilarating water activities. Sailing, snorkeling, kayaking and paddle boarding are popular ways to see the tropical beauty of the islands, while visitors seeking bigger thrills should try windsurfing or jet skiing. But, perhaps not during the plagues of sargassum tides
Descend beneath the ocean's depths and explore a shipwreck, wall, pier, shore and reef all in one day. Whether you're a newly certified diver or a more advanced one, there is much to see in the pristine waters, with more than 500 species of fish, 40 types of coral and hundreds of invertebrates inhabiting the sea. Lush landscapes and awe-inspiring vistas provide a breathtaking backdrop for land excursions as well. Horseback ride along the coast, take a captivating eco-tour, or hike and bike across diverse terrain.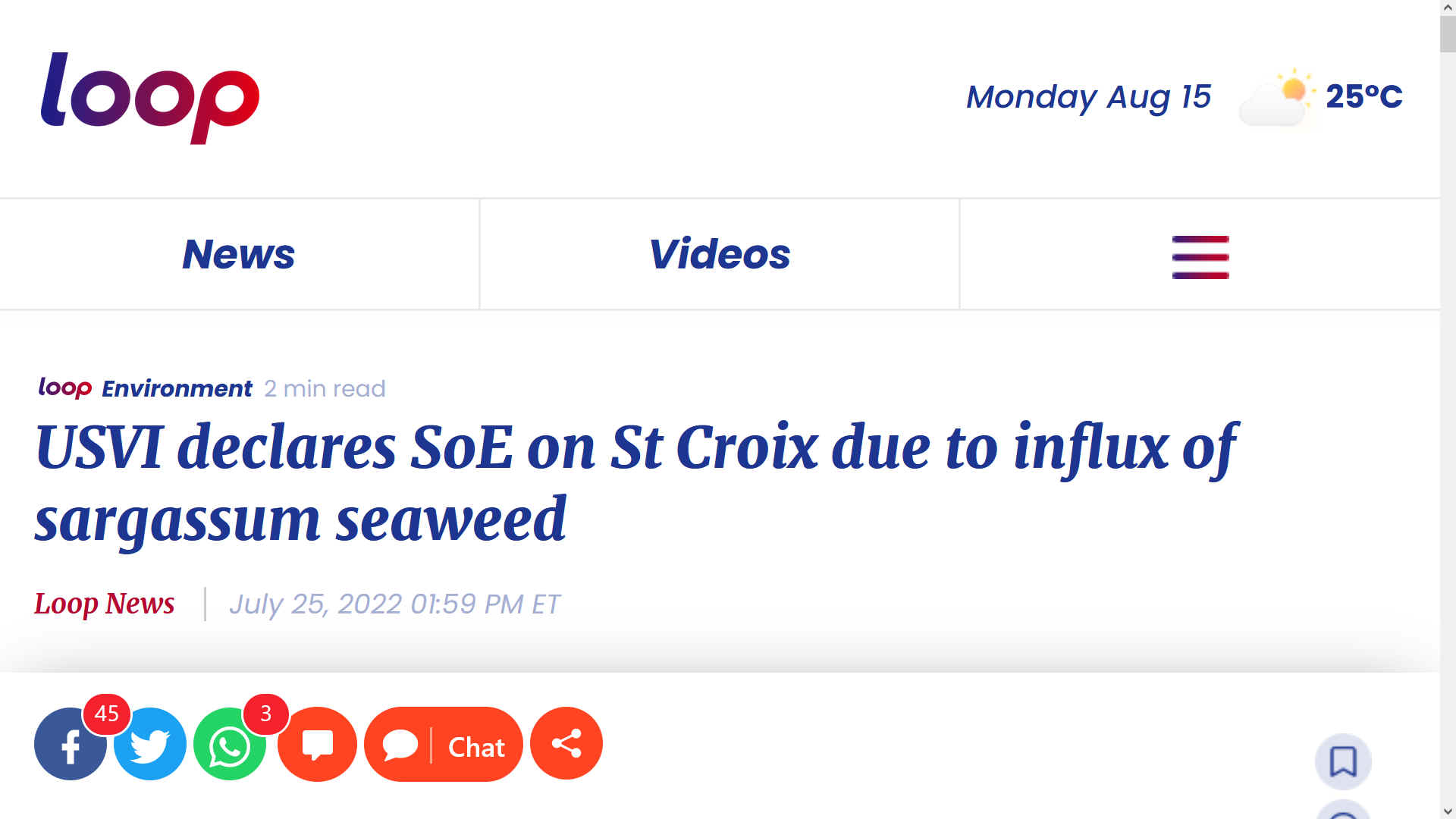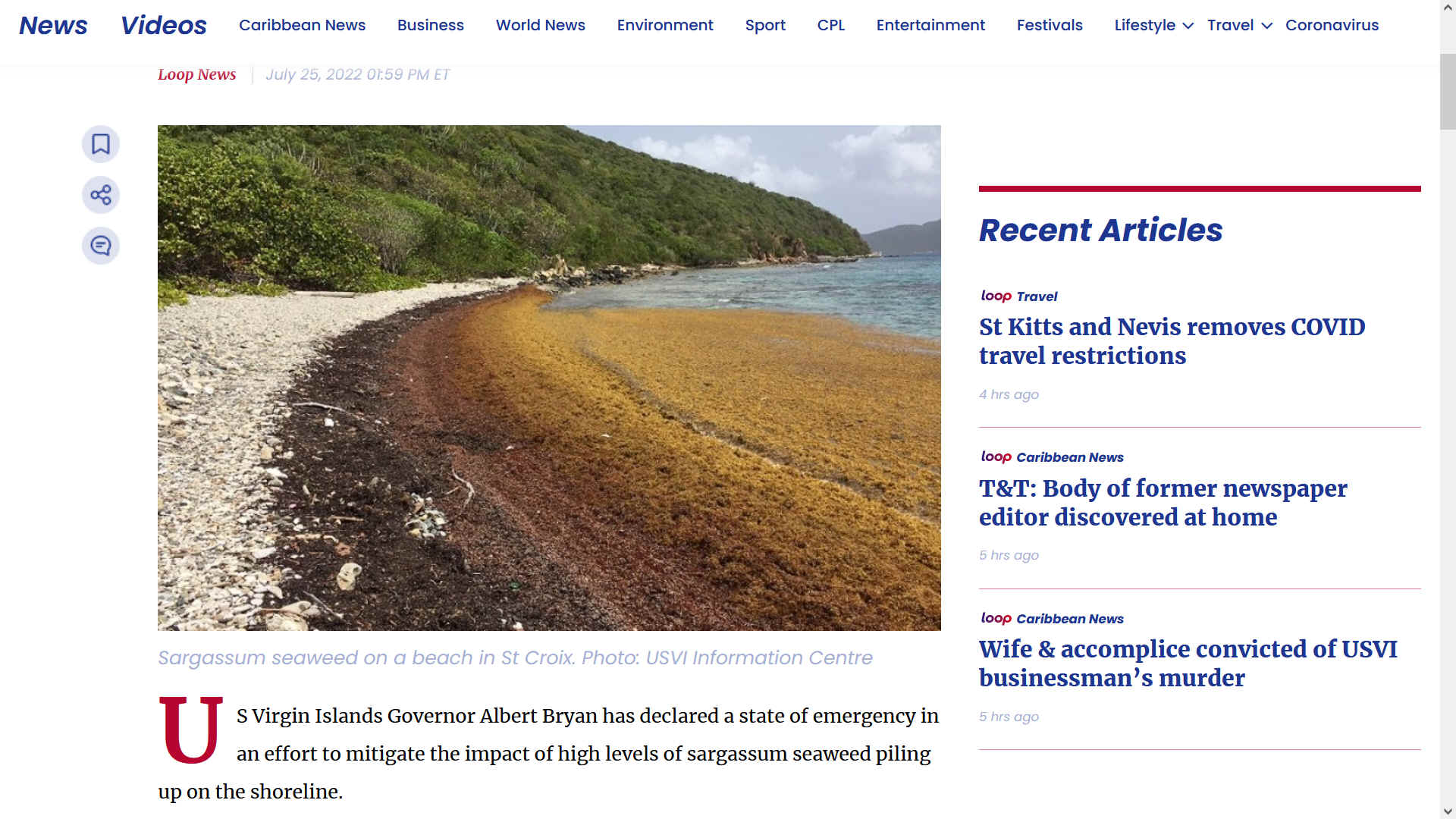 USVI declares State of emergency on Saint Croix due to influx of sargassum seaweed
CARIBBEAN LOOP NEWS JULY 25 - USVI DECLARES SOE ON ST CROIX DUE TO INFLUX OF SARGASSUM SEAWEED

US Virgin Islands Governor Albert Bryan has declared a state of emergency in an effort to mitigate the impact of high levels of sargassum seaweed piling up on the shoreline.

Bryan said the seaweed is having a negative impact on water-production capabilities on St Croix. The sargassum build-up and maintenance efforts have increased to keep the water intake for the desalinisation plant on St Croix clear from seaweed and biological build-up.

Bryan also sent a request to the Biden Administration to declare a federal emergency on St Croix regarding the sargassum inundation.

The Federal Emergency Management Agency (FEMA) has sent teams to the territory to assist the Virgin Islands Government in coordinating a response.

"I want to assure St. Croix that we don't anticipate any impact on public health from this annual invasion of Sargassum in our waters, including the stench that we all, unfortunately, have learned to live with every summer," Bryan said. "However, the seaweed overrunning our beaches also brings the potential for disruption to businesses and other negative financial impacts to our economy. I have assembled a team that includes primary public agencies, including Health, DPNR and VITEMA, and the semiautonomous agencies that have been meeting to coordinate efforts with FEMA and other federal partners."

The Executive Order that Bryan issued designates Department of Planning and Natural Resources Commissioner Jean-Pierre Oriol as the incident commander and directs the Virgin Islands Territorial Emergency Management Agency (VITEMA) to activate the Emergency Operation Centers.

The order also directs the Department of Licensing and Consumer Affairs to institute price freezes on some goods and services.

Bryan said while there is an immediate threat to St Croix, pre-emptive efforts are underway on St Thomas to prevent adverse impacts to water-production.

The US National Oceanography and Atmospheric Administration's Caribbean Coastal Ocean Observing System has forecast that sargassum blooms are expected to impact many Caribbean islands into mid-October.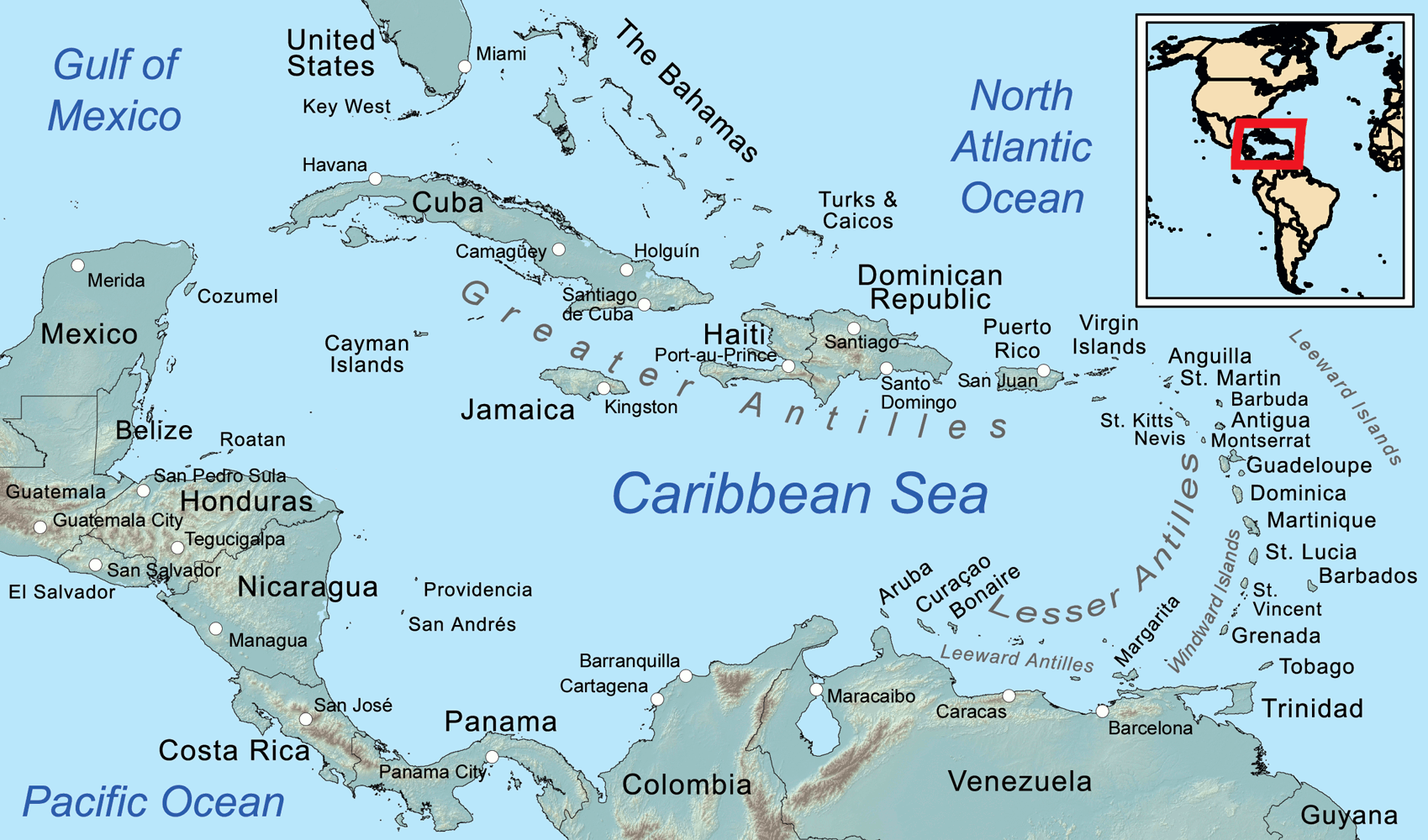 Map of the Caribbean Sea, showing the Greater, Lesser, and Leeward Antilles, the Leeward and Windward Islands.
THE CARIBBEAN ISLANDS BY POPULATION
Cuba 11,252,999
Haiti 11,263,077 (Hispaniola)
Dominican Republic 10,766,998 (Hispaniola)
Puerto Rico (US) 3,508,000
Jamaica 2,729,000
Trinidad and Tobago 1,357,000
Guadeloupe (France) 405,000
Martinique (France) 383,000
Bahamas 379,000
Barbados 283,000
Saint Lucia 172,000
Curaçao (Netherlands) 157,000
Aruba (Netherlands) 110,000
Saint Vincent and the Grenadines 110,000
United States Virgin Islands 105,000
Grenada 104,000
Antigua and Barbuda 89,000
US Virgin Islands 87,000
Dominica 71,000
Cayman Islands (UK) 59,000
Saint Kitts and Nevis 46,000
Sint Maarten (Netherlands) 39,000
Turks and Caicos Islands (UK) 37,000
Saint Martin (France) 36,000
British Virgin Islands (UK) 31,000
Caribbean Netherlands 26,000
Anguilla (UK) 14,000
Saint Barthélemy (France) 10,000
Montserrat (UK) 5,000
Tortuga 25,936
Roatán 110,000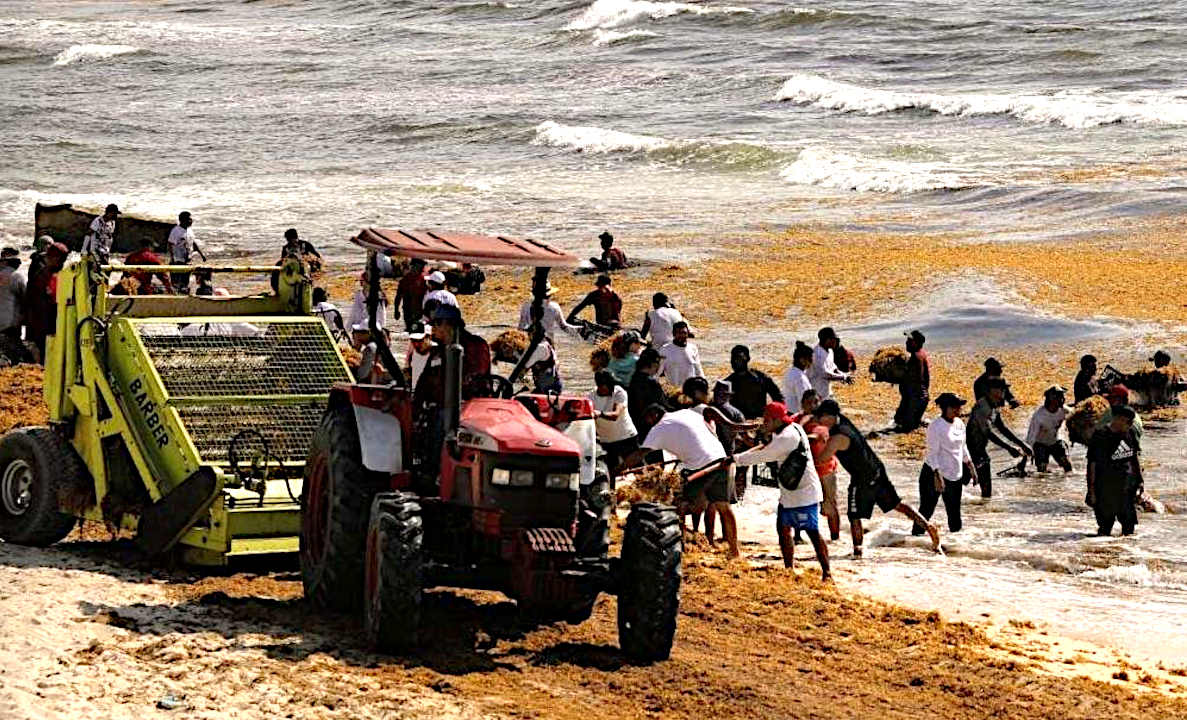 SARGASSUM: Represents an immediate threat to the economics of the Caribbean Islands, the Gulf of Mexico, and African West Coast, but is also a potential asset if it can be economically harvested and used for, among other things, fertilizer for agriculture: where there is a world shortage.
BIOMASS - BUILDING MATERIALS - CANCER TREATMENTS - CLOTHING & SHOES - CO2 SEQUESTRATION - COSMETICS
FERTILIZERS - FOODS - MEDICINES - MINERALS - PACKAGING - SUPPLEMENTS - VITAMINS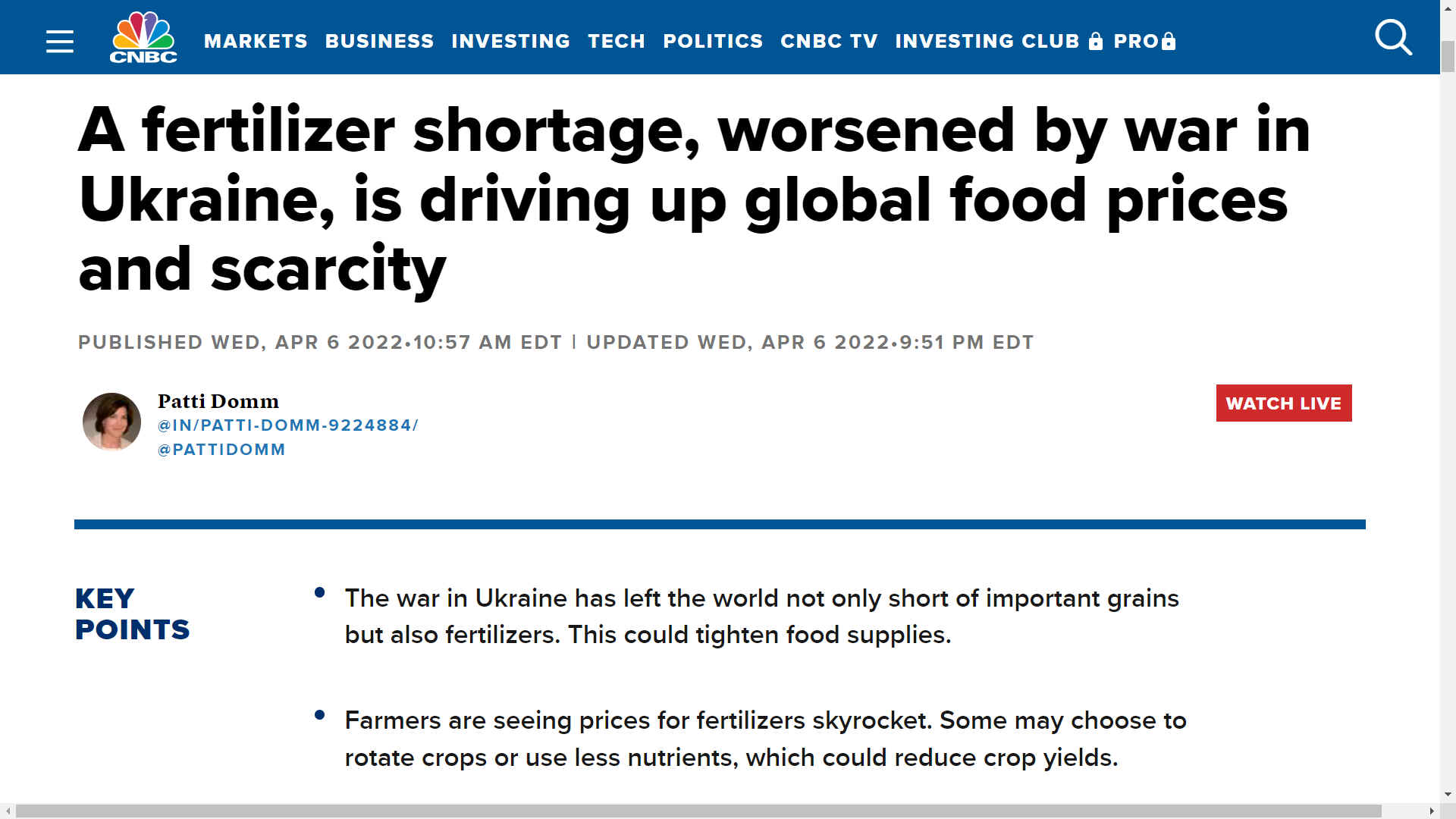 FOOD SECURITY: RAMPANT FERTILIZER INFLATION - Officials at the United Nations and beyond are stepping up warnings about the mounting crisis for fertilizers — an essential substance to boost soil fertility — as vulnerable countries in areas such as Africa grapple with prices that have soared by 300 percent since Russia's war in Ukraine began. In 2021, Russia was the world's top exporter of nitrogen fertilizers and the second-largest supplier of both potassic and phosphorous fertilizers, according to the U.N. Food and Agriculture Organization.

To give you an idea of how big the demand is for manure fertilizer today, Iowa usually uses 14 billion gallons of manure a year. This year it may spray 15 billion gallons on fields. That would be enough to cover 108,000 golf courses or fill 280 million bathtubs. It's a lot of manure.
Russia and Belarus had provided about 40% of the world's exports of potash. Russia also exported 11% of the world's urea, and 48% of the ammonium nitrate. Russia and Ukraine together export 28% of fertilizers made from nitrogen and phosphorous, as well as potassium according to Morgan Stanley.

Some fertilizers have more than doubled in price. For instance, potash traded in Vancouver was priced at about $210 per metric tons at the beginning of 2021, and as of April 2022 it's now valued at $565. Urea for delivery to the Middle East was trading at $268 per metric ton on the Chicago Board of Trade in early 2021 and was valued at $887.50 on Tuesday 5th April.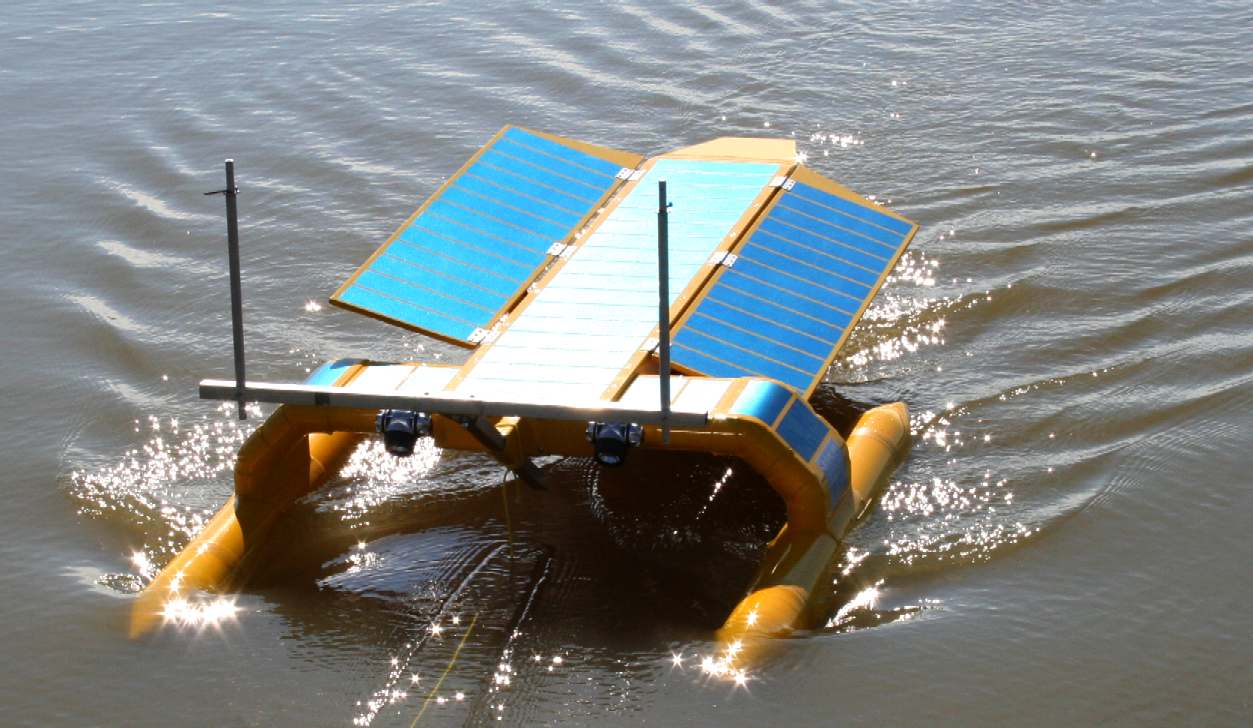 MARINE COMBINED HARVESTER - The basic SeaVax machine is seen here as a proof of concept (working model). It was designed to filter macro & micro plastics from seawater - in bulk, and recover ghost fishing nets of up to 150 tons. It was to be solar and wind powered when conceived in 2015. Today, the vessel would need more power if a fleet of them are to deal with something like 24 million tons of sargassum a year. Around triple the 8 million ton capacity envisaged for marine litter. Any revised specification would probably need to include renewable hydrogen in the energy equation, something akin to the Elizabeth Swann concept, potentially the world' fastest hydrogen powered ship.
Hence, ammonia, hydrogen, and methanol bunkering is a prerequisite. Solar power alone will not cut the mustard with such volumes. The other hurdle to overcome is unit cost. A beach launch and recovery system has been designed and tested at 1:20 scale. But this is not essential, where harbours or marinas are extant. Indeed, So long as each catch requiring further processing, may be offloaded. The price per unit is the next hurdle to overcome. It is difficult to know how to pitch this one, because each island will (presumably) have different volume requirements. That said, we should be aiming to equal the cost of cleaning their beaches in one year. So that once the CAPEX is sorted, follow on years will only be the administrative and operating costs. We are assuming that the cost of beach cleaning for a whole island in any one year is around $20 million dollars. Clearly, a full-size, ocean cleaning machine will be far more. But a half size unit may come in somewhere in that region.
We imagine that every Caribbean island would want to own one of these, even if capable of operating in fleet formation. Individual operators might take charge of their own beaches, with advance information of sargassum landings from SAT detection, to guide them. The SeaVax-Sargassso™ not only harvests the macro-algae, but pre processes the haul. Depending on what the seaweed is intended for. When used with AmphiMax-Sargasso™ amphibious beach launchers, islands do not need dedicated harbour facilities. The system can operate from any beach.
The Caribbean Sea is littered with shipwrecks and dotted with dozens of paradise islands, where pirates are said to have buried their treasure. Many island nations are at risk as to rising sea levels, caused by climate change, with the United Nations powerless to deal with global warming, being dependent on fossil fuels.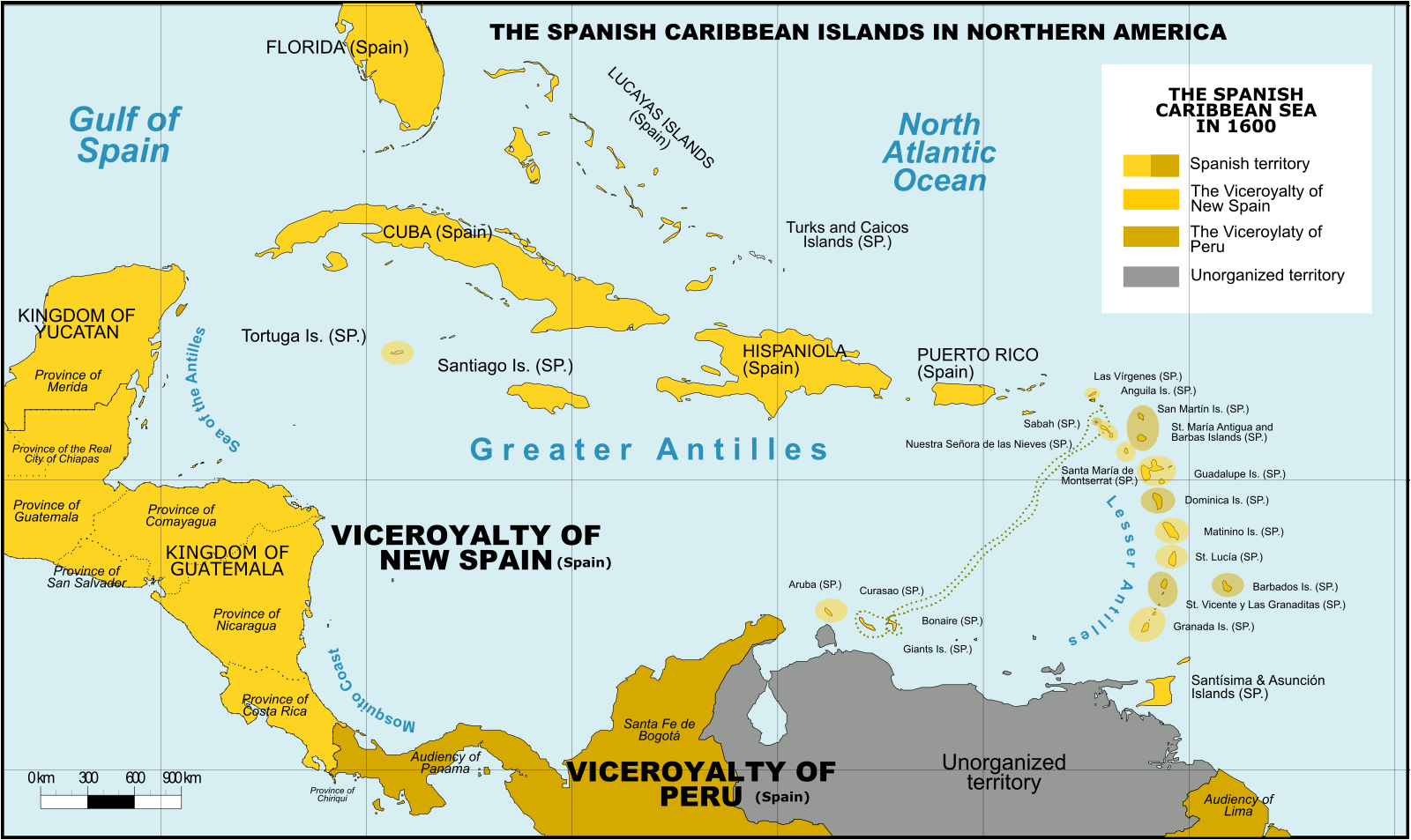 Spanish Caribbean Islands 1600 Spanish Overseas territories Northern America Turks and Caicos Is
ATLANTIS - MEDITERRANEAN SEA
ATLIT-YAM - ISRAEL
PAVLOPETRI - GREECE
PHANAGORIA - BLACK SEA
PORT ROYAL - JAMAICA
RUNGHOLT - DENMARK
THONIS-HERACLEION AND ALEXANDRIA - EGYPT
YONAGUNI JIMA - JAPAN
ISLAND NATIONS UNDER THREAT OF SINKING
Cabo Verde, Republic of
Marshall Islands, Republic of the
Micronesia, Federated States of
STUDIO/AGENTS: A draft script for Kulo-Luna is available on request. Cleopatra The Mummy is currently under development