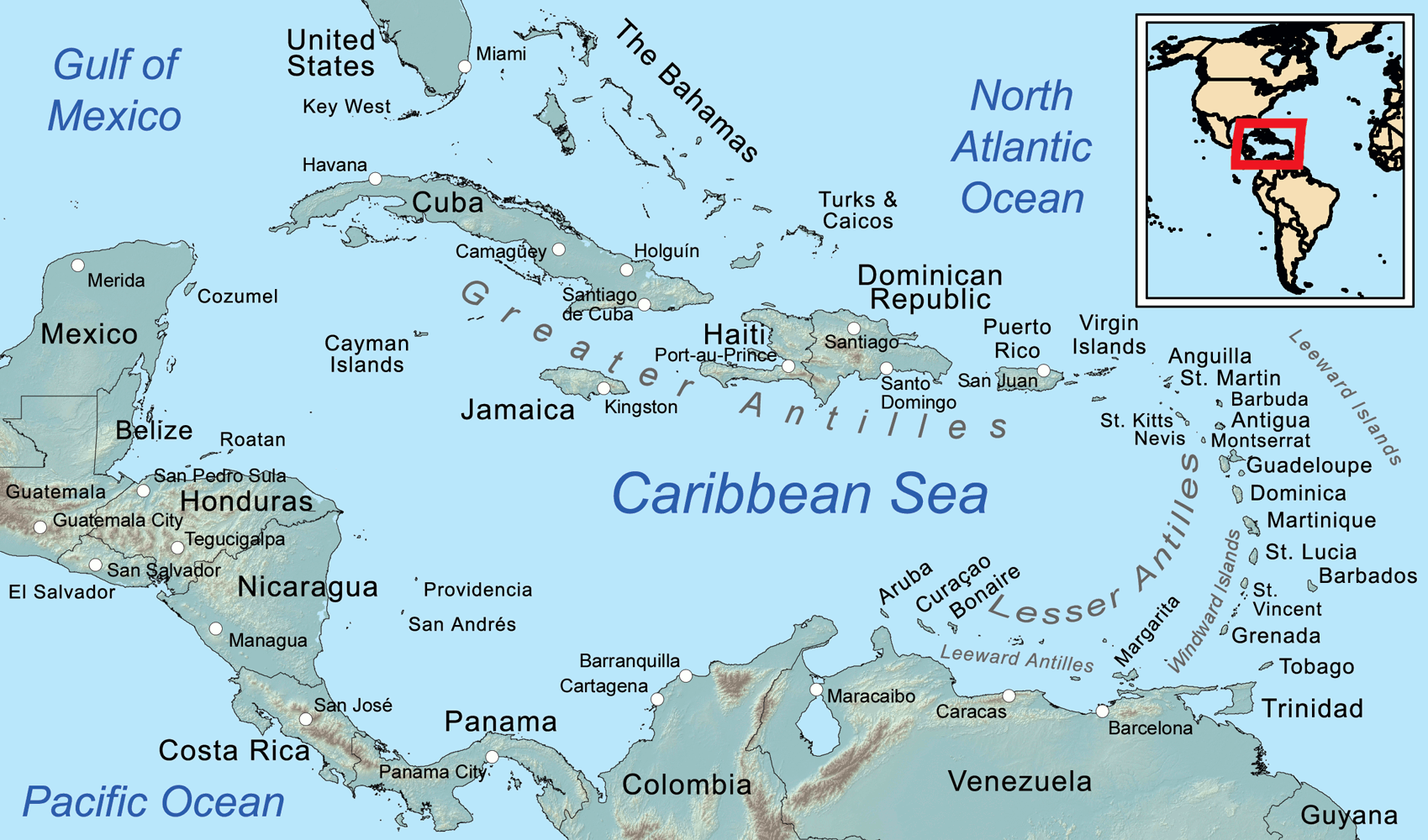 Map of the Caribbean Sea, showing the Greater, Lesser, and Leeward Antilles, the Leeward and Windward Islands.
Aruba, is a constituent country of the Kingdom of the Netherlands physically located in the mid-south of the Caribbean Sea, about 29 kilometres (18 mi) north of the Venezuelan peninsula of Paraguaná and 80 kilometres (50 mi) northwest of Curaçao. It measures 32 kilometres (20 mi) long from its northwestern to its southeastern end and 10 kilometres (6 mi) across at its widest point. Together with Bonaire and Curaçao, Aruba forms a group referred to as the ABC islands. Collectively, these and the other three Dutch substantial islands in the Caribbean are often called the Dutch Caribbean, of which Aruba has about one-third of the population. In 1986, it became a constituent country within the Kingdom of the Netherlands, and acquired the formal name the Country of Aruba.

Aruba is one of the four countries that form the Kingdom of the Netherlands, along with the Netherlands, Curaçao, and Sint Maarten; the citizens of these countries are all Dutch nationals. Aruba has no administrative subdivisions, but, for census purposes, is divided into eight regions. Its capital is Oranjestad.

Unlike much of the Caribbean region, Aruba has a dry climate and an arid, cactus-strewn landscape. The climate has helped tourism, because visitors to the island can expect clear, sunny skies all year. Its area is 179 km2 (69.1 sq mi) and it is quite densely populated, with 101,484 inhabitants as at the 2010 Census. A January 2019 estimate of the population placed it at 116,600.
THE CARIBBEAN ISLANDS BY POPULATION
1 Cuba 11,252,999
2 Haiti 11,263,077 (Hispaniola)
3 Dominican Republic 10,766,998 (Hispaniola)
4 Puerto Rico (US) 3,508,000
5 Jamaica 2,729,000
6 Trinidad and Tobago 1,357,000
7 Guadeloupe (France) 405,000
8 Martinique (France) 383,000
9 Bahamas 379,000
10 Barbados 283,000
11 Saint Lucia 172,000
12 Curaçao (Netherlands) 157,000
13 Aruba (Netherlands) 110,000
14 Saint Vincent and the Grenadines 110,000
15 United States Virgin Islands 105,000
16 Grenada 104,000
17 Antigua and Barbuda 89,000
18 Dominica 71,000
19 Cayman Islands (UK) 59,000
20 Saint Kitts and Nevis 46,000
21 Sint Maarten (Netherlands) 39,000
22 Turks and Caicos Islands (UK) 37,000
23 Saint Martin (France) 36,000
24 British Virgin Islands (UK) 31,000
25 Caribbean Netherlands 26,000
26 Anguilla (UK) 14,000
27 Saint Barthélemy (France) 10,000
28 Montserrat (UK) 5,000
29 Tortuga 25,936
30 Roatán 110,000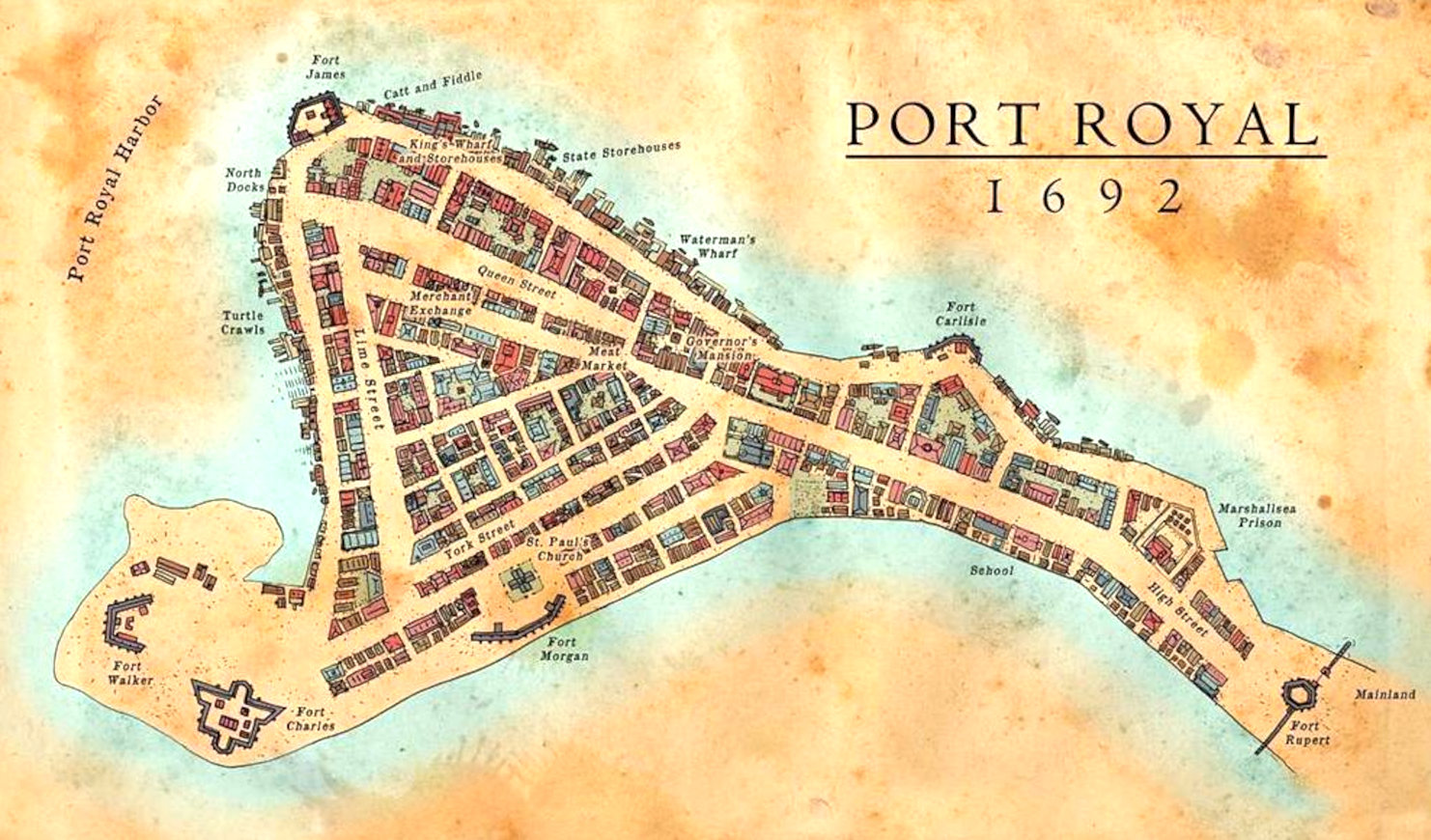 Map of Port Royal from 1692, where the notorious buccaneer, Sir Henry Morgan was buried, along with a Code to give meaning a treasure Map inherited by Lord Huntington - giving the whereabouts of a Kings ransom. Unfortunately, Port Royal was sunk when hit by an earthquake and tsunami in June 1692, along with the grave of the infamous buccaneer, lost in time until re-discovered by John Storm and the Elizabeth Swann. This is the start of a race to find the hidden stash, involving treachery and industrial espionage.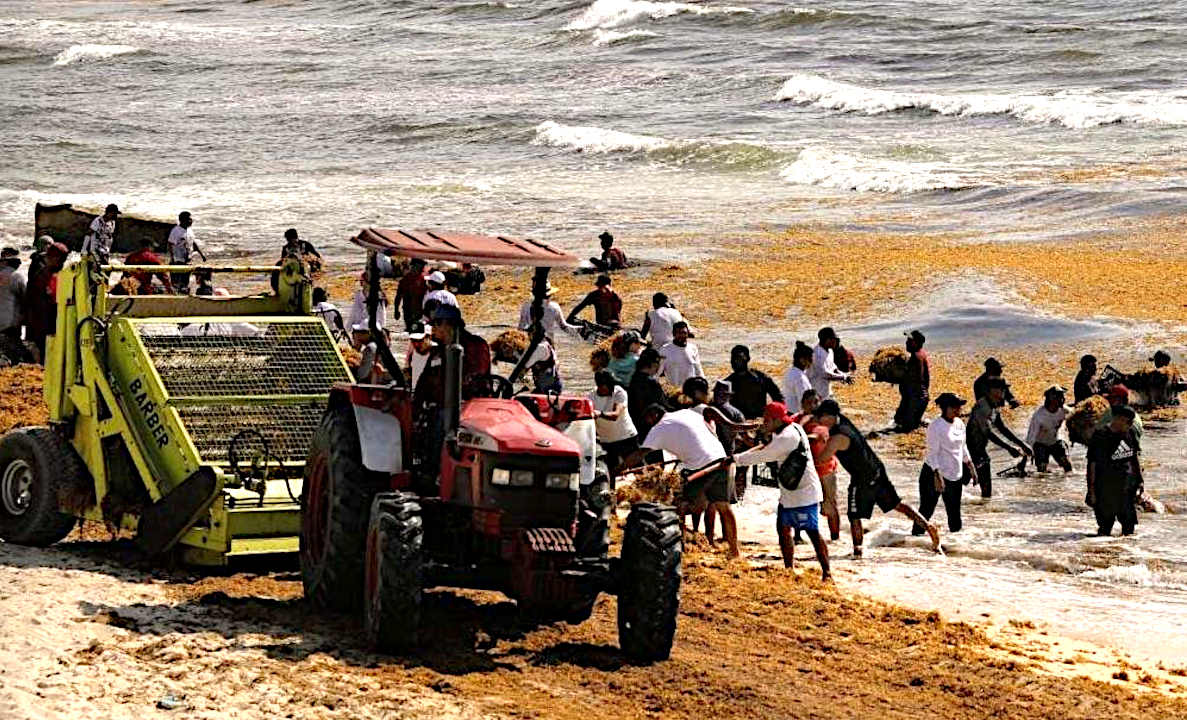 SARGASSUM: Represents an immediate threat to the economics of the Caribbean Islands, the Gulf of Mexico, and African West Coast, but is also a potential asset if it can be economically harvested and used for, among other things, fertilizer for agriculture: where there is a world shortage.
BIOMASS - BUILDING MATERIALS - CANCER TREATMENTS - CLOTHING & SHOES - CO2 SEQUESTRATION - COSMETICS
FERTILIZERS - FOODS - MEDICINES - MINERALS - PACKAGING - SUPPLEMENTS - VITAMINS
The Caribbean Sea is littered with shipwrecks and dotted with dozens of paradise islands, where pirates are said to have buried their treasure. Many island nations are at risk as to rising sea levels, caused by climate change, with the United Nations powerless to deal with global warming, being dependent on fossil fuels.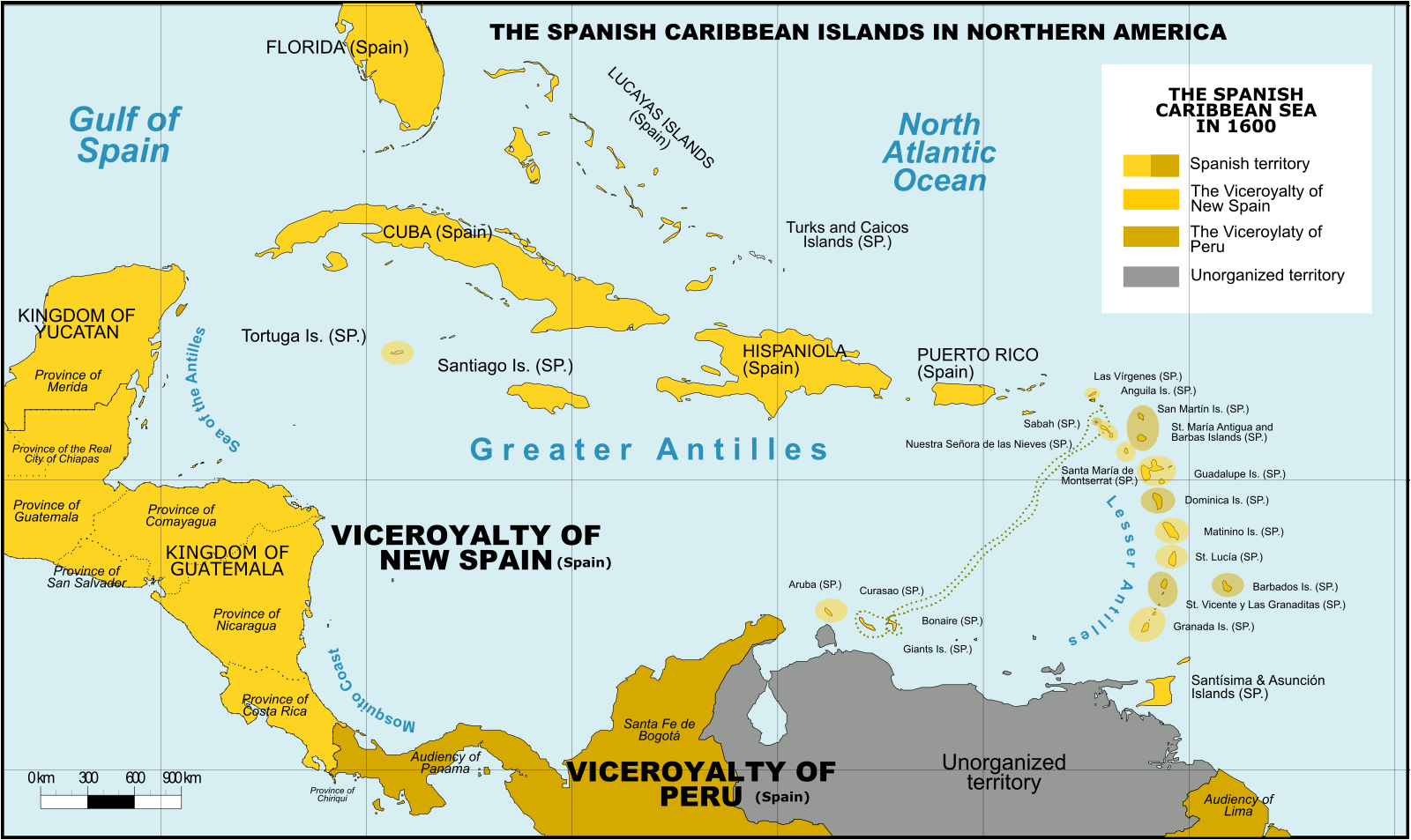 Spanish Caribbean Islands 1600 Spanish Overseas territories Northern America Turks and Caicos Islands (1492-1516, 1516-1678) * Islas Turcas y Caicos The Bahamas (1492-1516, 1516-1648) *Islas Lucayas Bermuda (1503-1516, 1516-1609) *Carabela/Isla de los Diablos Greater Antilles Cuba (1492-1762, 1763-1898) *Juana Cayman Islands (UK) (1503-1670) *Islas de las Tortugas La Española/Hispanola (1492-1795, 1801-1822) Dominican Republic (1492-1795, 1801-1822, 1861-1863) *Santo Domingo Haiti (1492-1793) *Santa María Jamaica (1492-1655) *Isla Santiago Puerto Rico (US) (1493-1898) *San Juan Bautista Lesser Antilles Leeward Islands: Virgin Islands (1493-1587) *Islas Once Mil Vírgenes / Islas Vírgenes St. Thomas (US) (1493-1587) St. John (US) (1493-1587) St. Croix (US) (1493-1587) Water Island (US) (1493-1587) British Virgin Islands (UK) (1493-1648) *Islas Once Mil Vírgenes / Islas Vírgenes Tortola (UK) (1493-1648) Virgin Gorda (UK) (1493-1672) Anegada (UK) (1493-1672) Jost Van Dyke (UK) (1493-1672) Anguilla (UK) (1500-1631, 1631-1650) *Isla de la Anguila Saint Martin/Sint Maarten (France/Neth.) (1493-1631) *San Martín Saint-Barthélemy (Fr.) (1493-1648) *San Bartolomeo Saba (Neth.) (1493-1640) *Saba/San Cristóbal Sint Eustatius (Neth.) (1493-1640) *San Eustaquio St. Kitts and Nevis (1493-1628) *Nuestra Señora de las Nieves Saint Kitts (1493-1628) *San Cristóbal Nevis (1493-1628) *Nieves Antigua and Barbuda Barbuda (1493-1628) *Santa Dulcina Antigua (1493-1632) *Santa María de la Antigua Redonda (1493-1632) *Santa María la Redonda Montserrat (UK) (1493-1632) *Santa María de Monstserrat Guadeloupe (Fr.) (1493-1631) *Santa Guadalupe Windward Islands: Dominica (1493-1635) *Domingo Martinique (Fr.) (1502-1635) *Martinino Saint Lucia (St. Lucia) (1502-1660) *Santa Lucía Barbados (1492-1620) *Los Barbados/El Barbudo St. Vincent and the Grenadines (1498-1627) *San Vicente Saint Vincent the Grenadines Grenada (1498-1650) *Concepción Carriacou & Petite Martinique (Grenada) Trinidad & Tobago (1498-1628) *Santísima e Asunción Aruba (Neth.) (1499-1648) *Aruba/Oroba Curaçao (Neth.) (1499-1634) *Curasao/Isla de los Gigantes Bonaire (Neth.) (1499-1635) * Bonaire/Buon Aire Viceroyalty of New Granada Los Roques Archipelago (Ven) La Orchila (Ven) La Tortuga (Ven) La Blanquilla (Ven) Margarita Island (Ven) Coche (Ven) Cubagua (Ven) Other islands (Ven) *Founded Spanish names
ATLANTIS - MEDITERRANEAN SEA
ATLIT-YAM - ISRAEL
PAVLOPETRI - GREECE
PHANAGORIA - BLACK SEA
PORT ROYAL - JAMAICA
RUNGHOLT - DENMARK
THONIS-HERACLEION AND ALEXANDRIA - EGYPT
YONAGUNI JIMA - JAPAN
STUDIO/AGENTS: A draft script for Kulo-Luna is available on request. Cleopatra The Mummy is currently under development