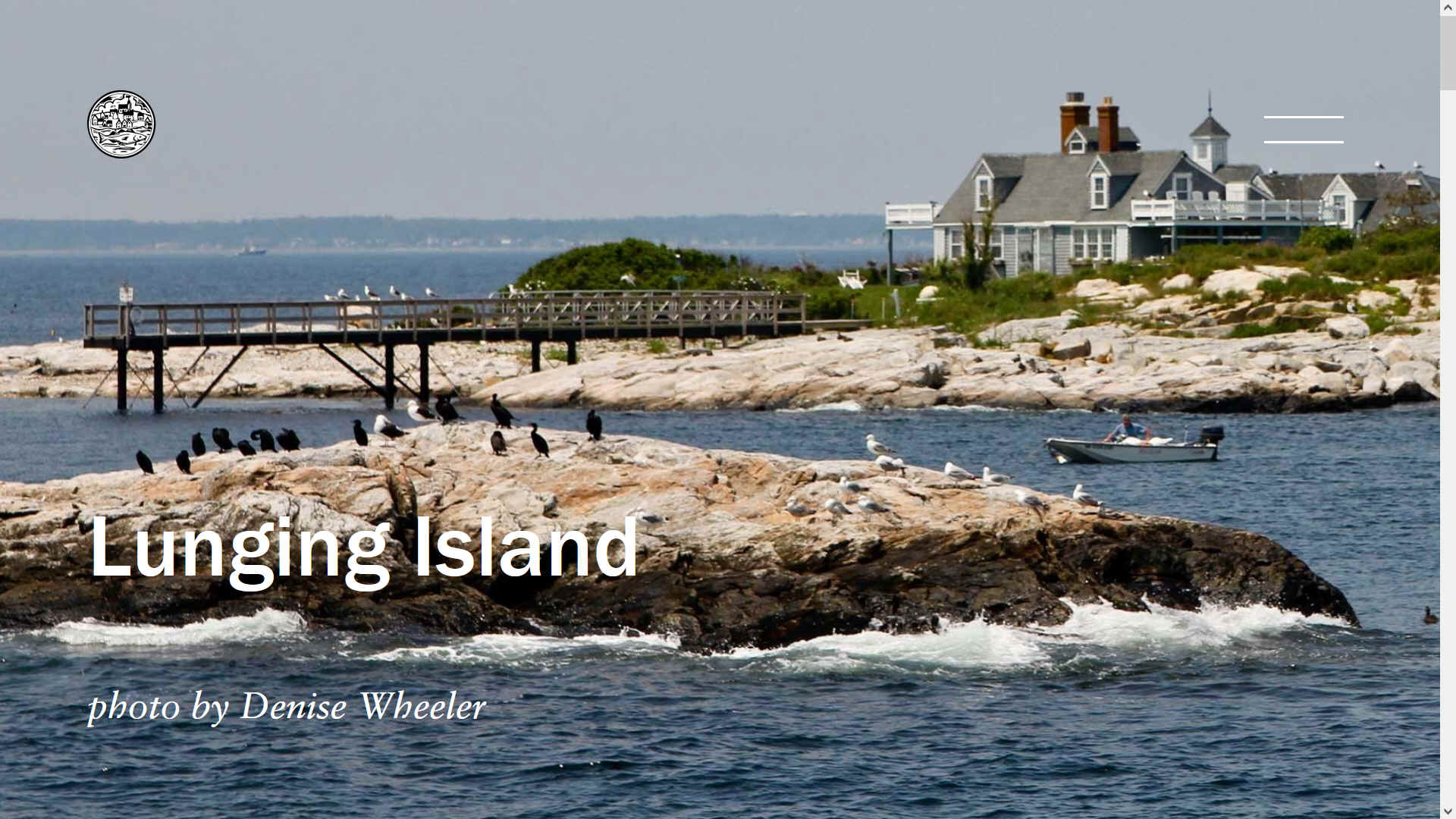 Lunging island is an improbable location for a pirate to bury treasure, where there is no topsoil or sand, just rock. The cave theory sounds more likely, but the Shoal Islands are too close to where the pirating was taking place, hence more of a feint, to throw opportunists off the track. The real pirate action was in the Caribbean, with special protections from Spain, for some of the more useful mariners. Edward Teach was a threat to the British and Colonials. More of an ally to Mexico and Columbia, where Blackbeard could quench his appetite for women.
The Isles of Shoals are a group of small islands and tidal ledges situated approximately 6 miles (10 km) off the east coast of the United States, straddling the border of the states of Maine and New Hampshire. They have been occupied for more than 400 years, first by fishing communities and more recently as the site of private homes, a large seasonal hotel and a marine research facility.
PORTSMOUTH HERALD APRIL 2001

The History Channel is digging into the legend of Blackbeard, and into a hidden treasure some say he left on the Isles of Shoals. The cable network will air a one-hour prime-time program tonight that features workers, using the latest high-tech equipment, trying to locate and uncover the buried fortune.

The episode, titled "Buried Treasure," was set to air at 8 p.m.

"Did the pirate Blackbeard bury his loot off the New Hampshire shore?" reads the History Channel's Web site. "We'll match wits with resourceful treasure hunters in their relentless search for buried booty."

"There had been stories for hundreds of years that Blackbeard buried a treasure there — silver bars taken from an English ship," added Tom Jennings, the show's producer. "We went out and tried to solve the mystery."

Blackbeard was an English-born pirate, whose real name was Edward Teach, or Thatch, or Thach, depending on which historian is asked. He is believed to have started as a privateer in the Spanish Succession War, fought from 1701 to 1714, for Queen Anne. Hence, naming one of his ships; Queen Anne's Revenge.

After the war, he became a full-fledged pirate and from 1716 to 1718 preyed on vessels and settlements in the West Indies and along the Atlantic coast of North America. Many say Blackbeard was one of the most notorious and feared of all the pirates. Blackbeard was eventually killed in 1718 by a British force from Virginia.

The land where the treasure is believed to be buried is known as Lunging Island. Blackbeard is believed to have frequented the island. He and his crew would go in for drinks at a small tavern on the island.

That's when Blackbeard is believed to have buried his treasure. The spot was ideal because the pirate could easily get in and out. The island has belonged to the Randall family of Massachusetts since 1923.

To get to the island, visitors must take a dinghy from their boats as there is no dock. The family is not too fond of treasure hunters coming ashore. They did, however, allow the History Channel and a team of geologists armed with the latest high-tech gear to take a look.

"The only reason that we would consider looking into this again is because I'm getting older, and I cannot see my young son Ray ... putting up with a half-dozen or more — every year — enthusiastic, energetic treasurer hunters who would like permission to come in here and chew up his beach," Prudence Randall told the History Channel.

The Isles of Shoals Steamship Company in Portsmouth provides tours of the nine islands that make up the Isles of Shoals. "We get a lot of people who want to see the island where they say the treasure is buried." said Jen Hafner, a naturalist with the company, who leads the tours. Hafner said she has heard stories of the treasure being buried on Smuttynose and Star islands as well as on Lunging Island. "Those are the ones I've heard about," she said.

The islands are located six miles from the mouth of Portsmouth Harbor. There is only one small house on the island; it is known as the "Honeymoon Cottage." "I know a lot of people think there's a lot of money out there," said Dorothy Vaughan, a former librarian at the Portsmouth Public Library and a longtime local historian.

"You would think that over the years something would have been found if there is anything there." But, Vaughan said, she's not aware of the discovery of even a few coins. "It's one of those traditions that keeps going and going," Vaughan said. "It's fascinating, really."

The program tonight is part of the cable network's History's Mysteries series. The series airs at 8 p.m., Tuesdays through Fridays, and is hosted by veteran journalist Arthur Kent.

Hager-Richter Geoscience of Salem, N.H., was contacted by the History Channel to search the island for the treasure. "We don't usually get requests like that," said Jeff Reed, operations manager of the company. "We don't go hunting for treasure very often." But, the company took its high-tech underground metal-detecting equipment over to the island last fall for the treasure hunt.

"It was a great time," he said. So what did they find? "You'll have to tune in," Reed said.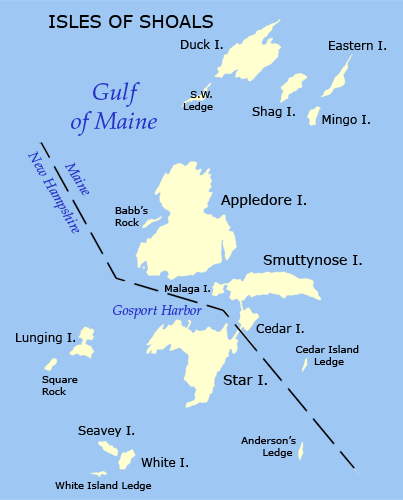 Location map of Island


ISLE OF SHOALS HISTORY

Some of the islands were used for seasonal fishing camps by Indigenous peoples and first settled by Europeans in the early 17th century. They became one of the many fishing areas for the young British and French colonies. This was one of the most northern fishing ports, the closest one to the south being Rockport, Massachusetts. The Isles of Shoals were named the "Smith Iles" by English explorer Capt. John Smith after sighting them in 1614. This name did not last once colonization of New England by the British began. The first recorded landfall of an Englishman was that of explorer Captain Christopher Levett, whose 300 fishermen in six ships discovered that the Isles of Shoals were largely abandoned in 1623.

"The first place I set my foot upon in New England was the Isle of Shoals, being islands in the sea about two leagues from the main," Levett wrote later. "Upon these islands I neither could see one good timber-tree nor so much good ground as to make a garden. The place is found to be a good fishing-place for six ships, but more can not be well there, for want of convenient stage room, as this year's experience hath proved."

In 1628 the Plymouth Pilgrims exiled Thomas Morton on the island due to his libertine activities with the Indians at Merrymount.

The first town, "Apledoore", included all of the Isles of Shoals, and was incorporated by the General Court of the Massachusetts Bay Colony on May 22, 1661. At that time, the province of New Hampshire and the province of Maine were both part of Massachusetts Bay Colony. By 1665, the name of the town had changed to "Iles of Shoales". Starting in 1680 and continuing for several years, there was a general migration of the population to Star Island in what is now New Hampshire, departing from Hog Island (now known as Appledore) in what is now Maine. In 1696, the town was annexed by Kittery. In 1715 the township of Gosport was established by New Hampshire on Star Island.

The Gosport community was fairly prosperous up until about 1778, when the islanders were evacuated to Rye, New Hampshire, due to the Revolutionary War. Though a small population remained, the islands were largely abandoned until the middle of the 19th century, when Thomas Laighton and Levi Thaxter opened a popular summer hotel on Appledore Island. Laighton's daughter, Celia, married Levi at the age of fifteen and as Celia Thaxter became the most popular American female poet of the 19th century. She hosted an arts community on the island frequented by authors including Nathaniel Hawthorne, John Greenleaf Whittier, Oliver Wendell Holmes and Sarah Orne Jewett, and the Impressionist painter Childe Hassam. Having executed his last drawing three days previous, the Boston painter William Morris Hunt drowned there in 1879, reportedly a suicide. Hunt's body was discovered by Celia Thaxter.

The popularity of Laighton's Appledore House soon led to establishment of the Mid-Ocean House on Smuttynose Island, and the Oceanic Hotel, which is still in use today on Star Island.
Lunging, Duck, and Cedar islands are part of the Isles of Shoals. Lunging, on the New Hampshire side of the border, formerly Londoner's Island, was the site of an early trading post for codfish. Today it is privately owned.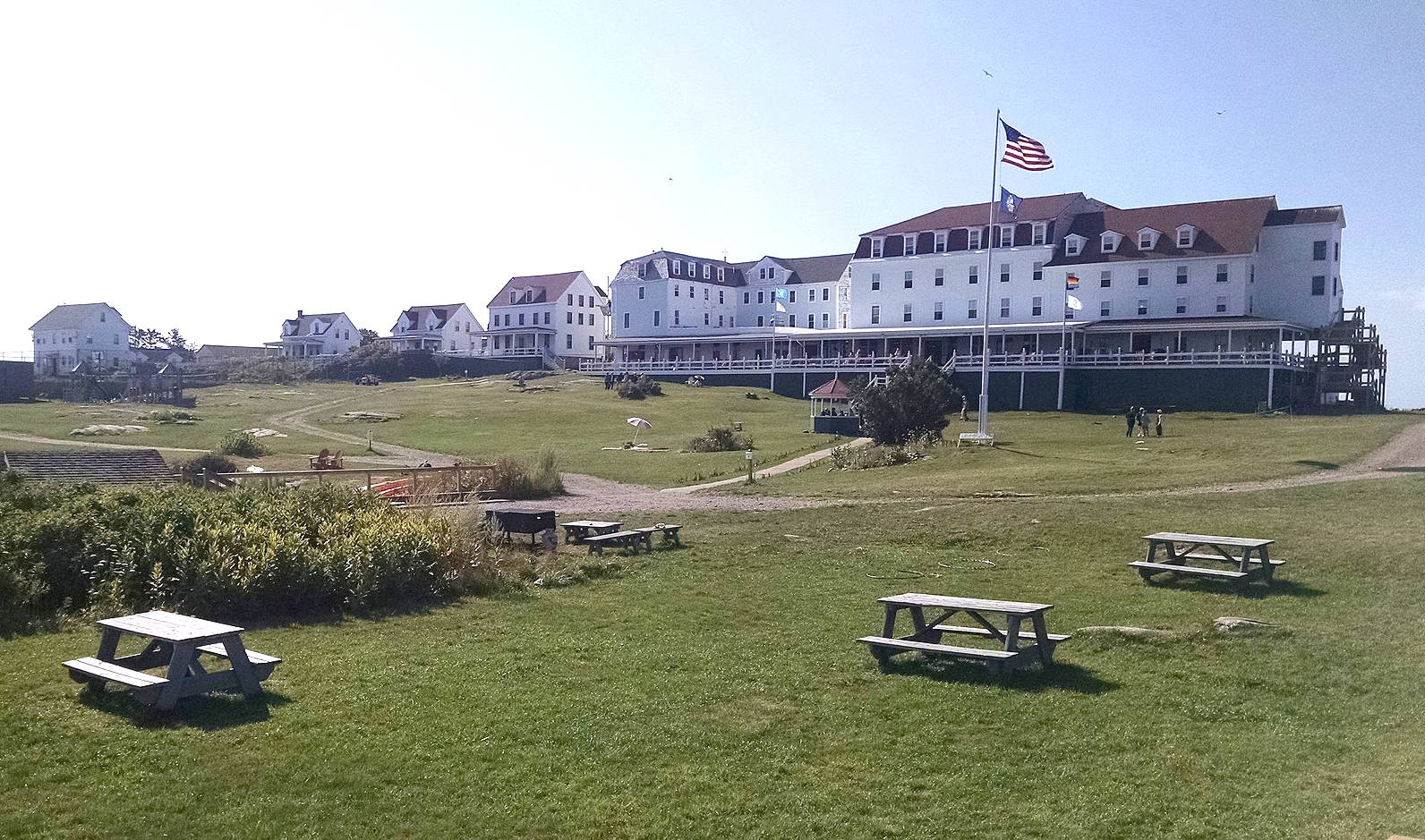 Star Island, Oceanic Hotel, Isle of Shoals

SEA COAST NEW HAMPSHIRE 2006 - HISTORY CHANNEL

Each time Disney releases another pirate blockbuster film, locals get a flurry of letters from people asking where did Blackbeard bury his booty at the Isles of Shoals.

The reply should perhaps include a treasure map for $30 dollars (National Treasure). But locals are too helpful to take advantage of treasure hunting fools. Instead, locals try to educate them with a little history. But people with new metal detectors care little for history. They want gold, tending to ignore facts and logic that would otherwise deter them.

Most people will tell you that there isn't any gold buried on the Shoals, unless Blackbeard was carrying the kind of machinery that bores into solid rock. There isn't enough topsoil on most of the islands to bury a large dog, let alone a treasure chest. But such geology will rarely get in the way of pirate stories.

One day a local got a call out of the blue from Mindy Pomper from Digital Ranch in Los Angeles. She asked if the historian might join her TV film crew in search of Blackbeard's treasure on Lunging Island.

He'd heard it all before. Legends of pirates abound in these parts, although precious little documentation exists. But most of the legends talk about pirate treasure buried at Star, Appledore and Smuttynose, never at Lunging. The best documented story says old "King Haley" found three or four bars of silver on Smuttynose in the early 1800s and used the income to build the breakwater between his island and nearby Malaga. Everybody knows the tale, but nobody has seen any proof that the bars existed.

There is a fair chance that an errant pirate was arrested on the Shoals in the 1700s, but that's as good as it gets.

The source of the Lunging claim comes from Prudy Crandall Randall who owns the only summer home on the island. She's been inviting friends out for years to visit her famous "Honeymoon Cottage" on Lunging, but it's impossible to reach her isolated cove without a boat and a good tide. Then in her 80s, Prudy told her tale to local producer Richard Baron, who pitched it to Mindy, who got the green light to include an episode on the History Channel called "History's Mysteries."

"I want to find out the truth once and for all," she told is quoted as saying. Prudy grew up hearing the Blackbeard story from her father who bought the island in the late 1920s. "If there's no silver bars buried here, I can stop thinking about it," she explained. Well okay, any excuse for a treasure romp.

The History Channel apparently doesn't spare the horses; this was a full-fledged expedition. By 6 am a team of geologists with high-tech equipment in silver cases were already on board the rented fishing boat in Rye Harbor. A Boston-based camera crew arrived and, as if on cue, the orange sun appeared on the horizon. The geologists pretended to get back on the boat for the benefit of the cameras. Then Cap'n Pete Reynolds steered the 'MV Uncle Oscar' expertly through the six miles of hefty rolling waves to the tiny private island.

Lunging, once called Londoner's Island, is dumbbell-shaped with a narrow rocky neck connecting two small clumps of land. The natural cove was a godsend for fisherman of the London Company (thus the name) who reportedly used the island as a base camp for their fishing operations as early as 1615. With nothing but a teeny floating dock, the cove was less than welcoming as fierce white breakers exploded on the rocks to our right and left. It took five trips in a gray flat-bottomed skiff to get all the bodies, paraphernalia and snacks ashore. As the day wore on, the great pile of canned soda, chips, fruit bars, mixed nuts, peanut butter sandwiches and bottled water became the center of activity.

During high tides the two halves of Lunging are separated by a foot or two of seawater that rises over the exact spot where Prudy Randall says Blackbeard left his treasure and his thirteenth wife - never to return. There was a cave there, she believes, that has since collapsed or been covered somehow by nearly 300 years of storm and tide. After the Great War, Prudy explained, the US Government was looking for buried treasure and spotted the hidden cave by air using some sort of sonar device. Later in the 1950s perhaps, a man from a quarrying company did some tests and indicated that a cave or buried ingots were possibly hidden there. Exact details are impossible to pin down.

Anticipating the encroaching flood, the team from Hager-Richter Geoscience quickly cordoned off the treasure search zone with little red flags. One member wearing a back-pack-like device wheeled a cart over the area in measured rows, while others watched for signs of hidden silver bars beneath the rock and sand. A barge with a drill rig was due in from Rockland, Maine the next day to make a small test hole through what appeared to the untrained eye like a whole lot of solid rock that hadn't moved since long before human beings were algae in the making. The geophysicists were happy as clams to be on the most beautiful island on the Shoals. Apparently, it's a far cry from the hazardous waste dumps, landfills, highways and airports where they usually work.

The film crew wasn't missing any of the action. The camera panned right to take in the Randall's historic shingled summer home that has grown around a 150 year old fishing hut. "Uncle" Oscar Laighton, poet Celia Thaxter's brother, actually owned the island for a time. Oscar died just shy of his 100th birthday and Prudy remembers him well. The camera panned left over Square Rock to the little hut and the old outhouse on the far side of Lunging toward the lighthouse on White. The camera continue around catching the side of the Oceanic Hotel on Star, the two buildings on Smuttynose, then over to Appledore. The Laightons owned all of it at one time, and any legend that attracted more summer tourists to their summer island retreats was a good legend.

"What do you think about the Blackbeard story?" one of the scientists asked as the camera crew moved off toward the distant rocks for some heavy surf shots. Prudy was not due in until the 11 am boat, so the ranking amateur historian on the island, offered his considered opinion.

"It's a good story all right. But it ain't history."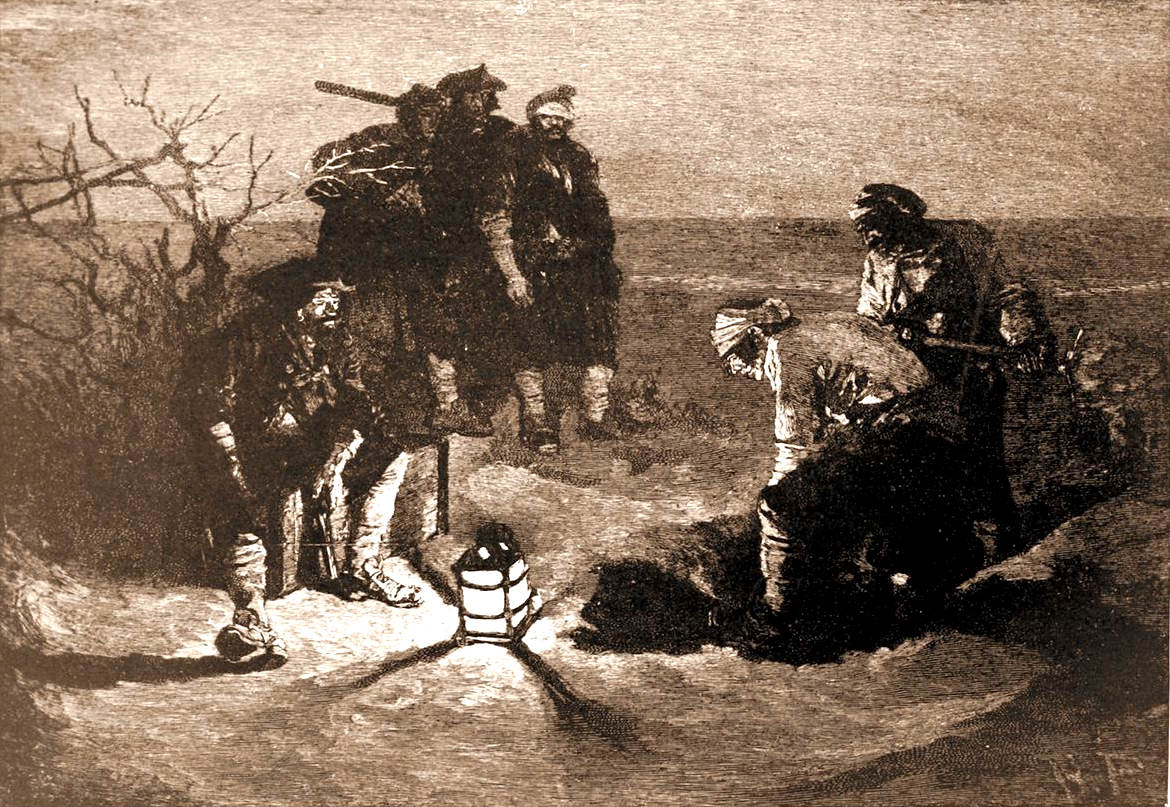 After days of hunting, researchers had not found an authorized account of Blackbeard at the Isles of Shoals. In the window of the New England Pirate Museum in Salem, MA there was once a diorama of Blackbeard burying treasure at the Shoals. The model looked a lot like Smuttynose. Students who visit the museum are told decisively that the treasure is at Lunging. Museum owner Nancy Hurrell, at the time, was asked where that story came from. She referred to a book by Robert Ellis Cahill called "Pirates and Lost Treasure."

Cahill, a former owner of the pirate museum and author of 27 small self-published books on New England lore gets very specific. According to his book: "Blackbeard's treasure is buried at the landing side of the beach facing the Star Island Hotel, halfway across the halfmoon stretch of beach." That's precisely where the crew was digging, all right, exactly the same spot pointed out by Prudy Randall.

After leaving his 13th wife to guard the spot, Edward Teach, known more popularly as Blackbeard, sailed off to the Carolinas. There he blockaded Charleston with several ships and 700 men, was pardoned by the king, then settled down in Bath, North Carolina with Mary Ormond - the 14th Mrs. Blackbeard. Teach was betrayed by a southern governor who had been sharing in his booty and died with 20 knife and five gunshot wounds soon after.

Asked where he buried his treasure Blackbeard reportedly said that only he and the devil knew. Cahill's book is full of great pirate details, but does not mention where he got his Lunging Island data. In all the preparations, nbody could find any corroborating data. With the History Channel cameras pointed in their direction, locals said exactly that. And they chose not to air any anti-Blackbeard sound bites. That would spoil their TV programme.

By noon, with the water rising, half the scientists were stranded on the cottage side of the island. The rest of the crew were left sitting in the glaring fall sun on the food and outhouse side. The MV Uncle Oscar returned with Prudy Randall, field producer Richard Baron and four local actors with pirate costumes in drycleaning bags. Captain Peter, like the ferryman on the River Styx, continued rowing the population to and from each side of the island. The actress playing the ghost of Blackbeard's wife was resplendent in a diaphanous gown.

Director Tom Jennings was told that "She should say -- "He will come back! That's the legendary line, and the same line summer guests shout at each other each time the ferry leaves the Isles of Shoals.

"I like it," Tom is quoted as saying. "That's good."

Tom Jennings announced that it was time for the pretend Blackbeard to pretend to abandon his pretend bride on Lunging Island. But Mrs Blackbeard had disappeared inside Honeymoon Cottage and was talking to Prudy Randall.

"That's okay," the director said amiably, moving on to another shot. He decided to save the ghostly wife scene until sunset to make her look spookier, and went back to the shots on the boat. Blackbeard's pirate lackeys wearing well ironed puffy shirts look decidedly non-threatening, even with their plastic cutlasses and eye patches. They look less like they had been living at sea for years, and more like they were about to break into a song from "Pirates of Penzance". This was mentioned who never spoke to locals again, his feelings hurt.

The entire crew crowded into the tiny boat that looked more Viking, than pirate ship, but having towed it for six miles and rented it for the day, the director pressed on. The sound man was forced to hide under a blanket on the ship to get the authentic pirate sounds while the cameraman barked orders from the shore using a radio phone. To get the illusion of movement, Cap'n Pete towed the pirates who pretended to row. Meanwhile, the falling tide made it possible for the geophysicists to resume their ultrasonic treasure hunt.

They all promised Mindy not to reveal what the treasure hunters did or didn't find until the show aired. The promise was kept but they found nothing. There were the usual anomalies in the ground penetrating radar that allowed the narrator to offer the possibility that some cave might still exist under the rock. The drill rig seemed to prove otherwise, but people love to hope. The hour-long episode focused on finding treasure. The Lunging segment ran less than seven minutes.

Robert Cahill had just moved from Salem, MA at age 69 to a new retirement home in Florida.

"There's certainly evidence, though circumstantial, that Blackbeard went to the Isles of Shoals and spent some time there. You can count on that," Cahil is quoted as saying from Florida. He said he brought enough books from New England to fill three libraries, but he's retired now from the story-telling business.

Cahill remains convinced that the Shoals was a "pirate bank", a safe location where ships could be hidden, offload their booty and entrust the locals to guard it in exchange for a cut of the action. The Shoals, he admitted, is an unlikely treasure spot. There is hardly a tree or soil to hide things under. Pirate Captain Jack Quelch, was captured while hiding gold nuggets on Smuttynose. That, Cahill said, is documented.

But what was his source for the Blackbeard story? It's a "very very fuzzy legend," Cahill admited.

"I got that from Prudy Randall," Cahiill explains at last. "She had told him the story because they lived near each other in Massachusetts. I didn't bump into her again until 'Unsolved Mysteries' came along a few years ago. I came rowing into her island one day and she recognized me and said -- 'Bob Cahill, what are you doing here?"

What goes around comes around. Bob Cahill's authorized source is none other than Prudy Randall, and her source is a childhood memory and a deep 80-year faith that her private island is home to buried treasure. The lack of any evidence seems not to have dampened her hopes.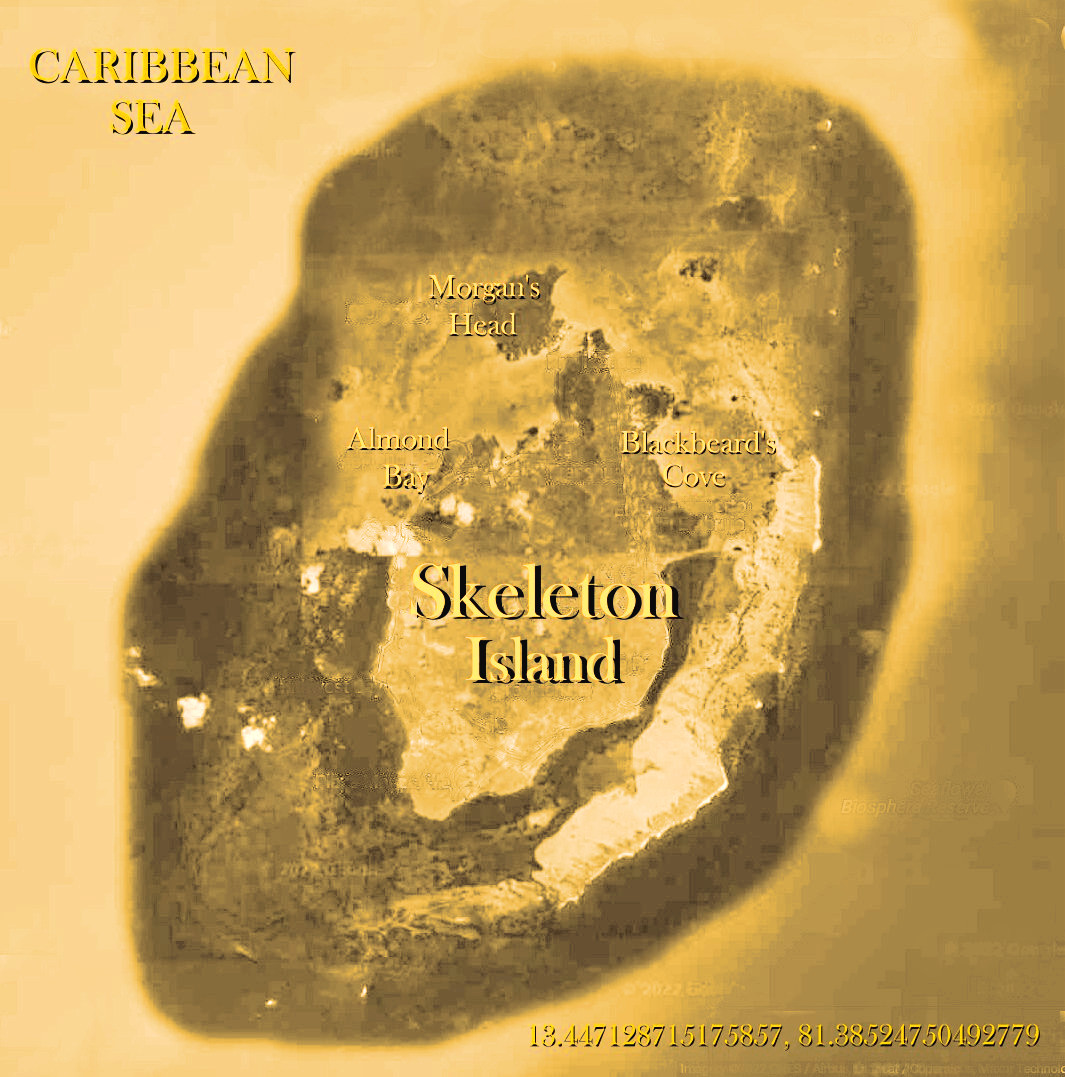 SKELETON ISLAND - Sir Henry Morgan visited this island on many occasions, though his plantations were in Jamaica, and he lived in Port Royal, where he enjoyed the high life. On some pirate parchments Blackbeard's Cove is marked. On modern maps only Morgan's Head is acknowledged - simply because Edward Teach did not manage to retire, pardoned, but cut off in his prime. Today we know the above as Isla de Providencia, Columbia.
COASTAL REVIEW 24 OCTOBER 2022 - SEARCH FOR BLACKBEARD'S TREASURE BASED ON ENDURING MYTH

OCRACOKE — It began within minutes after the notorious pirate Blackbeard was killed in the Battle at Ocracoke on Saturday morning, November 22nd 1718.

As soon as the wounded were attended to and the surviving pirates were placed under guard, the hunt was on, led by Royal Navy Lieutenant Robert Maynard. The first place they searched was Blackbeard's cabin in the roundhouse of his 65-foot-long Jamaica-rigged sloop, Adventure. Surely the world's best-known and most-feared pirate captain kept a chest of Spanish gold, silver and jewels hidden beneath his bunk, just for his walkin' around money.

Rarely mentioned in the many books, articles and other accounts of the famous battle is that Maynard and the other volunteer sailors from the British king's ships stationed in Virginia were persuaded to accept the potentially deadly assignment of apprehending or killing the North Carolina pirates by the prospect of acquiring pirate treasure. It could be said that the 60 men aboard the two, small, rented sloops under Maynard's command were little more than pirates themselves.

Two weeks after the smoke cleared from the battle, Maynard and his men were still hoping to find a treasure on Ocracoke Island that would make them all rich. They were disappointed. In addition to casks of sugar, cocoa, indigo dye and a few bales of cotton, only a small amount of what is called gold dust, small nuggets of gold, were recovered from the pirates' possessions.

Maynard's stay at Ocracoke may have been when an enduring Blackbeard myth was born. While nine captive pirates were held in the lower deck of the Adventure while anchored in the yet-to-be-named Teach's Hole Channel, a guard may have asked them, so, where did the boss hide his treasure? Funny you should ask, a pirate replied, we posed that question to him just last night.

The published version of the interrogation in a 1724 book, "A General History of Pirates," goes like this: "… one of his Men asked him, in Case any thing should happen to him in the Engagement with the Sloops, whether his Wife knew where he had buried his Money? He answered, That no Body but himself and the Devil, knew where it was, and the longest Liver should take it all."

Among the many dubious aspects of the preceding quote, my research has proven that Blackbeard and his men had no idea on the night before the battle that they were under any threat at all. Having arrived from the inland waters of the colony and anchored alongside Beacon Island 3 miles away from the pirates' moorings near today's Springer's Point, Maynard's sloops had all the appearances of typical merchant vessels preparing to put to sea.

Nevertheless, ever since, writers and historians have assumed that because the quote was in print – like so many other popular but improbable Blackbeard legends – it must have been true.

At the end of the two weeks at Ocracoke, Maynard sailed Blackbeard's Adventure across Pamlico Sound and up to Bath, but not with the pirate's head hanging under the bowsprit as is so often told – it was too valuable, worth a bounty of 100 pounds sterling back in Virginia. In Maynard's wake, however, has streamed, like the gold of marine phosphorescence, the hopes of the credulous that Blackbeard's lost treasure might still be found.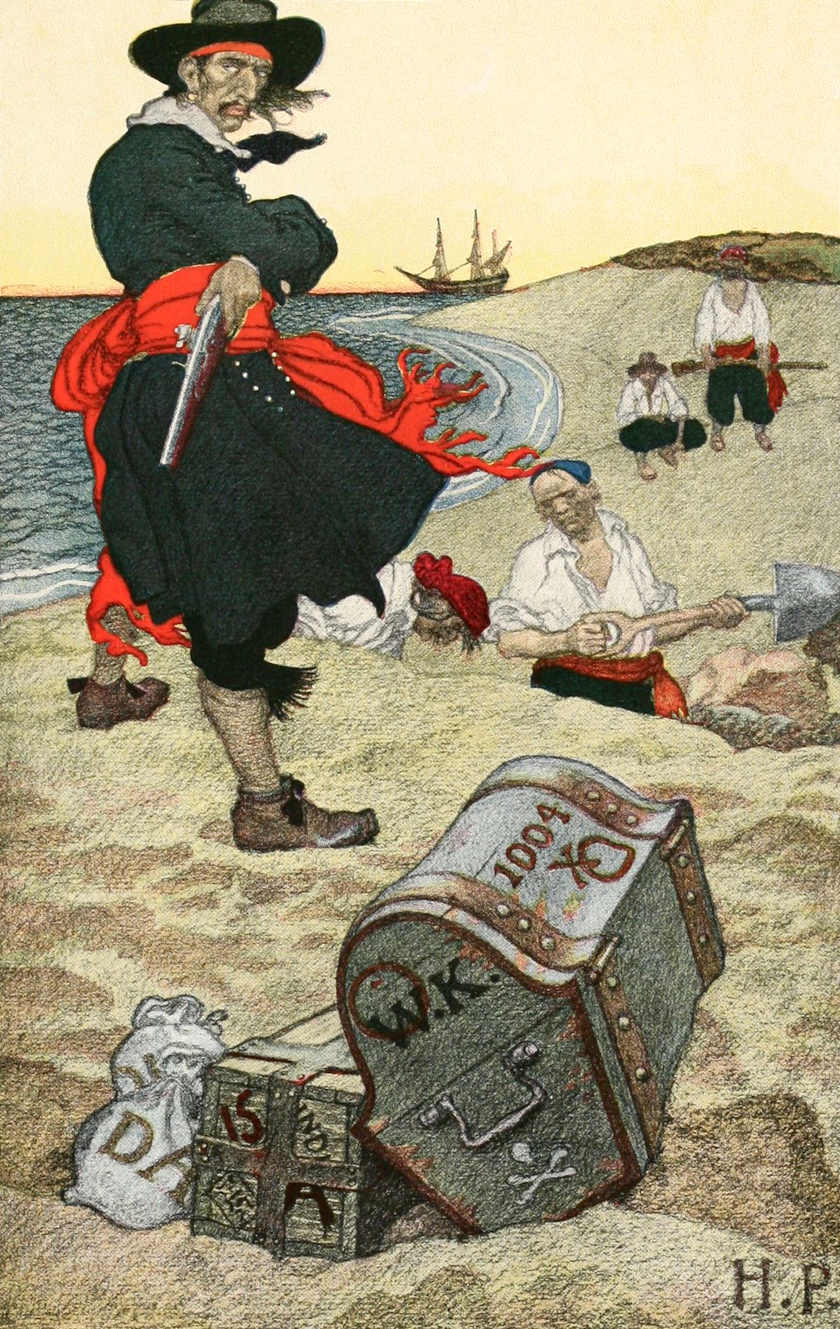 Edward Thatch, aka Blackbeard, was far from a successful, wealthy pirate. When the value of the commodities recovered from the pirates' possessions at Ocracoke were tallied up and sold at auction in Virginia, the proceeds amounted to 2,500 pounds sterling, not a treasure commensurate with the notorious pirate's reputation, then or now.

Compare Blackbeard's final estate to Capt. William Kidd's £14,000 worth of gold, silver, and jewels; or the East Indian pirate Henry Every's much more impressive £350,000 haul; or Sam Bellamy's estimated plunder of as much as a million pounds sterling. But that all ranks well below Sir Francis Drake's massive piratical treasure of £1.5 million valued in 1582. Yes, Drake was the greatest pirate of them all.

But historical facts be damned, the world's best-known pirate had to have had a massive treasure hidden somewhere, right? Seeking their own treasure of sorts in the form of royalties or writing fees, authors, journalists, and artists have perpetuated the notion of lost pirate treasure and enticed all sorts of believers to search for it.

Robert Louis Stevenson really sparked the public's imagination of instant wealth with his book, "Treasure Island," first published as a weekly serial in a children's magazine in 1881, and then as a more popular book in 1883. As many as five films have since been made based on the book.

The 19th century Delaware artist and writer Howard Pyle helped to paint the public's perception of pirates and Blackbeard in particular with his illustrations like the one titled, "Blackbeard Buries His Treasure" that was published in Harper's Magazine in 1887. It was also Pyle who conceived our modern ideas of pirate dress favored by Hollywood and pirate festival reenactors, fanciful things like sashes, bandanas, earrings and knee-high riding boots, all extremely impractical for men aboard a working vessel.

Most illustrations, such as those of Pyle, often depict sea rovers gathered around a hole in the sand on some unknown shore, and a sea chest nearby wrapped in chains and ready to be lowered into the ground. No one seems to question the practicalities of such a surreptitious mission. Even a small sea chest filled with gold, let's say 2 feet by 2 feet by 2 feet, or 8 cubic feet, would weigh nearly 5,000 pounds. That's a lot of weight for two pirates to lug about a sandy beach. No wonder the National Park Service claims that Blackbeard possessed "inhuman strength."

The antiquarian writer John F. Watson in his 1830 book, "Annals of Philadelphia, and Pennsylvania," firmly planted the idea that pirates like Blackbeard provided security at the site of their hidden plunder by burying atop their treasure chests the gruesome remains of a prisoner or crew member who was chosen by lot to be sacrificed – murdered, to be precise – and left behind to rot, and to discourage would-be treasure seekers. "Hence it was not rare to hear of persons having seen a spooke or ghost, or of having dreamed of it a plurality of times, which became a strong incentive to dig there."

The 1920s were heydays for promoters of pirate treasure with both the New York Times and the Raleigh News & Observer spinning tantalizing tales of Blackbeard's vast fortune being found.

According to the Times, Miss Florence E. Steward of Burlington, New Jersey, wanted to sell her house in 1926 near the Delaware River but according to family lore the old walnut tree in front, known as the "pirate tree," was where Blackbeard had buried his treasure many years before. She didn't want the treasure to be conveyed to the new owners so she hired some excavators to dig it up. For unspecified reasons, Miss Steward wasn't present when the digging commenced. At the end of the day the excavators were gone but there was a large hole in the ground. The Times reported that the contractors had been observed by neighbors prying "a large, heavy object" from the earth and taking it with them when they departed. They were never seen again.

Three years after Miss Steward's walnut tree misadventure, Ben Dixon MacNeil, a correspondent for the Raleigh News & Observer, and later author of the much-beloved book "The Hatterasman," must have decided that Blackbeard's home state of North Carolina would not be upstaged by New Jersey or the New York Times. MacNeil wrote a story for the Feb. 3, 1929, Sunday edition with a headline that was simultaneously buoyant and deflating: "Blackbeard's Buried Treasure Found at Last; But Mystery of Pirate Gold Not Yet Solved."

In MacNeil's colorful two-page piece, he reported how, two days before Christmas in 1928, three men, believed to be duck hunters despite the fact that there were no eyewitnesses, visited by water Plum Point on Bath Creek in Beaufort County and found Blackbeard's secret treasure vault, dug up a heavy chest, dragged it back to their boat and sailed away never to be seen again. Remember, there was no one who observed this, yet MacNeil reported it as fact. (Fictional news has been around a long time.)

Legend says that Plum Point had long been the treasure hunter's favored location of Blackbeard's ill gotten gains. "For two hundred years," MacNeil wrote, "the earth had been troubled by the digging of those who had been shown in dreams where the chest was hidden."

We might speculate that the News & Observer journalist had been influenced by Watson's "Annals of Philadelphia" in which the author described dreams leading treasure hunters to the "X" that marked the spot. Ironically, previous dreamers and diggers had missed the location of the secret vault near Bath by just 3 feet, or so the story goes.

According to MacNeil: "… the next day, or the next — the stories are in some conflict here — other hunters making their way through the thick undergrowth that covers the Point, came upon the broken brick vault" out of which had been removed a "mysterious chest containing, according to legend, uncounted pieces of Spanish gold." (It is worth noting that there is no record that Blackbeard ever robbed a Spanish vessel in his documented 23-month career as a pirate.)

The vault, 18 inches wide and 3 feet long, had been buried 8 feet under the sand in an area so pockmarked with craters from previous treasure seekers that the landscape looked like the far side of the moon. Suspicious markings in the original mortar of the brick vault, and some accumulation of rust, led the other hunters to surmise that an iron-clasped wooden chest once resided inside the vault. That tidbit leads one to wonder if the "other hunters" had been archaeologists.

Nevertheless, Blackbeard's brick vault has neither been authenticated or even found again. The foundation ruins of a small 19th century house near Plum Point, however, were examined by the late archaeologist Stanley South in the 1960s.

MacNeil concluded his article by writing that Blackbeard must have been an exceptionally wealthy pirate, who buried his Spanish gold beneath the sand of numerous eastern North Carolina locations, "because otherwise he would have not been worth bothering the British navy, and successful pirates have chests of gold buried about in places. And where else should he bury the gold except in his own backyard."

Despite the newspaperman's reasoning that Blackbeard lived at Plum Point or buried his treasure in his backyard, property records and deeds in the Beaufort County courthouse affirm that Edward Thatch or Teach, or anyone else for that matter, did not live on that prominent point of land at the mouth of Bath Creek in 1718.

Bath's Plum Point may be among the best known and most "earth-troubled" mythical locations of Blackbeard's lost treasure but there are many more. There are those who believed the pirate buried his money at New Hampshire's Isle of Shoals, others who think it's somewhere on the subtly named Blackbeard Island off the coast of Georgia, or at the base of any number of trees along the Atlantic coast. Have you ever tried to dig a hole at the base of a tree?

There is no doubt that Robert Louis Stevenson and Howard Pyle have launched the treasure hunting hobbies of many wishful Americans, some of whom, to this day, hope that Blackbeard's treasure may yet be found.

So here's a tip from someone who has spent decades researching the world's best-known pirate.

If you wish to seek Blackbeard's treasure, you might search the bank accounts of publishing companies, Hollywood studios, cable channel networks, museum stores, amusement parks, restaurants, and the importers of plastic pirate paraphernalia from Far East manufacturers. It's there that "X" marks the spot, it's there where the real pirate treasure can be found.

By Kevin Duffus

Kevin Duffus is a noted North Carolina author, filmmaker, and maritime historian who has made numerous historical discoveries. He is the author of six books including the "The Last Days of Black Beard the Pirate." Among his many adventures, he once chauffeured the skeleton of a pirate from the Smithsonian back to North Carolina.


https://coastalreview.org/2022/10/search-for-blackbeards-treasure-based-on-enduring-myth/
https://www.ishra.org/about-isles/project-six-ne3az
http://hager-richter.net/helping-the-history-channel-search-for-blackbeards-lost-treasure/
https://eu.seacoastonline.com/story/news/2001/04/25/did-blackbeard-bury-treasure-at/51302411007/
https://www.visitvirginiabeach.com/blog/post/vabeach-haunts-the-lost-treasure-of-edward-teach/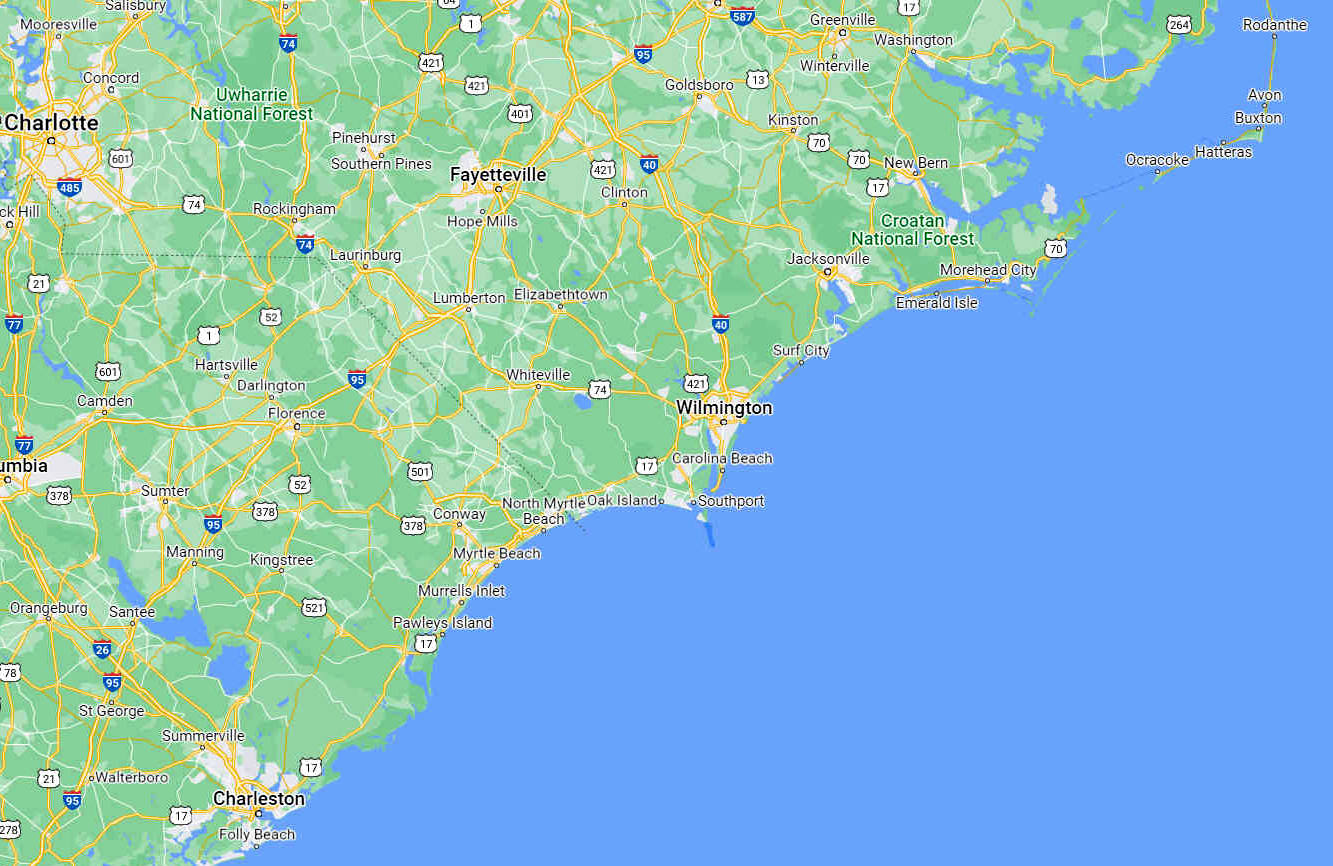 A map showing Charleston, the city Blackbeard blockaded, leading to the drive to capture the pirate. Given that Bath River is just some 500km north, it is reasonable to assume that he had a buyer for the goods he was trading, confiscated from his victims. His trades would surely have been converted to gold or silver, the only reliable transportable currency of the day.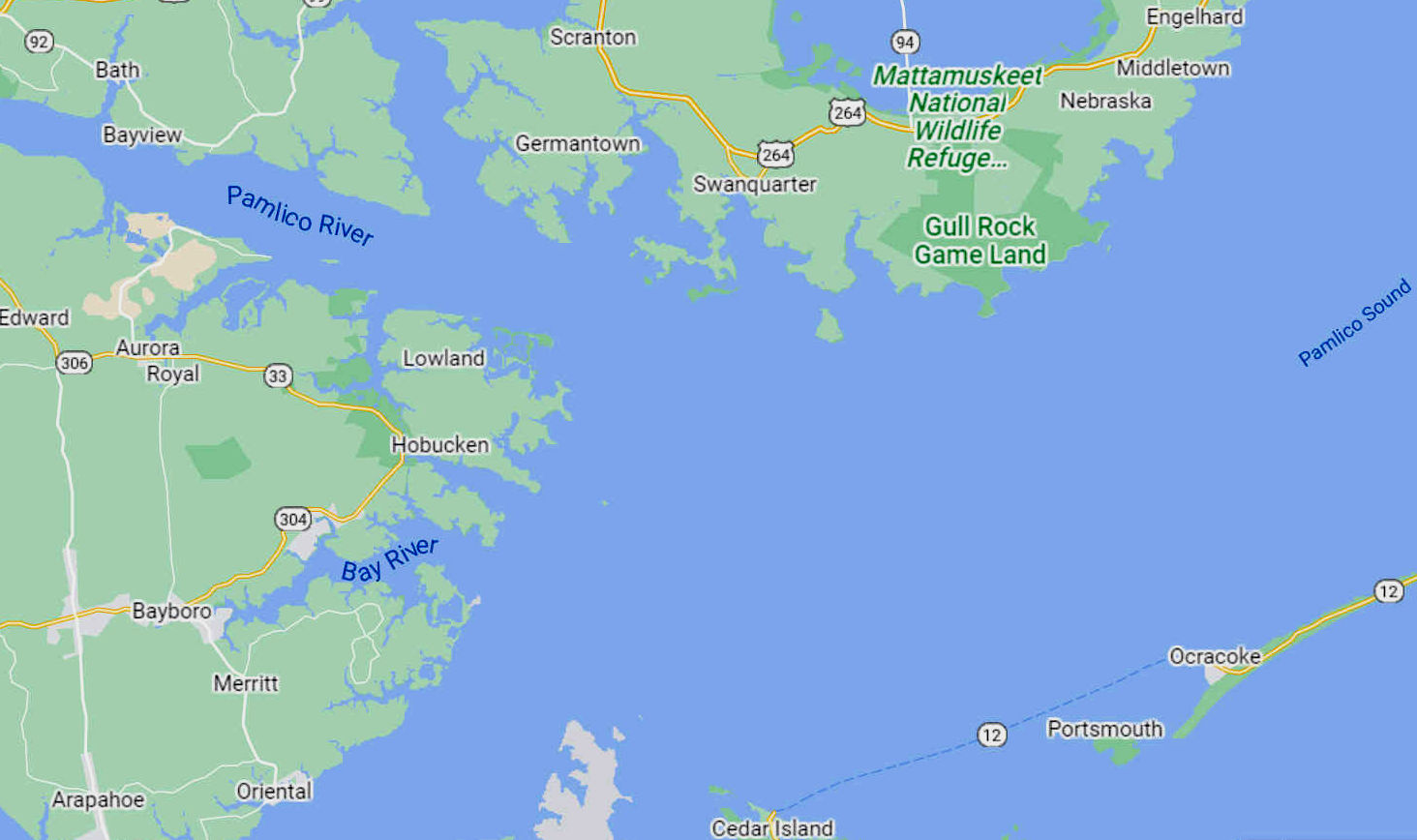 Map showing Bath River and Plum Point, leading into Pamlico River. Ocracoke and Portsmouth is shown with Pamlico Sound. Given that these are two locations documented as involving Blackbeard, and with his piratical target being so close, there must have been another location where the pirate felt safe banking his stash, that his American cousins would not twig.