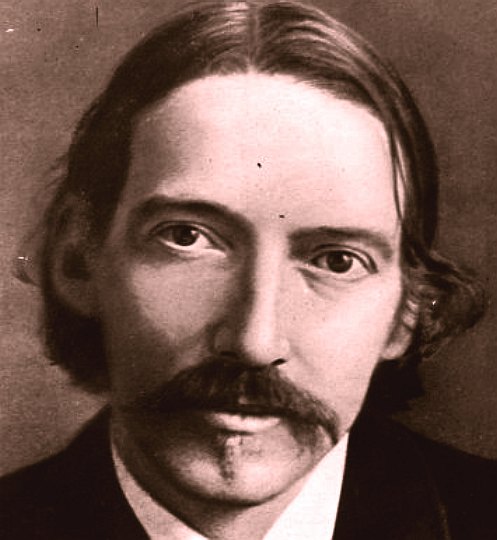 Robert Louis Stevenson
The original Treasure Island was written by Robert Louis Stevenson. He set the benchmark for pirates and treasure hunts based on a map.
Robert Louis Balfour Stevenson (13 November 1850 – 3 December 1894) was a Scottish novelist, poet, essayist, and travel writer. His most famous works are Treasure Island, Kidnapped, and the Strange Case of Dr Jekyll and Mr Hyde - all brilliant stories stretching creativity to the max.
But Robert was not recognised by his contemporaries. Indeed, he was chastised and excluded at some levels. He qualified for the Scottish bar in July 1875, and his father added a brass plate with "R.L. Stevenson, Advocate" to the Heriot Row house. But although his law studies would influence his books, he never practised law.
Many of Stevenson's books have made it onto celluloid, as live action and animations. In our view, while they were adequate in their day, and certainly entertained several generations. There has not been a decent/recent re-make of Treasure Island. One is long overdue. The sad thing being that super heroes and high tech are expected by audiences today. With dollops of CGI and lashings of steroids. In that world of streaming net-flix, there is little room for a classical classic. No matter how one enjoyed reading it at school, or under the covers. Though, Disney's Pirates of the Caribbean, ramps things up somewhat, proving there is a market for such adventures, provided they bring something new to the table, such as humor in a pirate setting.
RECEPTION
Stevenson was a celebrity in his own time, but with the rise of modern literature after World War I, he was seen for much of the 20th century as a writer of the second class, relegated to children's literature and horror genres. Condemned by literary figures such as Virginia Woolf (daughter of his early mentor Leslie Stephen) and her husband Leonard, he was gradually excluded from the canon of literature taught in schools. His exclusion reached a height when in the 1973 2,000-page Oxford Anthology of English Literature Stevenson was entirely unmentioned; and The Norton Anthology of English Literature excluded him from 1968 to 2000 (1st–7th editions), including him only in the 8th edition (2006).

The late 20th century saw the start of a re-evaluation of Stevenson as an artist of great range and insight, a literary theorist, an essayist and social critic, a witness to the colonial history of the Pacific Islands, and a humanist. Even as early as 1965 the pendulum had begun to swing: he was praised by Roger Lancelyn Green, one of the Oxford Inklings, as a writer of a consistently high level of "literary skill or sheer imaginative power" and a co-originator with H. Rider Haggard of the Age of the Story Tellers.

He is now being re-evaluated as a peer of authors such as Joseph Conrad (whom Stevenson influenced with his South Seas fiction), and Henry James, with new scholarly studies and organisations devoted to Stevenson. No matter what the scholarly reception, Stevenson remains popular worldwide. According to the Index Translationum, Stevenson is ranked the 26th most translated author in the world, ahead of fellow nineteenth-century writers Oscar Wilde and Edgar Allan Poe.

MANUSCRIPTS

Half of Stevenson's original manuscripts are lost, including those of Treasure Island, The Black Arrow and The Master of Ballantrae. Stevenson's heirs sold Stevenson's papers during World War I; many Stevenson documents were auctioned off in 1918.
According to Stevenson's letters, the idea for the character of Long John Silver was inspired by his real-life friend William Henley, a writer and editor. Stevenson's stepson, Lloyd Osbourne, described Henley as "...a great, glowing, massive-shouldered fellow with a big red beard and a crutch; jovial, astoundingly clever, and with a laugh that rolled like music; he had an unimaginable fire and vitality; he swept one off one's feet". In a letter to Henley after the publication of Treasure Island Stevenson wrote: "I will now make a confession. It was the sight of your maimed strength and masterfulness that begot Long John Silver...the idea of the maimed man, ruling and dreaded by the sound, was entirely taken from you".
CORRESPONDENCE
SIR ARTHUR CONAN DOYLE

From RLS, 5 April 1893, to Arthur Conan Doyle:

"I hope you will allow me to offer you my compliments on your very ingenious and very interesting adventures of Sherlock Holmes. That is the class of literature that I like when I have the toothache. As a matter of fact, it was a pleurisy I was enjoying when I took the volume up; and it will interest you as a medical man to know that the cure was for the moment effectual"

Doyle responded:

"I'm so glad Sherlock Holmes helped to pass an hour for you. He's a bastard between Joe Bell [a famous Edinburgh surgeon] and Poe's Monsieur Dupin (much diluted). I trust that I may never write a word about him again. I had rather that you knew me by my White Company. I'm sending it on the chance that you have not seen it".

(Correspondence between RLS and Arthur Conan Doyle, The Letters of Robert Louis Stevenson, ed. by Bradford A. Booth and Ernest Mehew, vol viii [New Haven: Yale University Press, 1995], pp. 49-50)


THOMAS HARDY

"Well, I was mortually wounded by Tess of the Durberfields. I do not know that I am exaggerative in criticism; but I will say Tess is one of the worst, the weakest, least sane, most volulu books I have yet read [. . .] I could never finish it, there may be the treasures of the Indies further on; but so far as I read, James, it was (in one word) damnable. Not alive, not true, was my continual comment as I read, and at last – not even honest! was the verdict with which I spewed it from my mouth. I write in anger? I almost think I do; I was betrayed in a friend's house – and I was pained to hear that other friends delighted in the barmecide feast. I cannot read a page of Hardy for many a long day, my confidence is gone. So that you and Barrie and Kipling are now my Muses Three. And with Kipling, as you know, there are reservations to be made. And you and Barrie don't write enough"

(Letter from RLS to Henry James, 4 December 1892, The Collected Letters of Robert Louis Stevenson, ed. by Bradford A Booth and Ernest Mehew, vol vii [New Haven: Yale University Press, 1995], p. 450)

"Did I tell you that we saw Hardy the novelist at Dorchester? A pale, gentle, frightened little man, that one felt an instinctive tenderness for, with a wife – ugly is no word for it, who said 'whatever shall we do?' I had never heard a living being say it before"

(Letter from Fanny Stevenson to Margaret Stevenson, 10 September 1885, The Collected Letters of Robert Louis Stevenson, ed. by Bradford A Booth and Ernest Mehew, vol v [New Haven: Yale University Press, 1995], p. 125)

Thomas Hardy (1840-1928) was a major writer of the Victorian period, best known now and in his time for his novels. These include Far from the Madding Crowd (1874), The Return of the Native (1878), The Mayor of Casterbridge (1886), The Woodlanders (1887 – RLS wanted to take this novel with him when he left for the USA in 1887. He sent his friend Edmund Gosse to find it for him), Tess of the d'Urbervilles (1891) and Jude the Obscure (1895).


HENRY JAMES

"I meant to write to you tonight on another matter – but of what can one think, or utter or dream, save of this ghastly extinction of the beloved R.L.S? It is too miserable for cold words – it's an absolute desolation. It makes me cold and sick – and with the absolute, almost alarmed sense, of the visible, material, quenching of an indispensable light"

(Letter from Henry James to Edmund Gosse, 17 December 1894. From Letters, ed. by Leon Edel, vol iii [Cambridge, MA: Harvard University Press, 1974-84], p. 495)

Henry James (1843-1916) was an American novelist and close friend to RLS. Some of his most notable works are Daisy Miller (1878), The Portrait of a Lady (1881), The Turn of the Screw (1898), The Wings of the Dove (1902) and The Ambassadors (1903). He often wrote from the point of view of his characters, and his innovative style, using unreliable narrators and interior monologues, strongly influenced modernist writing. Although mostly known for his realist fiction, James also wrote literary criticism, plays, works on travel writing, biographical and autobiographical works.


J.M BARRIE (JAMES MATTHEW)

"So Mr Stevenson puzzles the critics, fascinating them until they are willing to judge him by the magnum opus he is to write by and by when the little books are finished. Over Treasure Island I let my fire die in winter without knowing that I was freezing. But the creator of Alan Breck has now published nearly twenty volumes. It is so much easier to finish the little works than to begin the great one, for which we are all taking notes. Mr Stevenson is not to be labeled novelist. He wanders the byways of literature without any fixed address"

(J.M Barrie, "Robert Louis Stevenson", British Weekly, vol 9 [2 November 1888])

James Matthew Barrie (1860-1937) was a Scottish novelist and playwright. He studied at the University of Edinburgh before briefly becoming a journalist. His first novel was The Little Minister (1891). Although the work met with a poor critical reception, Barrie was popular with the general public, publishing works like Sentimental Tommy (1896), Margaret Ogilvy (1896) and Tommy and Grizel (1902).

Barrie was particularly interested in writing for the theatre. He wrote plays like The Admirable Crichton (1902) and What Every Woman Knows (1906).

He is best known for his character Peter Pan, the eternal youth. His play, Peter Pan, or The Boy Who Wouldn't Grow Up was first performed in 1904. Peter and the other boys in the story were based on the children of Arthur and Sylvia Llewelyn Davies (Barrie's friends). The character Wendy was inspired by W.E. Henley's daughter, Margaret Emma. Barrie wrote several works about these characters including the novels The Little White Bird: or, Adventures in Kensington Gardens (1902), Peter Pan in Kensington Gardens (1906), When Wendy Grew Up: An Afterthought (1908) and Peter and Wendy (1911).
TOP 10 TREASURE ISLAND ADAPTATIONS
Treasure Island 1950 RKO Walt Disney -
Treasure Island 1972 CCC Film & National General Pictures -
Treasure Island 1990 TV Movie -
Treasure Planet 2002 Disney, animated -
Treasure Island 2007 Die Schatzinsel -
Treasure Island 2012 BSkyB TV 180 min Action, Adventure -
Treasure Island 2019-2023 Universal Studios & Mandeville -
LINKS
https://robert-louis-stevenson.org/