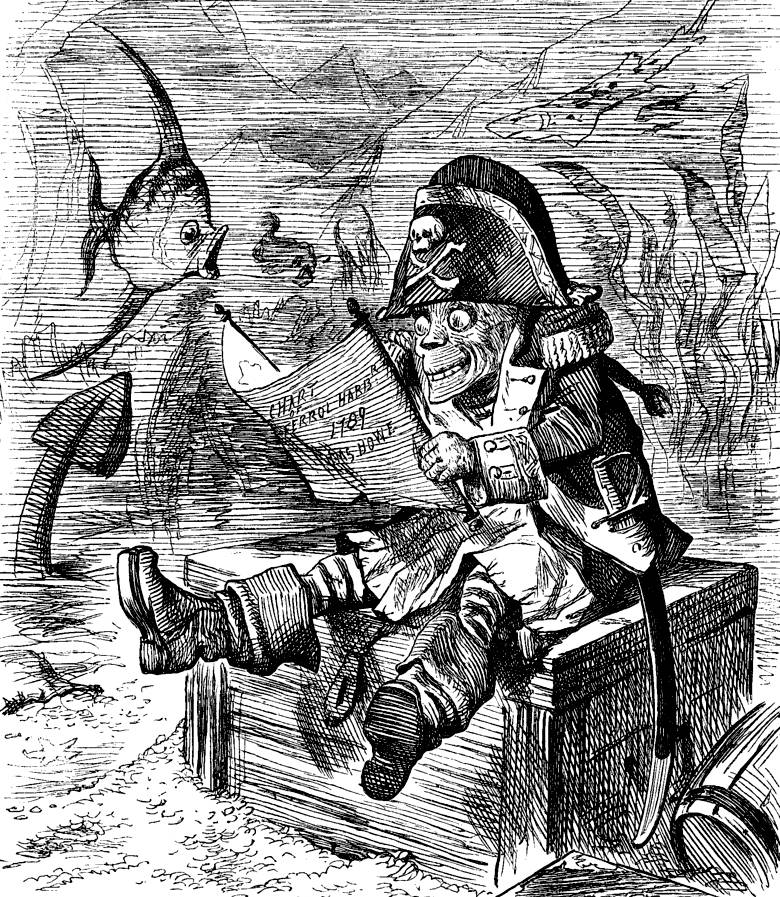 Cast of characters in the original Treasure Island novel
Davy Jones' Locker is a metaphor for the bottom of the sea: the resting place among drowned sailors and shipwrecks. It is used as a euphemism for drowning or shipwrecks in which the sailors' and ships' remains are consigned to the depths of the ocean (to be sent to Davy Jones' Locker).

The origins of the name of Davy Jones, the sailors' devil, are unclear, with a 19th-century dictionary tracing Davy Jones to a "ghost of Jonah". Other explanations of this nautical superstition have been put forth, including an incompetent sailor or a pub owner who kidnapped sailors.
Davy Jones is said to have been the captain of the Flying Dutchman, a ghost ship, equal in meaning among those who go to sea as the mythical locker.
Abraham Gray - Ships carpenter
Ben Gunn - Marooned pirate
Billy Bones - Former mate of Captain Flint
Black Dog - Pirate
Blind Pew - Pirate
Captain Alexander Smollett - Hispaniola captain
Captain Joseph Flint - Deceased pirate, owner of buried treasure chest and map
Dick Johnson - Is a young pirate with a Bible
Doctor David Livesey - Medical man and magistrate
George Merry - A mutinous pirate
Hispaniola - The sailing ship hired for the adventure
Jim Hawkins - Cabin boy
Job Anderson - Ship's boatswain
John Hunter - Squire Trelawney's manservant
Israel Hands - Ship's coxwain, mate of Captain Flint
Richard Joyce - Valet to Squire Trelawney
Tom Morgan - Pirate friend of Captain Flint
Tom Redruth - Gamekeeper
Treasure Island was written by Robert Louis Stevenson, becoming an instant hit, popular with children and adults, the subject of many films and graphic novels.

STUDIO/AGENTS: A draft script for Kulo-Luna is available on request. Cleopatra The Mummy is currently under development