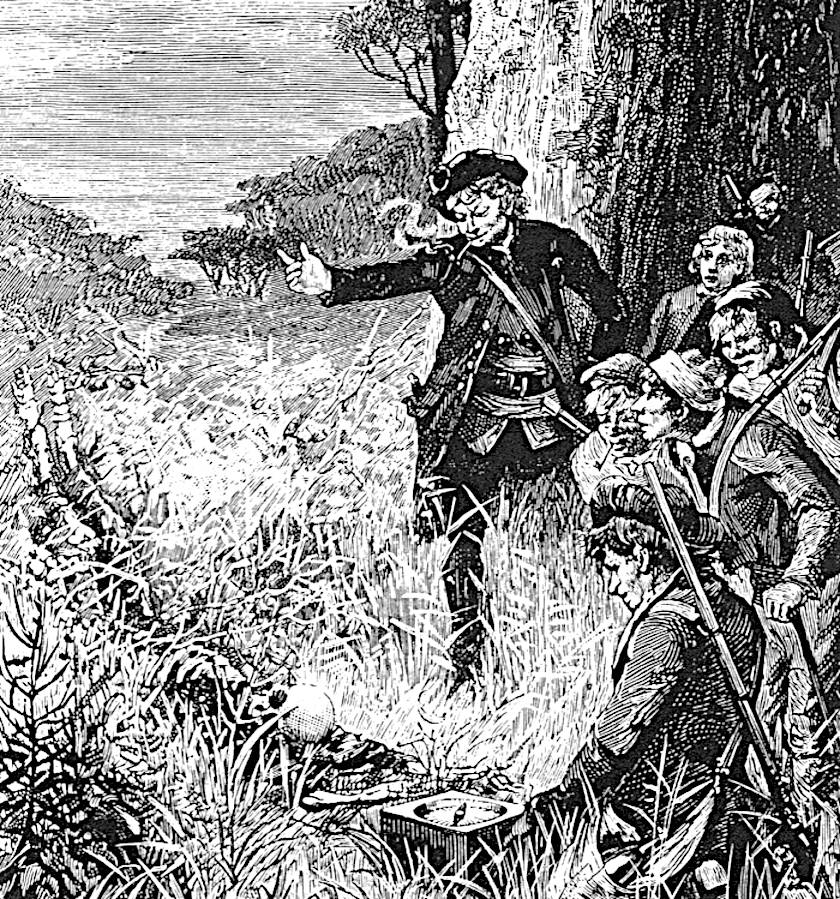 Cast of characters in the original Treasure Island novel
Captain Flint is the pirate who buried his treasure on Skeleton Island and made a map of where to find it. He was captain of a ship called the 'Walrus.' Long John Silver's parrot is named after Flint as a jest-ful remembrance.
Flint is a fictional character in the book Treasure Island, created by Robert Louis Stevenson in 1883. In this book, Flint, whose first name is not given in the text, was the captain of a pirate ship (The Walrus) in which accumulated an enormous amount of captured treasure, approximately £700,000. Flint and six members of his crew bury the plunder on an island located somewhere in the Caribbean Sea - later called Skeleton Island. Flint then murders his six assistants, leaving the corpse of one, Allardyce, with its arms outstretched in the direction of the buried treasure.

The location of the treasure is marked by Flint on a map and entrusted to his first mate William "Billy" Bones. It later falls into the hands of the protagonist of the novel, Jim Hawkins.

The only person Flint was said to fear was his quartermaster John Silver - with good cause.

Flint is said to have died in Savannah, many years before the book's central plot takes place, with his last words being, "Darby M'Graw - fetch aft the rum...." His death was said in the book to have been caused by the effects of rum. The inscription on the map suggests that he died in 1754.
Abraham Gray - Ships carpenter
Ben Gunn - Marooned pirate
Billy Bones - Former mate of Captain Flint
Black Dog - Pirate
Blind Pew - Pirate
Captain Alexander Smollett - Hispaniola captain
Captain Joseph Flint - Deceased pirate, owner of buried treasure chest and map
Dick Johnson - Is a young pirate with a Bible
Doctor David Livesey - Medical man and magistrate
George Merry - A mutinous pirate
Hispaniola - The sailing ship hired for the adventure
Jim Hawkins - Cabin boy
Job Anderson - Ship's boatswain
John Hunter - Squire Trelawney's manservant
Israel Hands - Ship's coxwain, mate of Captain Flint
Richard Joyce - Valet to Squire Trelawney
Tom Morgan - Pirate friend of Captain Flint
Tom Redruth - Gamekeeper
Treasure Island was written by Robert Louis Stevenson, becoming an instant hit, popular with children and adults, the subject of many films and graphic novels.

STUDIO/AGENTS: A draft script for Kulo-Luna is available on request. Cleopatra The Mummy is currently under development