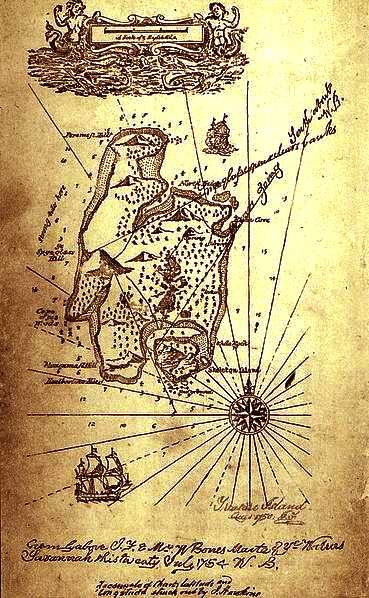 Cast of characters and locations in the original Treasure Island novel
This is the map drawn by Captain Joseph Flint of Skeleton Island, in the Caribbean Sea. An old buccaneer named, Billy Bones, carried this map in his wooden chest until he was given the Black Spot by his former pirate confederates at the Admiral Benbow. Jim Hawkins finds the map when looking for money owed to his mother, as inn keeper.
Abraham Gray - Ships carpenter
Ben Gunn - Marooned pirate
Billy Bones - Former mate of Captain Flint
Black Dog - Pirate
Blind Pew - Pirate
Captain Alexander Smollett - Hispaniola captain
Captain Joseph Flint - Deceased pirate, owner of buried treasure chest and map
Dick Johnson - Is a young pirate with a Bible
Doctor David Livesey - Medical man and magistrate
George Merry - A mutinous pirate
Hispaniola - The sailing ship hired for the adventure
Jim Hawkins - Cabin boy
Job Anderson - Ship's boatswain
John Hunter - Squire Trelawney's manservant
Israel Hands - Ship's coxwain, mate of Captain Flint
Richard Joyce - Valet to Squire Trelawney
Tom Morgan - Pirate friend of Captain Flint
Tom Redruth - Gamekeeper
Treasure Island was written by Robert Louis Stevenson, becoming an instant hit, popular with children and adults, the subject of many films and graphic novels.

We enjoyed the story so much, we decided to add another chapter in 2022, soon to be shared with other fans of pirates and daring do, brought into the modern age by John Storm and his trusty ship: Elizabeth Swann
STUDIO/AGENTS: A draft script for Kulo-Luna is available on request. Cleopatra The Mummy is currently under development