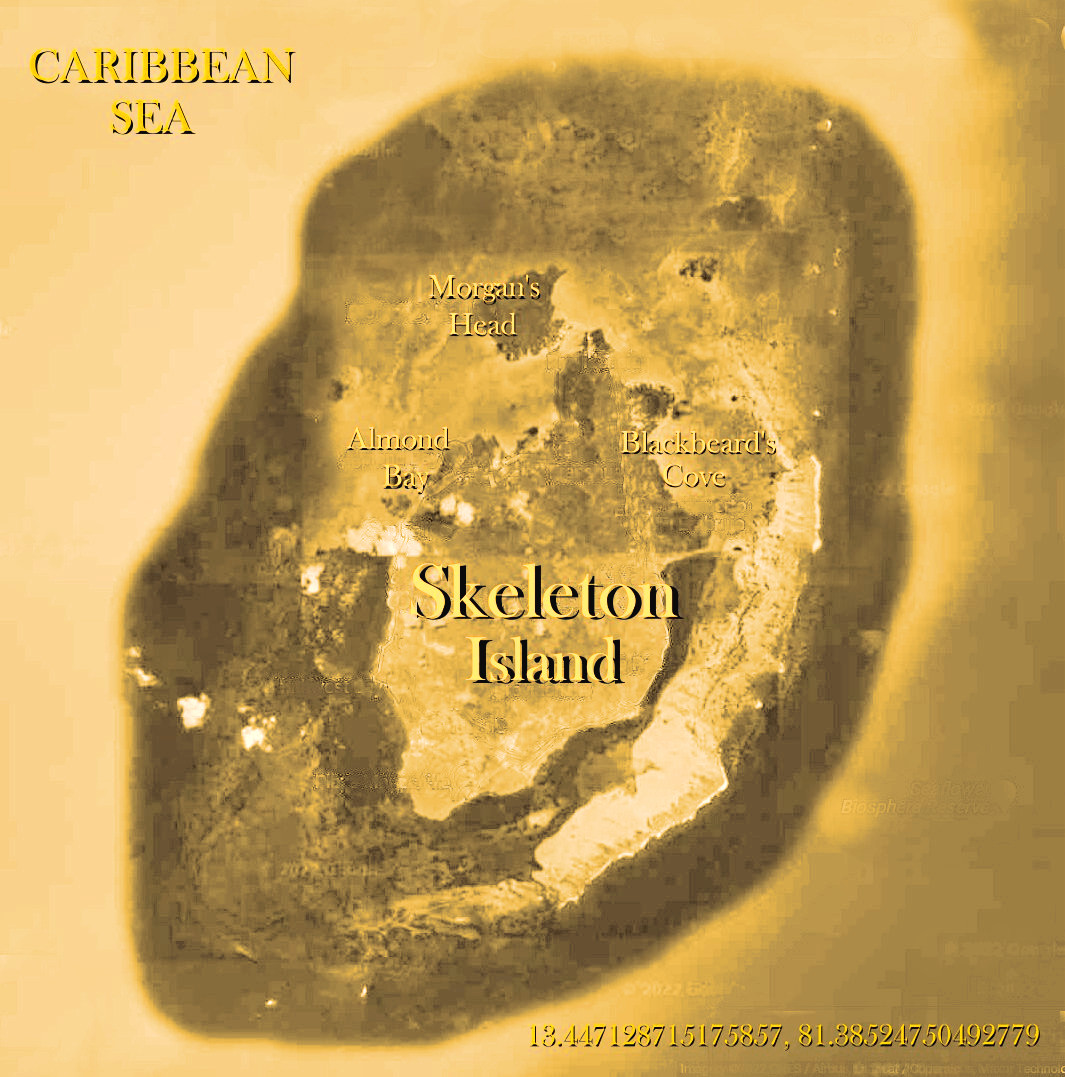 SKELETON ISLAND - Was a pirate secret location, known only to a small number of captains. But as piracy became unfashionable with mass hangings, the numbers of those in the know, dwindled. Until, all that remained was a location carved in wood. Generally hidden somewhere safe by the pirate concerned. This location was useless without a chart giving the exact position that each pirate buried their stash. The maps made on parchment, were handed down to the next generations.

Lord Huntington finally admits to having a map referencing Henry Morgan, derived from a parchment taken by Robert Maynard from Blackbeard's ship, in 1718. He almost does not have to ask John Storm if he might be persuaded to take a look, in exchange for any information he might have, or forward cooperation.
Huntington produced the transposed tracing, on which Morgan's Head and Blackbeard's Cove were clearly marked.
"Amazing," exclaimed John. "The island is real."
In the background and undetectable, Hal was checking out the location. "John, that is Santa Catalina and Providence Island."
"Thanks Hal. Where is that?" This is where direct AI to brain communications came into its own, thanks to the CyberCore Genetica and BioCore implant, thanks to Dan and Cleopatra. Lord Huntington had no idea that John was communicating with his ship.
"It's two hundred kilometers east of Nicaragua, four hundred and fifty kilometers north of Panama."
"Cheers Hal."
"And those coordinates are accurate. Have you checked them?"
Huntington responded, "no reason to think otherwise."
"Well, let me think, that is roughly 1200 kilometers, around six hundred and fifty nautical miles, south-east. Is that about right?"
"I suppose so, a rough estimate." Huntington was impressed that John could calculate that so quickly. He would have needed a chart and calculator.
"What do you expect to find there. Is it Blackbeard's wayward haul, or Captain Morgan's missing Spanish, gold? .... Actually Aztec gold of course. Stolen by Conquistador Hernan Cortes, wasn't it. I'm a little confused."
"Perhaps a bit of both - and it's anyone's guess. Though, I'd plumb for Blackbeard. The island is apparently cursed by a golden skull. And didn't Blackbeard curse his captors. Presumably, applying to all those looking to recover his treasure." Both men laughed.
"I'm not into fairy tales Lord Huntington. Just historical facts."
"Me neither John, but all the same, there are probably booby traps and the like for the unwary. Or, why have a map."
"You mean Indiana Jones style traps, only set by pirates?"
"Quite so." They laughed again. But Huntington was quite serious. Robert Maynard had nothing but bad luck all the while in possession of the parchment he coveted. Lord Huntington was worried that in chasing this up, his good fortune thus far, might begin to wane.
For some reason, both men had failed to make the connection between Lieutenant Robert Maynard and Commander James Maynard. Even with the Royal Navy coincidence; plain for all to see.
Unknown to Storm and Huntington, Commander James Maynard had bugged the helm of the Hispaniola. Back in Blighty, the Commander now knew the location of the island that his limb of the family tree, had been deprived of.
Intrigued as to the map now proffered by Lord Huntington, John agrees to switch attention to the new location, even though not that far off the cost of Panama. The map, though not the original parchment recovered from Blackbeard's Adventure, is sufficiently alluring after checking historical accuracy, as to be believable. John keeps the information recovered from Morgan's casket to himself, though both men probe each other for more clues continuously.


.....
PROLOGUE: ROYAL AFRICAN COMPANY - King Charles II, Royal Charter James Stuart II, transport goods from Africa: Bloody Triangle.
SCENE 1. THE BATTLE OF OCRACOKE - Lt Robert Maynard, Blackbeard's curse, beheading & torturous interrogation on the Adventure
SCENE 2. EARTHQUAKE JAMAICA - Present Day - An earthquake hits Port Royal, disturbing the sunken city & Palisadoes cemetery.
SCENE 3. BLUE SHIELD ENGLAND - Blue Shield, Newcastle UK, UNESCO requests Storm catalogue underwater city UNEP World Heritage Site.
SCENE 4. HENRY MORGAN'S DEATH - Henry Morgan has a heart attack; funeral ceremony at Palisadoes cemetery, old Port Royal.
SCENE 5. SUNKEN CITY SURVEY - Present Day, Swann's sensors scan the ocean bed, revealing mausoleum former Governor of Jamaica.
SCENE 6. JUNE 1692 TSUNAMI - Jamaica, June 7th, an earthquake hits Port Royal, then a tsunami washes the pirate haven under the sea.
SCENE 7. HENRY MORGAN'S COFFIN - John Storm & ROV, comes face to face with Henry's skeletal remains. Finds interesting wooden engraving.
SCENE 8. BBC JILL BIRD - London. John Storm's finds lost Henry Morgan's pirate remains. "And for those of you wondering, there was no treasure."
SCENE 9. OPERATION HISPANIOLA - British Geographical Society, & Royal Navy fund Lord Huntington's expedition to recover relics in the Caribbean.
SCENE 10. SHIP'S COOK - William Gray helps John Long's cut-throats to crew for Huntington's Hispaniola, Long a dab hand on the galley.
SCENE 11. ARCHAEOLOGICAL SOS - Huntington (BGS bigwig) asks John Storm for help with shipwreck survey - meet in the Caribbean, Haiti.
SCENE 12. SKELETON ISLAND - Intrigued by map proffered by Lord Huntington, John agrees to switch attention to location, to coast of Panama. .
SCENE 13. SANTA CATALINA - Colombian, Mexican, Panamanian, Nicaraguan patrols re: 'Satisfaction' & hunt for Aztec gold, Spanish Conquistadors.
SCENE 14. TREASURE ISLAND - Hurricane Iota erased map clues, Isla Providencia. Longstride believes location of Blackbeard's/Morgan's treasure.
SCENE 15. KIDNAP - Black Jack & Billy Bones kidnap Dan, Cleopatra - lock in Hispaniola with Tremaine. Hal alerts John to events via BioCore.
SCENE 16. DOUBLE CROSS - Maynard pact with Spanish Navy to blockade Caribbean to capture John & Swann. Longstride deal Aztec Golden Skull.
SCENE 17. BLACKBEARD'S CURSE - John retakes Swann, Hal immobilizes Black Jack and Billy Bones and rescues prisoners on Hispaniola.
SCENE 18. MORGAN'S TREASURE SHIP - John deciphers carving code helped Dan and Cybercore Genetica. Dives to find privateer's shipwreck.
SCENE 19. BILLION DOLLAR DEAL - John negotiates with Panama, Peru, Colombia, Ecuador & Blue Shield for % salvage based on wreck video.
SCENE 20. BLOCKADE RUNNER - Swann navigates through Spanish Armada & Royal Navy blockade in stealth mode, invisible to radar.
SCENE 21. BERMUDA TRIANGLE - Pirates head into Bermuda Triangle, Colombian Navy in pursuit: BBC Sky News. Never to be seen again.